We are adding An Angell's Life of Fun with Food to thhe website after a lot of requests from social media for recipes that we create. James is a HUGE foodie and a pretty amazing chef if family and friends are to be believed. He also has drawn in a lot of viewers of his amazing foods on Instagram, with some hailing all the way from Australia.
Heidi has come a long way from when she proposed to James all those years ago saying, "If it can't be made in a microwave then I probably can't make it. But if you will take me as I am, I would like to spend the rest of my life with you."
She's now the main cook of the family, can make a mean pie, has a killer bread recipe, and experiments in the kitchen with James for date night.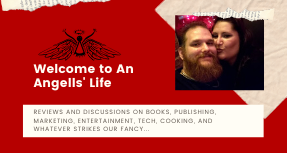 So if you love food explore some of our amazing recipes. We run the gammut from Banging burgers to sweet desserts, from keto-friendly, to low-fat. We have also begun to make our own amazing ice creams and can never go back to store-bought.
If you like food fun, but don't want to check back regularly, get a monthly digest emailed directly to you. SCheck any of the other Angells' life fun you want to get involved with too. We're quite the eclectic crew!