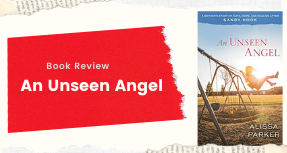 Hello Lovelies,
You know what is one of my favorite parts of my mom visiting? She always brings books! My mother is definitely the person to thank for my vociferous love of reading and my wide range of genre love. She is the reason I give books as gifts for every occasion. And she gives books for every occasion and for no reason other than she just knew you have to read this. I love that woman.
An Unseen Angel is something I read on her advice. She figured I would appreciate it because there are some familiar places in the story and she really wanted me to read it because the author is Mormon, like my mom.
Genre
Nonfiction historical/ memoir/ religious experience?
Amazon has it listed under Christian Death and Grief so…. Yeah.
Synopsis:
As the mother of one of the children who died at Sandy Hook school in Newtown, Connecticut, in 2012, Alissa Parker had her world shattered by a mass murderer's rampage. She was left to make sense of her daughter's life and death and to rebuild, seeking a deeply spiritual path to carry on with her life and find new meaning and purpose.
As a co-founder of SafeandSoundSchools.org, a touring national advocacy group that helps people take action to make schools safer, Alissa has talked to hundreds of parents around the country about her ordeal and how she was able to endure the unspeakable horror of Sandy Hook.
An Unseen Angel takes readers though Alissa's complete journey, chronicling the moment-by-moment account of the day that began with every parent's worst nightmare: hearing, "There's been a shooting at your child's school." It follows her faith-filled spiritual path to coping, healing, forgiving, and eventually feeling gratitude for the life and love of her daughter Emilie. She describes a bond of love between a mother and daughter that is so profound it transcends the physical body and touches Alissa and the people who loved Emilie who feel her presence every day. And she articulates her deep Christian faith, which guided the answers to Alissa's gut-wrenching, post-tragedy questioning:
"Where is Emilie now?"
"Can love transcend the physical body?"
"How can I know that Emilie is in a better place?"
"How do I deal with the 'here and now' when the pain and anger I feel is so overwhelming?"
This is the first book about the school-shooting tragedies with a focus on faith and spirituality. As we learn Alissa's story, we are introduced to a special little girl who was wise beyond her years and whose lessons about life and the transcendent power of love continued even after she had passed away."
My Take:
I wanted to kick my mother so hard when I got into the book because silly me, I started reading without knowing what I was reading, and she KNOWS I cannot not finish something once I've started!
Seriously, I balled while reading this book. Not only because it was about an event that struck me really hard when I read about it in the press. (my boys were only a bit older than those children, and I am a helicopter mom as is) but because it is told from the perspective of the mother of one of those children, sharing every mother's worst nightmare, and how her family was able to come through it.
It was made all the more poignant by the fact that I am living in SLC and recognize a lot of the places mentioned in the book and the actions and behaviors of people in the book, being immersed in the culture out here.
What I love most about this book is that it doesn't focus on the killer, it doesn't focus on the crime, it focuses on the remembering of one of the victims, and on the path the family took to not let this horrible tragedy define them and their daughter, but to instead choose a different path and to not be victims, but survivors.
If you are looking for a good cry, a book that explores how one's faith can help one through horrific situations, and how a couple can survive what many other couples do not, then this is the read for you. Grab your copy on Amazon for $10.49 in e-book or $10.19 in paperback.
Until next time, Keep Reading!