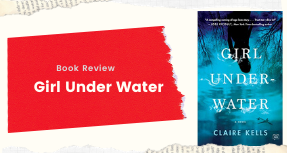 Hello Lovelies,
I have a treat for you. My oldest would like to dip his toes into this whole reviewing thing and see if it is for him. He is still shy and said that he doesn't want to use his real name to review, nor does he want me to keep referring to him as Big Boy. So he has chosen to review under the name Sacreldi Aknar. On to his review of Girl Underwater by Claire Kells
Genre:
YA Drama
Synopsis:
An adventurous debut novel that cross cuts between a competitive college swimmer's harrowing days in the Rocky Mountains after a major airline disaster and her recovery supported by the two men who love her—only one of whom knows what really happened in the wilderness. Nineteen-year-old Avery Delacorte loves the water. Growing up in Brookline, Massachusetts, she took swim lessons at her community pool and captained the local team; in high school, she raced across bays and sprawling North American lakes. Now a sophomore on her university's nationally ranked team, she struggles under the weight of new expectations but life is otherwise pretty good. Perfect, really.That all changes when Avery's red-eye home for Thanksgiving makes a ditch landing in a mountain lake in the Colorado Rockies. She is one of only five survivors, which includes three little boys and Colin Shea, who happens to be her teammate. Colin is also the only person in Avery's college life who challenged her to swim her own events, to be her own person—something she refused to do. Instead she's avoided him since the first day of freshman year. But now, faced with sub-zero temperatures, minimal supplies, and the dangers of a forbidding nowhere, Avery and Colin must rely on each other in ways they never could've imagined.
In the wilderness, the concept of survival is clear-cut. Simple. In the real world, it's anything but.
Sacreldi Aknar's Take:
This book was written in an interesting style such as to switch between flashbacks and the present. The main character, Avery Delacorte, has survived a plane crash in god knows where. Along with the other few people, a man and 3 kids, they have to survive until they can get help.
Even in the future after they are rescued though, there still are problems. She is hounded non-stop by reporters wanting her story, and doctors wanting to medicate her for PTSD. She has problems with her boyfriend, who thinks that she and the man are more than just friends.
I have to say, my favorite character is the man who survived the crash. He is strong-willed and refuses to leave anybody behind. He puts others before him, even to the point of getting himself almost killed!
Even though the book was amazing I did not like how Avery's boyfriend fit into it I think that he was a very big part of the story. I would have thought that right after she learned that he thought she was dead she shoulda left him, but oh well.
Every twist and turn will leave you reading for more and more.
Take a sneek peek. 
Until next time, 
Keep Reading!