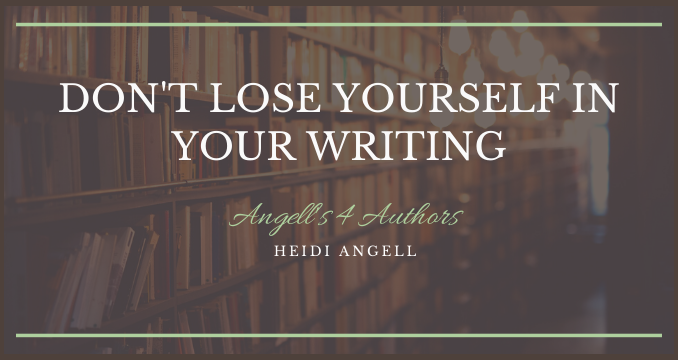 Hello Lovely Writers,
As the holidays and year-end tackle us in full force, I am reminded of something very important. I spend so much time planning, scheduling, writing, editing, and working on book-related tasks that sometimes I forget why I love what I do. Sometimes I forget that I am Heidi Angell, not Heidi the writer, Heidi the Storyteller, I am not my story. Do not lose yourself.
I have seen some of you out there doing the same. You are lamenting not hitting your word count goals. You are crying that you absolutely hate your characters. Some want to scrap your work and just start over. 
Suddenly so many of my writer friends are saying things like "This is horrible, I suck, I can't DO this! Whatever made me think I wanted to be a writer?"
Kick those negative thoughts to the curb! Take a deep cleansing breath. Take a moment to remember why you love this, why you wanted to do this.
Even though I am stressed, even though I am scrambling, even though I have this horrible fear that I am going to totally flop on my face and fail, I am also exhilarated by the people rallying around me to help, I am thrilled as I read through the work I am fixing and go "Hot damn, that's actually pretty good writing!" 
 Writing is an adventure, publishing is an epic adventure. And the key part of an adventure is that we have to open ourselves up to danger. We have to struggle, we have to fight. Unfortunately, we don't live in the fantasy realm, and it isn't guaranteed that if you just stay true to the path, you will eventually make it.
But if you don't stay true, then you can never make it, right?
So, here's to the madness that is this profession of writing. Here's to the chaos, the stress, the tears, the hair-pulling, the deep depression, the highs, the exhilaration, and the hope.
Remember, no matter how you feel about your current WIP, don't let those negative thoughts reflect on how you feel about yourself. You are not your writing project. You are you, and from me to you:
If you are feeling overwhelmed, take a step back. Remind yourselves what it was that inspired you to write this story. Share your favorite bit you've done on your project so far with your fellow writer in the comments below.
Until next time,
Keep Writing!