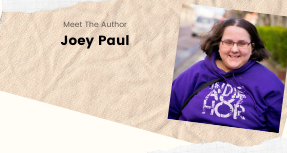 Hello Lovelies,
 ​​I am delighted to introduce you to Joey Paul, an indie author, exploring the young adult crime genre. She has released nine books in total so far, with the tenth and eleventh due out in the summer of 2017. Her current works include the "Dying Thoughts" series, which is eight books. She usually writes crime and mystery fiction, with a paranormal twist, but she has been known to dabble in contemporary romance and general fiction. She is writing her seventeenth and eighteenth books at the moment, having recently finished her last two.
Joey is disabled and a recent graduate from The Open University with a BA (Hons) in Health & Social Care. When not reading medical textbooks, she enjoys reading crime novels, medical dramas, and young adult novels. When she's out and about, she likes looking for Tupperware in the woods with GPS satellites, otherwise known as geocaching. And when she's not doing THAT, she's sleeping! She's 35 and has been writing since she was retired from her job on medical grounds at the age of 19. She plans to write for as long as she has ideas or until someone tells her to stop!
So excited to have her here today! Welcome to An Angell's Life, Joey. How are you?
I'm doing okay actually. It's 1 am and I couldn't sleep and since I'm behind on my TV shows I figured I'm make the most of the time and get some serious watching done as well as catching up on interview stuff! I may also get onto some writing since I'm behind in that too! The life of an author, sleep is optional so long as you have tea!
Lol, in my house sleep is optional, so long as you have coffee and chocolate! I can relate. What is the current book you are promoting?
I'm actually preparing for two releases right now so I have one that is the fifth in my series – Dying
​​ Thoughts – and the other that's a standalone. I normally only release one book a year, but I've been busy at the keyboard and as such have had a backlog created so decided to go for two books this year and it's busy busy busy!
Dying Thoughts – Fifth Secret is the continuation of Tara's story. Tara has a gift where she can see the last moments of someone's life when she touches something that used to belong to them. In the fifth book, she's been getting some creepy notes very similar to the kind her mother received before she was murdered when Tara was six. Her mother had the same gift and it's gonna be a wild ride!It's Not Always Rainbows is a standalone dealing with LGBTQ teens who are working to solve a string of murders in the community. They face many struggles along the way, but are determined to get to the bottom of it when it seems like the police aren't asking the right questions.

Wow, both of those sound awesome! What is your next project?
I'm actually working on two books right now. One is the second in a trilogy that kinda sprung out at me from nowhere. I was writing what I thought would be a standalone and it turned into something bigger, and so I'm writing the sequel to that as well as the first book in a brand new series. I recently finished my last series after fifteen years of writing it and was at a bit of a loss, but then the idea for this one popped into my head and bam, I was writing!

I completely sympathize! I am going through that right now with The Survivalist Bible! Who is your favorite fictional character and why?
I have so many favorites, simple because I read SO much! If I had to narrow it down completely to just one (which is hard!) then it'd be Kinsey Millhone. I love her because she's been stuck in the 80's for the past twenty odd years as Sue Grafton only writes one book a year, and she still kicks arse at solving crimes and tying up mysteries!


Kinsey is pretty awesome, and so were the 80s! Where do you come up with your stories?
I have an overactive imagination. I've been told that for a long time, as a kid it never was said as a compliment, but now that I'm an adult it works really well for coming up with stories! Some of them have been knocking around for years while others have been thought up on the fly and then turned into something bigger and greater than I could have ever imagined.

What is one great lesson you have learned as a writer?
That writing takes time, energy and a lot more work than some people realize. That even though you've written the book, it's not finished and won't be finished for a long while yet. It took me a while to realize that writing "The End" does not mean you're done!
So true! Well, thanks for coming out Joey. Are you as intrigued about all the paranormal, thrillery, mystery-murdery goodness Joey is laying down? Follow her on Facebook, Twitter, Youtube, and Tumblr to see more. Want to know what awesome books Joey is reading? Follow her on Goodreads. Want to learn more about her books, and be notified as books come out? Follow her website and Amazon page. 
Joey will be back to join us in just a couple of weeks, as she is getting ready to release the fifth book in the Dying Thoughts series, and her main character will be gracing us with a character interview! How much fun will that be? 
Stay tuned! 
Until next time, 
Keep Reading!