Hello Lovelies,
It's amazing what a difference a month can make! March was busy, busy and I've made some great gains on my goals. The consult on the 15th went well and we're just waiting for insurance to approve the bariatric surgery to determine next steps. In the meantime, that hope got me trying other solutions and I found this awesome THC balm that helps reduce the pain significantly by treating the sore muscles and tendons and decreasing inflammation on the nerves. That has allowed me to increase my physical activity. While walking causes greater irritation and inflammation, I've found that my under-desk elliptical isn't as hard on my body and that combined with strength training has allowed me to systematically work up to 50 min of low-impact physical activity 4-5 days a week. This is the sweet spot required for the surgery to be successful. I've also started the diet amounts to get my mind and schedule adjusted. Several of the people I know who had surgery all say their lack of preparation there was what led to most of their complications.
This weekend I am going swimming and will see how that does for a low-impact workout.
My kiddo has finished all of his sports last weekend and is excited to start swimming with me so we look forward to working together on that. He has also enlisted my help with his gap your business plans so that will be fun quality time together.
As for the PMP certification, I am trucking along. I have all my required CEU courses selected and just have to systematically work through them. I still have about 24 hours to go and have set up a schedule to make that happen a bit faster. I spend a half-hour every weekday (while also doing my under-desk elliptical.) and am trying to get in 2 hours each weekend. Hopefully, that will be easier now that the kid's sports are done. Though I can't really call him a kid anymore as he turned 18 on Monday and is now legally an adult!  At this rate, it will take me about 5 more weeks to finish the CEUs and be able to apply for the PMP test.
A small and unexpected progress towards my rebuilding goals came when the person I'd reached out to The Hunters Saga covers last summer reached back out. Their life has settled and they are trucking along on the covers for the series. We have a great concept idea for the paperbacks and I am so excited!
Here is the final front cover for The Hunters.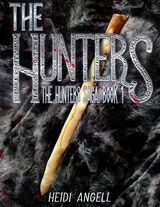 Each cover will follow the same theme, with an element from the book being the prominent feature.
I'm so excited to get this moving along as time allows but my health and the PMP cert are my top two priorities for April. I will be doing more on the blog with my Sunday holistic journeys and hope you will join me with that. Now on to the main show:
#IWSG April Question of the Month
Purpose: To share and encourage. Writers can express doubts and concerns without fear of appearing foolish or weak. Those who have been through the fire can offer assistance and guidance. It's a safe haven for insecure writers of all kinds!
Posting: The first Wednesday of every month is officially Insecure Writer's Support Group day. Post your thoughts on your own blog. Talk about your doubts and the fears you have conquered. Discuss your struggles and triumphs. Offer a word of encouragement for others who are struggling. Visit others in the group and connect with your fellow writer – aim for a dozen new people each time – and return comments. This group is all about connecting!
Be sure to link to this page and display the badge in your post. And please be sure your avatar links back to your blog! Our Twitter handle is @TheIWSG and hashtag is #IWSG.   
You ready?
Let's rock the neurotic writing world!April 6 question – Have any of your books been made into audiobooks? If so, what is the main challenge in producing an audiobook?
I actually am excited to complete the audiobooks for The Hunters finally. I spent years trying to figure out how to do this in a cost-effective manner. I have a small confession to make, I actually am not a fan of audiobooks. I often lose my place and get distracted when listening to them. But I loved the old radio show samplings with multiple characters and sound effects so I wanted mine to be something like that. But finding narrators proved difficult and expensive. So I decided to put my theatrical training to use and read the different characters myself, then learned to edit in the sound effects myself.
It has been a long journey that I hope to complete this year as I focus on re-releasing The Hunters Saga.
The few people who've listened to samples have found it delightful, but they're not big audiobook people either so who knows?
My hope is to use the funds from The Hunters to be able to hire a male reader for the Clear Angel Chronicles and then I will read the female parts and he will do the male parts.
Until next time,
Keep Reading!