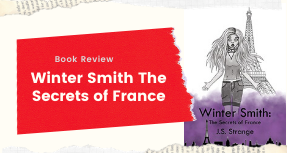 Hello Lovelies,
As you may recall, I read Winter Smith: Loindon's Burning last year. (See my review.) and was thrilled when the author contacted me to review the second book in the series before it release. Let's get ready for some apocalyptic fun!
Genre:
Apocalyptic/ Zombies

Synopsis: 
A new world order, a city under control, and a new breed of zombie known as The Martyrs living alongside humans. France isn't safe. It never has been. After fleeing from London, seventeen-year-old Winter Smith and her surviving friends learn that to survive in Paris means trusting those they don't know. An anti-government, known as The Union, are forming to take on V, a woman who has gained control of the world and has created the dead to establish a new world order. But surviving in Paris is hard, as those who don't conform to V's new rules are quickly wiped out. This not-so-typical zombie novel is the second instalment of the Winter Smith series. An action packed young adult horror that will keep you guessing, and wondering what could possibly happen next.

My Take:
As this is the ARC (advanced reader copy), and I understand it is still going through editing, I won't comment on editing issues as I believe most will be resolved before the book releases. (They were minor, just a few missing words here and there. Nothing major. But based on the quality of London's Burning, I'm confident they will be resolved.)
What I love about this series is that it's not about the zombies, but about the people. Zombies are just the backdrop that allows us to see how dark and deep humanity can go when faced with something horrible. 
And Strange takes a new and darker twisted path in this second book. People who we considered villains surprise us in this book, and people we considered the good guys show their true colors. The second book takes a turn bringing in an unexpected element. What if the end of the world was planned from the very beginning? Strange pulls heavily on conspiracy theory lore to create the mess that the second book finds poor Winter and her friends in, and though I am not generally a fan of conspiracy theories, I enjoyed the twists it created in the second book. 
Violet is still my favorite, though I was disappointed that she kind of took a back seat in the second book. I wanted to see more development in her relationship with Zach. There were some crushing losses that I didn't see coming, but I felt that the author could've given more weight to them. Despite the surprise loss, I didn't cry like I thought I would when one of the characters fell. Which is a shame because the death of the kids in the first book had me in tears and I didn't have as much time to get attached to them as I did to one character. 
Overall, a good read and I am looking forward to the third book in the series! 
Winter Smith: Secrets of France is available for preorder for $2.99 through August 17th. Grab your pre-order today. 
Until next time, 
Keep Reading!