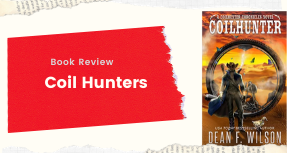 Hello Lovelies,
I have a real treat for you! I just finished reading Coilhunter, the first book in the Coilhunter Chronicles. I'm a huge fan of Firefly and when I saw this cover, I just knew I had to read this!
Genre
Western Steampunk
Synopsis
Welcome to the Wild North, a desolate wasteland where criminals go to hide—if they can outlast the drought and the dangers of the desert. Or the dangers of something else.
Meet Nox, the Coilhunter. A mechanic and toymaker by trade, a bounty hunter by circumstance. He isn't in it for the money. He's in it for justice, and there's a lot of justice that needs to be paid.
Between each kill, he's looking for someone who has kept out of his crosshairs for quite a while—the person who murdered his wife and children. The trail has long gone cold, but there are changes happening, the kind of changes that uncover footprints and spent bullet casings.
Plagued by nightmares, he's made himself into a living one, the kind the criminals and conmen fear.
So, welcome, fair folk, to the Wild North. If the land doesn't get you, the Coilhunter will.
My Take
If you love the world of Firefly, then you will love Coilhunter. It kind of feels like a backwater planet in the 'verse.  Now, to be clear, I am not comparing this to Firefly. There isn't the fun camaraderie between crew members, and there's no space. However, the western meets steampunk? Totally loving it! 
Dean f. Wilson does a great job creating this world that in one moment feels like a Western of the Wild Bill Hickok days, but at the next is introducing delightful steampunk elements, like the monowheel, or the duck. (Yeah, you'll just have to read it.) 
I have always been a fan of westerns. I like the solitary gritty good guy fighting against evil, and Dean nails it with Nox. Despite the mask and the burns, I totally fell in love with him. His relationship with Handcart Sally was a kick! And the end, OMG, the end! I just… Cannot. Wait. For. More!
If you enjoy westerns and steampunk, this is totally the book for you. Take a peek inside from Amazon today!
Until next time,
Keep Reading!