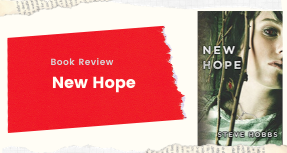 Hello Lovelies,
Hope everyone has had an awesome summer. We are just getting back into the swing of school and I am happy to share my latest read, New Hope by Steve Hobbs.
Genre:
Urban Fantasy/ Mystery
Synopsis:
DESPERATE EVIL descends on a quirky Maine town in Steve Hobbs's gripping debut thriller, New Hope.Seventeen year old Miri Jones has always wanted to be a detective. When she discovers mutilated human remains during her morning run, she's found her case. But the bizarre nature of the crime will shake everything she believes in and might just get her killed. The town of New Hope is about to make its last stand in a war Miri never knew existed.
Only the brave will survive.
My Take:
All the feels! This book takes me back to my childhood. Quite literally, as it's set in the 80s. With all the charming nostalgia of Stranger Things, the Nancy Drew Heroine, and the campy group of kids fighting vampires that's reminiscent of Lost Boys, there really wasn't much not to love about this book.  
If you are looking for a fun read with all those feels, then you will love New Hope. There weren't any deep questions, and I figured out a lot of things pretty quickly, but it still was a nice break and a fun read. 
If that sounds fun to you, then take a peek inside.

Until next time, 
Keep Reading!