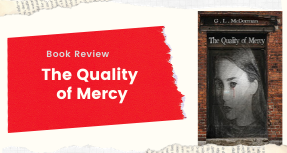 Hello Lovelies,
Who else is ready for school to start back up? I cannot wait! I love my kids, but I miss quiet reading time. I did, however, get some time to get a quick read in and experienced a unique read this week.
Genre:
Hard-boiled detective meets Noir, meets magic.
Synopsis: 
When a ruthless gangster threatens his old military friend, hardboiled detective Paul Henslowe intervenes… only to find himself working for a client on the wrong side of the law. When a series of cryptic blackmail letters plunges Henslowe into a decades-old murder, he follows a trail that leads him from a mysterious cult leader in the South Seas to a decaying lunatic asylum nestled among the City's most powerful banks. Henslowe knows that if he doesn't solve the case, his friend will die… but if he does, many others will die in his place. The Quality of Mercy is an eldritch tale of madness and betrayal that asks whether kindness and mercy can survive in a world so corrupted by greed and violence.
My take:
This was a fun, nostalgic read. I loved Dick Tracy books as a kid and there was a certain element of that, but then the author weaves in this fascinating tale of a curse from a foreign land. Now the detective has to figure out who's murdering people, why, and if it is really related to an event that occurred decades before. 
I was a little disappointed that we never truly found out why things happened the way that they did, but at the same time it wrapped up quite realistically. Sometimes we might know who the bad guy is without ever knowing why they did it. 
I am definitely a fan of Henslowe and hope to see him on another adventure soon. 

Until next time, 
Keep Reading!