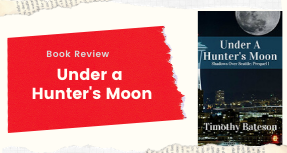 Hello Lovelies,
I am thrilled to introduce you to a series that I learned about at B2BCyCon, Shadows over Seattle is a paranormal series by Timothy Bateson. I got a free copy of the prequel story Under a Hunter's Moon and have finished reading it so I could share it with you.
Genre:
Urban Fantasy
Synopsis:
Richard Parsons is a lupine, one of the many breeds of shape-shifters living in Seattle. Mortal legends of his kind call them werewolves.When a traveling exhibition returns to Seattle, Richard takes a night time visit, with plans that go beyond seeing a particular display. However he is unprepared for the memories and emotions that come flooding back."Under A Hunter's Moon" is the first of the "Shadows Over Seattle: Prequel" series, giving readers a chance to meet the characters who will be appearing in the main series. Every story is a snapshot of an event in that character's past, and can be read as a standalone short story, or as part of the series. At 4,200 words in length, "Under A Hunter's Moon" is a quick, easy, read that introduces readers to the "Shadows Over Seattle" setting.
My Take:
Prequels are mean! Especially when the book isn't out yet! Timothy, I know you are releasing Evaline Transcendent right now, but can you hurry up with the first book in the Shadows over Seattle Series? Seriously, this was just… Sucked me right in and then left me with nowhere to go! I enjoy the author's twist on the old werewolf lore, creating a whole new version and calling them Lupines, to allow him to break the rules of the legends without really breaking things, if you know what I mean. 

This is a great teaser to the main character, his motivations, and his drive. Jump on in and then go yell at the author to hurry up and finish the book, just like I'm doing! Take a peek inside.

Get it done, Tim! And make it just as awesome. (I know you will!) 

Until next time, 

Keep Reading!