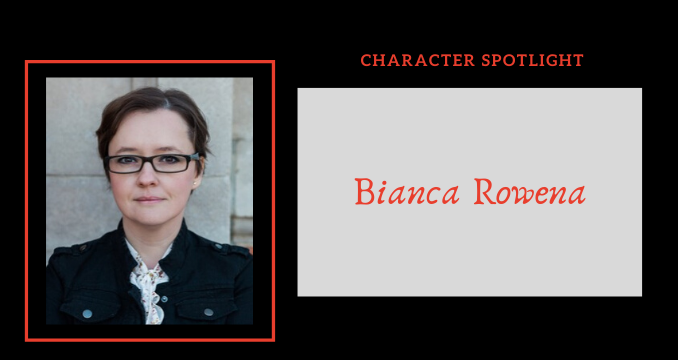 Hello Lovelies,
I would like to introduce you to the lovely Bianca Rowena, who was born in Romania, Transylvania and has enjoyed writing from a young age. She now lives in Canada, which is the setting and inspiration for her novels. She lives with her daughter and husband in Southern Alberta.
Let's get to know her a little bit better! Welcome to An Angell's Life of Bookish goodness, Bianca! What is the current book you are promoting? 
The Gift Stone, Book One of The Gifted Series.
It is a Young Adult Sci-Fi / Fantasy novel following Rita, a lowly Temple Girl and Takano Rynn, the feared ruler of the Galaxies, who form a bond that will change both of their destinies forever.
Ooh, I love sci-fi! Who is your favorite character in your book and why?
Beeps. She's a social robot that doesn't always get social cues, so it allowed me a fun way to have comic relief in the story when things got too intense. Also, Beeps becomes a true friend to Rita, something she's never had before because she's never opened herself up to it. I also would love to have a little Beeps BFF that followed me everywhere!
I have a son on the autism spectrum and can totally imagine the unintentionally hilarious moments that not always getting social cues can inspire. What inspired this story?  
This story was actually written originally as a Star Wars Fan Fiction to appease the fans of The The Force Awakens who wanted a romance between Rey and Kylo Ren. I got so many encouraging comments on my Fan Fiction that I decided to rewrite it as its own story and change the characters! The first half of the book is actually taken from a different story I wrote called "Temple Girl" and then merged into my Fan Fiction story. So there are elements of both in this final version.
Ah, that explains the robot. When I read the description I thought "It sounds like if C3PO and K2SO had a baby! What is your next project?
Book Two of The Gifted Series! It's entitled Takano Rynn and is from Takano's point of view rather than Rita's. It's already written and in the editing stages. I'm so excited about it. I'm hoping to have it out before Christmas, as books make great Christmas gifts 😀

​​Books make great ANYTIME gifts, lol. In my house we give them for every holiday and sometimes make up holidays just so we can give books 😉 How do you write your books?
Fast and furious. Notepads stuck under my pillow at night and near the shower and in my purse. Sticky notes everywhere. A Sticky note dispenser in the car. I write on napkins, on my hand, and any surface I can find. I know better than to let good dialogue or story description slip through my fingers. The ideas come at the most unexpected times. I always have a pen with me everywhere I go. And sometimes I do actually sit down and write at my desk or at the kitchen table. I also attend a bi-weekly writer's group where I get an hour of uninterrupted writing time 
Writing groups are great. I totally credit mine for the completion of Elements of a Broken Mind and Hell School: Fresh Meat. I really needed their support for my first book, and their encouragement as I relived the trauma for Hell School. If you could have your book made into a movie, who would you want to direct it?
Definitely J. J. Abrams 😉
An EXCELLENT call. He's the best for Sci-fi, right? What is one great lesson you have learned as a writer?
You have to teach yourself to write in non-ideal places and in imperfect writing conditions, or else you'll never get your writing done.
So true, especially with the busyness of kids and family, and life. If you could never write again, what would you do?
Help on Independent Movie sets.
A true storyteller at heart. Love it. Me too! Tell us something unique about you:
I was born in Transylvania, Romania.
And last, but not least, what is your favorite word?
Triangulate
It is a fun word to say, isn't it? Thank you so much for joining us today, Bianca, I hope we get to see you again soon, maybe for the release of your next book? If you are as intrigued with Bianca and her stories as I am, you can learn more on her website BiancaRowena.com. If you would like to follow her writing adventures, join her on Facebook. 

Until next time,
Keep Reading!