Hello Lovelies,
One of the greatest struggles I have witnessed authors have is self-editing. There is a reason that publishing houses used to be teeming with editors. However, as the industry attempts to decrease overhead, whether your goal is a traditional publishing contract or to self-publish, more of the editing and polishing will fall to you. With so many tools around for writers to address problems like this, it can be overwhelming to figure out which tools work and which don't. Me? I think ProWritingAid is great for authors.  (Full confession, this is an affiliate link because I love them that much!) At first, I went with this app because the company had a promo deal going when I was with Our Write Side. I've stuck with them because I've learned a lot about my writing, grammar rules, and how to self-edit better. Here's my breakdown of this tool's pros, cons, and how ProWritingAid can make you a better writer.
About ProWritingAid
The first thing to understand is that ProWritingAid can be accessed in two different ways. ProWritingAid has an online version. Just go to their website and paste a copy of your text into their editor and off you go. It is also available as a download to use offline. This leads me to the next nice feature. ProWritingAid is available for multiple applications from Scrivener and Word to Google Docs. ProWritingAid is also available on Apple and PC.
I love the fact I can use this program no matter what platform I'm working on. One thing to note is that for Word it is a plug-in available right in the program while Scrivener has a separate app on your desktop. Now that we've covered how to find ProWritingAid, let's talk for a minute about the reports.
There are 25 different reports you get once you run your text through it. Don't worry, though, you don't necessarily need to use all of them. ProWritingAid is great for authors because it separates each report so you can look at only the reports you choose. Sentence length, overused words, pronoun check, consistency check, and grammar are some of my favorite ones. Click on the report you want to see and ProWritingAid takes you through each highlighted instance flagged, as well as suggestions to fix the issue. Some common sense will be necessary as not all the suggestions make perfect sense. You also don't want to accept all the recommended changes as it can quickly lose your unique author "flavor". However, I've found that making about 70% of the recommended changes provides a more quality piece while still maintaining my unique voice. The best part is each item flagged is accompanied by a brief explanation of why it was flagged. This has helped me immensely in refreshing the technical rules.
My Experience
My favorite report so far is the overused words report. I never realized how bad I was about using the same words over and over. At least not until ProWritingAid highlighted the issue for me. What I love about this report is that it flags all instances of the overused word and suggests how many instances of that word should be changed. This helps me because I can change the overused word evenly as I go through revising the piece. Another one I am in love with is the grammar report. I get hands-on examples of where I screwed up and how to fix the highlighted issues. Even things like passive voice are addressed. Finally, I found ProWritingAid to be intuitive right out of the gate.
ProWritingAid can be used for academic writing, creative writing, and anything in between. I appreciate this feature because I can use it for my articles here, the content I write for work, and for my creative writing.
The Limitations
Yep. There are limitations to ProWritingAid. I briefly mentioned this one already—it's just a program. I think it's a good program, but being a program means it will not be right every single time. Sometimes I want a sentence to be longer than is generally accepted, or I'm breaking a grammar rule on purpose. ProWritingAid doesn't get these things, so it will flag them as an issue. You can skip through these occurrences easily though. Just make sure you take the time to review each flag you get to make sure you understand the options being presented.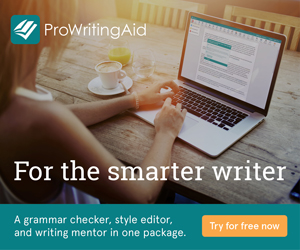 A few of the reports have a steeper learning curve, like the glue index. That means either some trips to the ProWritingAid website and blog to help learn the reports or skipping them. I'd suggest learning the reports because they have made me a better writer. It can get frustrating, though, trying to figure some of this out. Another minor issue I've noticed about ProWritingAid is that occasionally it will hiccough and flag something as an issue when there's no issue. The biggest time I've seen this with is in the sentence length report. It has flagged something as too long, but when I check the flagged spot and find two sentences, but ProWritingAid has missed the period. Again, it's not a flawless perfect system. The final concern for many is that this is a paid subscription tool. It's an annual premium of $50 for 1 year. Multiple-year subscriptions give you a discount on the per-year rate. They recently added a lifelong subscription for $240. This can be a killer for some people. For me, the lifetime subscription was worth it because I found the explanations in ProWritingAid to be easier to follow than other tools and they keep improving the product. To help out with the cost, Prowritingaid has allowed me to offer a 20% discount code to my readers. You can get that here.
Conclusions
Overall, ProWritingAid has helped me learn to be a better writer. I'm getting the hang of grammar rules that used to perplex me. My sentence length issues are getting better. I've even improved in my overused words, though there's still ground to cover. How do I know these things? When I first submitted, I'd have a ton of red ink, so to speak, on my draft to edit before publication. More recently, the amount of red ink can be measured in pints, not gallons. That tells me this tool has taught me to be a better writer. Is it the only tool around? Nope. It is a worthwhile tool to have that really can improve your writing though. I know it has for me. Don't forget, you can purchase through my affiliate link, which helps me keep providing great free content to you. If you have any questions about ProWritingAid, share in the comments below. 
Not interested in using ProWritingAid, or already used it and would like a final line edit? Feel free to contact me. 
Until next time, 
Keep Writing!