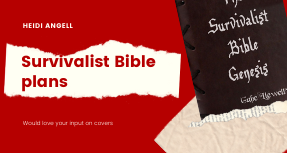 Hello Lovelies, 
I am so excited! I have been releasing weekly chapters of Survivalist Bible: Genesis to my Patrons, as I edit them in preparation for book launch. (If you would like to join, you can do so here. Just be sure to select the $2 or more level. You will also get one of my other e-books free!) The short story is coming along nicely, and I think we are ready to start planning the book release! 
And that means time to get the cover designed! 
Jo Michaels is willing to do the cover for me, and I am so grateful! But I need to give her some concept to work with so she can work her magic. I am torn between two different concept ideas. 
The first would add to the realism of the story: 
​​
And then I could just change the section title for each book (EG Genesis, Exodus, Levi, etc.) and at the end of the serial, I would actually combine the short stories into a bible with just the title "The Survivalist Bible" on the cover and have a special limited edition done with the actual leather wrap on them as well. (Come, on, how COOL would that be?!) 
And then the more practical side of me, who is bound by money, is thinking of sending her something like this: 
​​
 And then just have the background and secondary title change with each section. (IE this is Atlanta Skyline because it's where the story starts. Exodus would be a strip of GA highway, etc.) IDK what I would do for the box set. Probably the first cover on the front, a themed image across the side, and then the last cover faded on the back to create a full wraparound effect? 
I wanted your input. Which one would make you want to grab a copy? Which one would you be most excited to see in a box set? I foresee releasing one section each month for the next 9 months. (That's what I have figured out so far.) 
Thoughts? Ideas? Something totally different? Let me know in the comments below! 
Also, just a reminder, if you select the $10 a month option on the Patreon, then you will get a thank you in each section as it releases, and you would go a long way toward supporting the creation of the covers. 
Thank you for your input!
Until next time, 
Keep Reading!