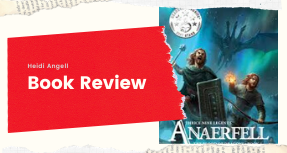 Hello Lovelies,
Happy New Year and let's start it off right! I have an exciting new review for you!
Genre: High fantasy
Synopsis: The Blood of Dragons: Book 1
2017 International Award-Winning Novel in Epic Fantasy
Drast and Tyran might be considered a bit black-hearted, or even immoral. Drast is cunning but reckless, hunting for admiration. Tyran is calculating but tactless, searching for affection. When the two brothers set aside their ambitions to fulfill their father's desire for immortality, they readily discover many opportunities for redemption. Now, while wielding a powerful magic that drains their life, Drast and Tyran will embark on a maddening quest, facing skin-switchers, dragons, and the God of the Dead.
My take: Anaerfell is a delightful introduction to the Thrice nine Legends world. The same world where Kaelandur series takes place and man, Robertson once again grabs you by the guts, twists, and rips them out. The characters you want to love and care for, you end up hating and the ones you love end up being not the characters you should. (Except Erzebeth. SQUEE!!!) This is not a story for people who want heroes and clear cut good and evil. This is not a story for those who want a happy ending or who want a satisfying wrap up to a story. But I really understand even more why Robertson lists George R.R. Martin as one of his inspirations. Anaerfell has beautiful world building that is not so daunting as Martin's work, and action scenes that play just like a movie in your head as you read. For those who are lamenting the end of GoT, this is definitely a very satisfying replacement to that series with characters that I think are just as fun to love and hate and long for their deaths.
If you want to learn more about the Thrice Nine Legends world, or the Blood of Dragons series, or Joshua Robertson, or just to see some fantastic fantasy geekiness then visit his website RobertsonWrites. Trust me, you will not be disappointed!
Don't miss my review of Book 2 in the series, Dyndaer and book 3, Maharia 
Until Next Time,
Keep Reading!