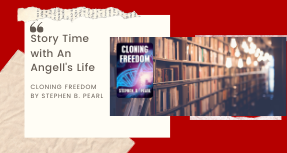 Hello Lovelies,
Oh my goodness, everything has been so crazy and I've been running ragged in 50 different directions. But I decided to take a break from all the work to have a little bit of fun!
As part of LitCon2021 I am offering Story Time on An Angell's Life and I got my first taker.
Prolific author Stephen B. Pearl requested a story time reading of his Scifi adventure Cloning Freedom.
So sit back, relax, and enjoy this fun scene he sent over to tease this great story!
For real, though, while this was part of a project for LitCon, I loved reading this sample so much. I really want to get to learn and know more about Rowan and being able to use my acting again was great! I look forward to getting my own copy and reading and reviewing.
When I finished reading it, I was so jazzed I wanted to go out and buy it right now! Then I remembered that I have 20 books in my TBR and am not allowed to buy more books until I work that list down which kind of broke my heart. But I have added this to the top of my wishlist. Now I want to knock out more of my reading so I can pick this up too!
Join us for LitCon at Litcon.org March 5th-7th It is free for readers as we want you to focus on buying books! ​
Were you as intrigued with that sample read as I was? Grab Cloning Freedom from the publisher or at your favorite book retailer. Cloning Freedom also comes in a dyslexia-friendly print version, with larger character and line spacing, left-aligned text, and bold type instead of italics for emphasis.
Learn more about Stephen Pearl by visiting his website following him on Facebook  or Following him on Twitter 
Until next time,
Keep Reading!