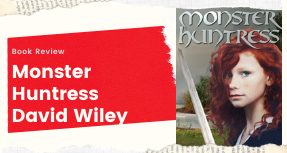 Hello Lovelies, 
I am honored to participate in the tour for Monster Huntress, the first book in the Young Huntress series by David Wiley. This tour has been a ton of fun so far, with character spotlights, articles on world-building, and more fun. Here is my review!

Genre: Epic YA Fantasy

Synopsis: 
Consecrated with her mother's blood and blessing.
The world tells Ava she's just a little girl who should know her place, but Ava wants a sword not a crown. Ava and her father are following in her mother's footsteps, hunting monsters in the 13 Kingdoms, seeking revenge for her mother's untimely death. Little do they know that the monster responsible is building up a dangerous force. When The King requests the help of Ava's father in exchange for her becoming a princess, Ava is not pleased. Can Ava escape her fate and the obnoxious prince of Harborg to live the life she's always known, or will the dark plans of the monster catch her in his trap.

David Wiley combines the action of Tomb Raider with the fantastical elements of The Witcher to create the exciting world of The Young Huntress high fantasy series. Track down Monster Huntress today and slay your need for good fantasy.
​​Review
Y'all, I am so in love with Ava. OMG! Seriously, this 13-year-old is my hero. She is everything I wanted to be as a kid. I remember playing with sticks as swords and hunting down dragons and wargs and other monsters. I just wasn't an adorable redhead! But the underlying story of the loss of her mother, the memory of her father's behavior before her mother's death, his gruffness with her and teaching her to be "tough" were heartbreaking. I LOVED her reaction to being forced to stay behind in a palace with servants while her dad went off to hunt a dragon (or was it?!)  and I am right with her about Flynn, what a creep! When she rescues Mouser from him, I was cheering her on! I adored Mouser and hope we get to see more of him. I also adored Edgar. I definitely want to see more of him! Can't wait to get the paperback for my own little monster hunter to enjoy and am very much looking forward to the next book in this awesome series! 
I enjoyed this story so very much, that I am doing a little giveaway over on the Facebook event. If you love board games and fantasy fun, then you should definitely check it out on the pinned post. 
Wanna give Monster Huntress a read? It is available for pre-order for only $2.99. The price will go to $4.99 when the book releases April 21st. 
Until next time, 
Keep Reading!