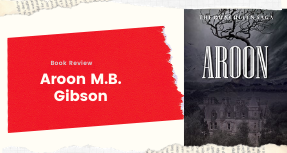 Hello Lovelies,
I am excited to share with you a bit about Aroon by M.B. Gibson. I was honored to receive a free paperback in exchange for an honest review and to use in my booktube and bookstagram channels.
You can see just how excited, as I open the shipment!
Genre:
Historical fiction/ 18th Century Ireland

Synopsis: 
Amidst the lush beauty of Tipperary, a darkness runs through Duncullen Estate. Young heir Richard Lynche is suffocating. Between his father's disgust and mother's plunge into drug-induced lethargy, his only solace are the arms of the new maid, Eveleen. Yet, mounting pressures give rise to chillingly ominous visions. Richard must destroy his parents' chokehold and create a life with Eveleen whilst maintaining his sanity. He will eradicate the torture. Whatever it takes. Aroon is a cauldron of old-fashioned Irish stew. Spiced heavily with Downton Abbey, sprinkled with Shakespeare's Hamlet and a dash of The Godfather's Michael Corleone, it explores the underbelly of life during the Protestant Ascendancy.

My Take:
I have been on a bit of an Irish kick, lately. I loved and hated Aroon. It is rich, hauntingly accurate to the time period, and full of intrigue. As I read it, it reminded me of a crazy mash up of Downton Abby, Poldark, Jane Ayer and Wuthering Heights. It was interesting to see Richard and his mother through their eyes, and how they viewed Richard's father and the servants, then to later see how others viewed them was quite a telling view of the world we live in today. I liked Richard to start, but much as Heathcliff and Poldark change (and not for the better), the classsist demands twist Richard into something I did not much care for. Gibson plays with some dark themes demonstrating how even knowing our past doesn't necessarily allow us to escape becoming the very things we despise. She looks at it from every perspective. From the upper class, down to the poorest servant. Definitely a book that you will need a day or two to digest after reading. 
If you are a fan of dark period pieces, this is right up your ally. Take a look inside today!
Until next time, 
Keep Reading!