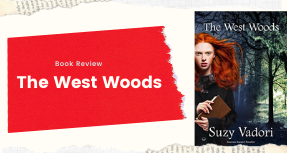 Hello Lovelies,
I am excited to share The West Woods by Suzy Vadori. I received a an e-book copy of this book for the purpose of review and promoting as I saw fit.
Here is a shot I got on Instagram
Rebekah Jonesy and I actually did this as a group read on Beautiful Book Geeks. Check out our first episode and our thoughts on The West Woods or read below to see my personal thoughts.
Genre:
Urban Fantasy
Synopsis: 
The West WoodsCourtney Wallis wants nothing more than to escape St. Augustus boarding school. After uncovering a well-kept secret about the school's founder, Isaac Young, Courtney turns to the school's magic to convince her dad to let her leave. Things take a turn when she meets Cole, who lives in the nearby town of Evergreen. He gives her hope that things might not be so bad. However, the school's fountain has other ideas, and binds Courtney to her ambition, no matter the cost.As Courtney struggles to keep the magic from taking over, she and her friends get drawn into the mystery woven into the school's fabric. Everything seems to lead back to the forbidden West Woods. Together, she and her friends seek out the spirits of the past to ask for help, and find themselves in much deeper than they'd bargained for. If they succeed, Courtney could be free of the magic. If they fail, she may never be the same.
My Take:
This was an interesting and entertaining story about Courtney, a sophomore who wants nothing more than to attend the local high school and run on the track team, but who's senator father wants her to attend his Alma Mater, a boarding school where there is no track team and her best substitute is swim team. When she begs him not to make her, he tells her that there is something magical he wants her to find out about the school, in particular the West Woods that surround the school. She never knew he meant literally. But as Courtney digs into the mystery her father has set her on and discovers a magic wishing well, she finds herself trapped in a genie-type wishes don't always turn out the way you hope scenario. 
I had a hard time connecting to Courtney, even before her wish took over her and changed her personality, she was kind of the type of girl I don't really like. And all the running! It's kind of a key piece to the story. I would much rather swim than run, lol. 
But it is a well-told story that touches on a lot of issues relevant to most teenagers such as how far you're willing to go for what you want, how priorities can shift and change, how to deal with difficult people. There are some good nuggets of wisdom buried in this entertaining story. I was surprised when I got to the end and found out that this is actually the second book in this series. I liked it enough to add The Fountain (take a peek) to my TBR, though I suspect this is one of those books that my boys will enjoy more than I did. I imagine you'll see their review for it soon enough. 

If you enjoy mystery books like Nancy Drew and Babysitter's club, combined with magical elements like The Magic Treehouse of Fablehaven, then grab take a peek

Until next time, 
Keep Reading!