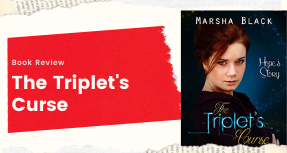 Genre:
YA Urban Fantasy

Synopsis: 
When the moon is full
High above the Earth
Three daughters shall be born
On their 16th birthday, their destiny will begin
One daughter, born with the knowledge of the future, yet blind of those closest to her

As Hope's 16th birthday nears, weird things happen. Then on the night of her 16th birthday, she awakens with a scream. An unbelievable nightmare becomes her reality, and she questions her sanity.Bryce, a new guy in town, arrives to help.In order to survive, three must work as one, or all is lost.Will Hope learn to use her ability in time?

My Take:
I received an advanced reader copy for the purpose of review. And man, am I glad I did. This story is the first in a three-part series about three sisters who are cursed. Hope is definitely a character I can relate to. Grade oriented, not really part of the popular crowd, and with no desire to be, she is just a normal teenager struggling with getting along with her sisters, looking forward to getting her license… and having the joy of always being thrust into the spotlight she hates, because she is one of the only sets of triplets ever born in their small Wisconsin town. 

​​Then she meets Bryce. Oh, Bryce. I can't decide if I like him or not. I mean, he's ok. At least he's not the sullen brooding boy that seems to be the hot "it" thing in YA UF of late. But (and I think this is true to his character, as opposed to the bad writing I've seen from other authors) Without Hope, he is kind of nothing. I mean, literally, this kid has been raised in a cult society, his sole purpose of existence, to find the triplets from the curse and aid them in training and preparing to battle evil. We get a brief glimpse of this young man who doesn't really believe in his mission, and kind of isn't happy with his life, but then the spark happens (No, y'all it is a LITERAL spark, sounds SO cool. I want to see a movie version of this JUST to see the spark, lol) and suddenly he is a born again convert to his cult's beliefs. Which, is probably a good thing or poor Hope would've been screwed. 
But it would've been fun to see him maybe buck the system a little bit? I have hopes, thanks to some teasers for the next books, that one of the heroes/ heroines might, though. After all, Fate can only do so much, am I right? 
So, yeah, each book is about one of the sisters, and their coming into their power, as far as I can tell. I loved the baddie in this one, and the way it was revealed. I can't say I didn't see it coming, but at the same time, it was a surprise. The author did a great job balancing the reader's knowledge and expectations. And holy crap, the teaser at the end for the next book!? As soon as it's available for preorder, I am ordering it! 
If you enjoy stories where the hero is fated to save the world, with a dash of romance, and a splash of snark, then The Triplet's curse is definitely for you.
Take a Peek Inside A Triplet's Curse- Hope's Story

Until next time, 
Keep Reading!