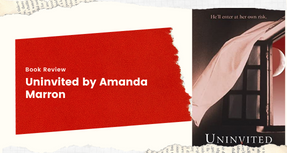 Hello Lovelies,
I am participating in #OctoberFrights this week and today is the first post. A review of a fun quick Halloween read, Uninvited by Amanda Marrone. Let's get to it!
Genre:
Paranormal dark romance? Amazon has it under YA teen horror.
View this post on Instagram
Synopsis:
When rejection comes back to bite you…
Jordan's life sucks. Her boyfriend, Michael, dumped her, slept his way through half the student body, and then killed himself. But now, somehow, he appears at her window every night, begging her to let him in.
Jordan can't understand why he wants her, but she feels her resistance wearing down. After all, her life — once a broken record of boring parties, meaningless hookups, and friends she couldn't relate to — now consists of her drinking alone in her room as she waits for the sun to go down.
Michael needs to be invited in before he can enter. All Jordan has to do is say the words….
My Thoughts:
I had a stalker in high school. He was nowhere near as charming as
Michael. He also never lurked outside my home (though I certainly had nightmares he would) and we didn't have a romance before he became my stalker. However, I still really connected to a lot of her experiences and the feelings behind them. This book only deals with a vampire on the surface. It is really a deep look into teen abusive relationships, teen social struggles, and is a darkly beautiful coming of age experience for Jordan.
It feels like a light read, at only 204 pages. I read it in one day. But it clings to you after. My favorite thing about this book, unlike a lot of paranormal romance *cough cough Twilight cough cough* which shall not be named, we see Jordan recognizing what is happening, recognizing the abusive nature of her situation. Hating herself for being attracted to it, resenting how it was impacting the rest of her life, really taking stock of her situation and demonstrating the climb back to self-love and self-care. This is a book every teen should read as it is a perfect example of toxic teen romance and why you don't want that kind of relationship.
Want to learn more?
Visit Uninvited by Amanda Marron on Amazon
Be sure to come back Wednesday and Friday as I am going to have some fun stuff for you: a sample of Las Immortales, part of The Hunters Saga, and some fun DIY Halloween decorations on a shoe-string budget.
And I have hand-crafted stakes for sale for those who want one!
#OctoberFrights
If you missed the kick-off with 4 of the participants of the hop, check it out:
Don't miss the other awesome events happening as part of #OctoberFrights. There is a bookshop full of awesome books on sale, a giveaway with fantastic reads, and lots of fun stops like this one!
Visit the other blogs here:
Until next time,
Keep Reading!