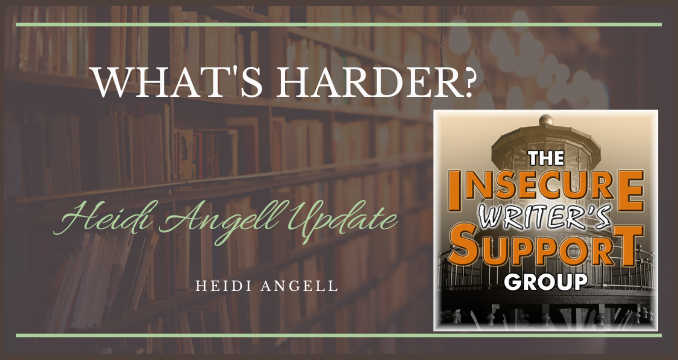 Hello Lovelies,
So, to keep in the spirit, I decided to do NaNoWriMo this year. It's been a hot minute. But some of my best works came out of NaNo and it's great for keeping me motivated with that collective word count goal. I need that motivation! If you're participating in NaNo, feel free to
follow me
!
I am working on the 3rd book in The Hunters Saga, The Counsel, for NaNoWriMo, as well as working to get the first books re-launched under my own umbrella.
Combine that with prepping for holidays, and reconstruction from a bathroom leak, November is shaping up to be a CRAZY busy month. Definitely need the motivation vibes from everyone!
On to the main event!
#IWSG November Prompt
Purpose: To share and encourage. Writers can express doubts and concerns without fear of appearing foolish or weak. Those who have been through the fire can offer assistance and guidance. It's a safe haven for insecure writers of all kinds!
Posting: The first Wednesday of every month is officially Insecure Writer's Support Group day. Post your thoughts on your own blog. Talk about your doubts and the fears you have conquered. Discuss your struggles and triumphs. Offer a word of encouragement for others who are struggling. Visit others in the group and connect with your fellow writer – aim for a dozen new people each time – and return comments. This group is all about connecting!
Be sure to link to this page and display the badge in your post. And please be sure your avatar links back to your blog! Our Twitter handle is @TheIWSG and hashtag is #IWSG.
You ready?
Let's rock the neurotic writing world!
This month's optional question:

What's Harder to do, Coming up with Your Book Title or Writing the Blurb?
Honestly, I am the worst at titles. I either tend to go too esoteric (Elements of a Broken Mind) or too basic (The Hunters) and trying to match for genre is just…. ugh.
The blurb, I actually find a lot easier. I get more words! Lol.
But, I also am lucky to have built up a pretty awesome community and with both, I always shop them in
Author Anon
and after getting their feedback and tweaking, I shop them in my reader support group
Heidi Angell's Geek Street Squad
. I used to use other groups to shop but found that the feedback often conflicted and was so divorced from who I am as a writer, my brand, and my audience. So now I just stick to these two groups. If you are an author who would like help shopping your titles, blurbs, covers, marketing content etc. I welcome you to join Author Anon. If you love my work, come join The Geek Street Squad!
Thank you to the awesome co-hosts for the November 3 posting of the IWSG, Kim Lajevardi, Victoria Marie Lees, Joylene Nowell Butler, Erika Beebe, and Lee Lowery!
Be sure to check out the other awesome posts on the
Blog Hop
And until next time,
Keep Reading!