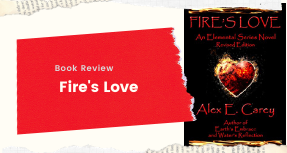 Hello Lovelies,
I'm thrilled to share a review from my little man, who also wishes not to be named in his reviews so he is choosing to write his reviews under Angelic Valdez. Today he is reviewing Fire's Love by Alex E. Carey.
I received this book from the author in exchange for an honest review. Here is the book unboxing and my first impressions of the book.
Genre:
Urban Fantasy/ Romance
Synopsis:
Kira thought she was leaving her demons behind when she left for college. She quickly discovers demons are everywhere, and can be good or evil. Not only are they real, but they're protecting her; that is, except for the ones who want her dead. Kira's parents want to reveal things about who she is, but a strange phenomenon prevents them from explaining. Before they can try again, her mother and brother die and her father disappears. Afterward, Kira finds a mysterious book in her parents' belongings. Although the book confuses her, it comforts her too. She's sure it holds the answers she seeks. One of Kira's new friends, Lowell Hew, is also an earth demon named Ulric the Wolf Thief. Lowell tries to help Kira solve the mysteries involving the book, her parents, and the elements they wanted her to know. Although Lowell has a crush on Kira, he's not looking for a relationship, or so he keeps telling himself. Meanwhile, Lowell introduces Kira to his best friend, Pyre, a fire demon with a fiery temperament and a troubled past. Pyre closed off his heart years ago, while deep inside he yearned to belong. For Pyre, learning to love again comes with tremendous risk, especially when the girl he loves is human, and his best friend has thoughts of his own. Things go well until an eerie presence threatens Kira and her new friends, and they can only speculate as to who it may be. While her friends protect her and try to uncover the enemy's identity, Kira must adjust to the challenges of being human with demon friends. Will she bask in the warmth, or be consumed by the flames of Fire's Love?
Angelic Valdez Take:
I honestly loved the book! Can't wait for mom to buy the second and third books. First time I read it I had spotted it on my brothers speakers and I remembered mom liking the book so I decided to read it. I did not even put it down ONCE for 7 hours straight. I went from the very beginning of the book to the very end of the book within 7 hours. Truth be told, I'm not into Romance books but this one was different it was a more enjoyable romance. I thought Kira would fall for Lowell/Ulric whichever you prefer but Pyre ruined that thought. I could tell from the moment that he had to be suppressing something with how mean he was to her. It was obvious that he was forcing his feelings so as I read on I found out that Pyre loved Kira, which I didn't see coming and then when Lowell started grinning creepily/strangely once he put the puzzle pieces together. I was honestly curious why he was smiling so I dug even further to find out he doesn't at all talk to his family aside from grunts like "Hn" and stuff. I was surprised! I mean, its his own freaking family and he doesn't talk to them? Sheesh, talk about overkill.
I have a suspicion, granted its pretty much baseless, but I think Kira might be part demon or angel or SOMETHING abnormal. I mean she has a book that is written in a forgotten demon language that her mother told her how to use. Umm, DING DING much? On top of that, some of her dreams come true. Another DING DING moment. You're like, "something's not human about her".
When Pyre's family freaks when they find out Pyre actually has feelings I was a bit curious why most people thought fire demons don't have feelings. I mean other demons have feelings why can't Fire demons? And then came the part about the birthday Caedmon gave her an album of pictures he'd been taking since he first met her which I find a bit creepy, but overall I enjoyed this book and I want to read the second and third in the series and hope that Alex E. Carey continues the story from there.
Until Next Time,
 Keep Reading!