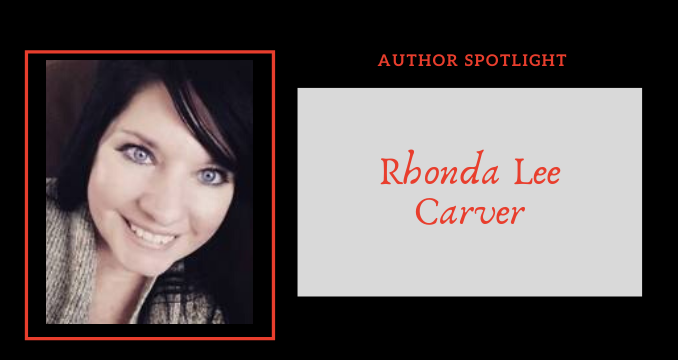 Hello Lovelies, 
Welcome to another fun author interview with romance author Rhonda Lee Carver! At an early age, Rhonda fell in love with romance novels, knowing one day she'd write her own love story. Life took a short detour, but when the story ideas would no longer be contained, she decided to dive in and write. Her first rough draft was on a dirty napkin she found buried in her car. Eventually, she ran out of napkins. With baby on one hip and laptop on the other, she made a dream into reality—one word at a time. Her specialty is men who love to get their hands dirty and women who are smart, strong and flawed. She loves writing about the everyday hero. When Rhonda isn't crafting sizzling manuscripts, you will find her busy editing novels, blogging, juggling kids and animals (too many to name), dreaming of a beach house and keeping romance alive. Oh, and drinking lots of coffee to keep up with her characters.

Welcome to an Angell's Life, Rhonda! What is the current book you are promoting?
Cowboys Forgive (#8, Cowboys of Nirvana)

Coming from the Midwest, I have a special place in my heart for Cowboys! What is your next project?
My next project is Weston's story, book 3 of Saddles & Second Chances. It will be releasing in July!

Sweet! Can't wait to see. What is one place you would like to visit and why?
Bora Bora. I want to stay in a water hut. I love the ocean and blue water.

That would be really neat. How do you write your books?
With lots of peace and quiet. When my kids are in school I work all day.

Ha, I can relate. The day my kids started school was the greatest day of my life. Don't get me wrong, I love them to pieces (as I'm sure you do.) but man they take up a lot of time! What is one great lesson you have learned as a writer?
We always have something to learn, no matter how many published books we have or how much money we make.

Rhonda has provided a sample of her latest book. Enjoy!

​​ 
Taking a dirt bath off a bull lands Jace Jackson into the hands of beautiful, smart, sexy country singer Jessa Garvey. In pain and loopy on pain meds, he has no clue he's flirting with her, and making a big damn fool of himself. Back in high school she rejected him, and although years have passed, sometimes a cowboy can't forget. When Miss Priss invades his space at Nirvana, he decides to give her a dose of her own medicine and puts her to work mucking stalls. That'll teach her…
Or will it?
Trading her guitar for a shovel, Jessa is out to prove to Jace that she isn't the same person she was as a teenager. As far as she's concerned, he'll forgive her even if it kills her, or lands her hot and willing in bed with the dangerously handsome cowboy.
She's in deep.
Forgiveness is granted, but she isn't prepared for the choices she must make. Has she changed enough? Does the sliver of selfishness remain?
"I'm getting my pants back on. I'm feeling a draft." He searched the room and found his clothes neatly stacked on the table. As he stepped over to grab them his gown opened in the back, showing off a pair of blue striped boxers. She stifled a giggle. Good thing he wasn't naked, but good for whom? She wouldn't have minded. Tight asses were hard to find."Damn!" He gave his head a quick shake. She noticed that he was having some difficulty managing sliding one foot into the leg of his jeans because he was favoring his sore ribs."Here, I'll help."She heard his gasp as she knelt before him, helping him slide one leg in, and once that was done, she smiled. "That's wasn't too hard." She looked up and gulped. she was eye-level with his crotch—his bulging crotch.
His eyes fell to her mouth and he didn't need to say a word for her to realize where his thoughts headed. She couldn't help herself as her own thoughts stumbled down the same direction. Looking further up his body, he was wide-eyed and a tuft of his hair hung down his forehead.
Clearing her throat, she wasn't sure where to go from here.As if he couldn't help himself, he closed his eyes. Could he be trying to control his thoughts? Things only got worse—or harder. The tip of his erection poked out of the hole in his underwear. He opened his eyes and groaned in humiliation.With jeans scrunched at his ankles, he took a step back, lost his balance and fell back onto the floor, hitting his head on the metal table sending it crashing against the wall."Damn! Son-of-a-gun. Mother fucker!" After the strings of explicits finished, he lifted a hand to touch the back of his head, wincing in pain."Jace? Are you okay?" She squatted beside him, helping him sit up. "Does it hurt?""No, it feels great." He touched his ribs lightly.She bit her lip, not sure what to do to help him at this point. "I'm sorry."
"I shouldn't have gotten out of bed this morning." He moaned. "Go ahead, hit me right here and knock me out." He patted his cheek."I wouldn't do that." She frowned."Damn pain pills better work!" he groaned."Hold on. Let me see what I can do." She stood, scanned the small area and found an ice bag that he must have been using on his ribs. She brought it over and he watched her, his eyes glazed. Yeah, she'd guess the meds were starting to kick in. She sat next to him and patted her lap. "I'll ice the back of your head."He wrapped his steely arms around her. Their faces were so close she could see a freckle on his cheek. "I'm a little blurry-eyed and wobbly, but you're beautiful."
"Yes, you are."Before she knew what was happening, he bobbed back and forth then moaned. Just as she'd suspected, she was no resistance against his weight. Together they fell to the floor with him sprawling on top of her, pinning her underneath his unconscious body. "Jace?"Nothing."Hello? Yoo-hoo!" She tapped him on the shoulder. This time she received a deep snore in response.Oh no. I'm trapped.She tried pushing him to the side, but her arms were stuck under him. His snoring grew louder, tickling her ear drum. Her limbs were quickly falling asleep. And if this position wasn't enough to throw her for a loop, his hand came up and grasped her breast. What should have been pure humiliation skittering through her body, instead was a reminder that she was a woman who craved a man's touch. A woman who found this cowboy sexy and amazingly virile.He jerked and she looked down at his profile. He was staring at her. "Jessa? That's you," he mumbled. "You, snob, you. I didn't like your prom dress."She froze. So, he did recognize me. Although he was talking out of his head."You're cozy," he said against her chest.Jessa realized she should be doing her best to get the brawny man off her body, but instead, she found it quite entertaining. And she had a feeling this wouldn't be the last time she saw Jace Jackson, not if she could help it.

Want to learn more about Rhonda's Works? Check out her website. Want more delicious samples like this? Follow Rhonda's Blog. Want to see the books that inspire Rhonda's reading? Follow her on Goodreads! Follow her on Facebook, or join her Street Team on Facebook. Follow her on Twitter and Amazon to learn more about her books. Join her Newsletter for special exclusives and notifications. 
Until next time, 
Keep Reading!