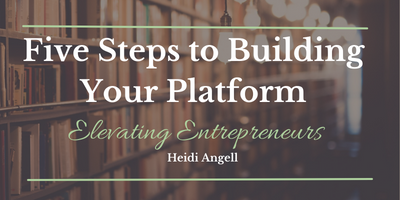 This post was updated 2/9/2023
You have decided that you want, no need, to be an entrepreneur. You may think that the first step is to sit down and write your business plan, right?  Well, that seems a logical choice, but the first step is to start building your platform. In the marketing world, they call this branding. But unless you are a marketing major, this may seem very overwhelming and you may not know where to begin.
You may even ask yourself WHY you need to build a platform. That's OK, I've got the answer for you. In this modern day and age, there are so many businesses being started, side hustles being run, and people wanting to work for themselves or create an additional revenue stream. There are so many books being published through so many different sources that you have to be prepared to compete right out the gate.
Even if you are lucky enough to get investors or have your first book picked up by a major publisher who will provide marketing resources; anything you can add to that marketing will only help you reach more viewers. Demonstrating to an agent and/or publisher that you have a platform may get you a contract over another writer whose work is just as good (or possibly better) but who does not have a platform. Developing a platform for your product will give you valuable eyes and ears to guide your development process and make your investors feel more confident in continuing the investment. It will also allow you to have an immediate revenue stream once you release the product. Whether you are looking to partner with others or just working for yourself, that is a win!
Here are five free and easy steps to begin building your platform. Start now, because it takes time.
1. Start Making Contacts
This is easy if you think about it. Go where your kinds of people are. Are you an app developer? Join app development groups on Linkedin. Are you a game developer? Go to gaming stores and online communities. Want to write a book? Do you buy books in a store? Take time to get to know the clerks. You don't have to tell them you are an aspiring writer now. But if you take time to build that relationship now, when you do get your book published you will already know who to talk to!
Get in a writers' group. Writers are extremely supportive! When your book does come out, if you have built up a camaraderie with these people, they will be excited for you and will want to help spread the word about their writer friend who is making it! They may have also helped you write this book (Through editing, suggestive criticism, etc.). Your success becomes their success and they will expect the same help when it is their turn!
If you go to school, get in with department resources.  There are so many more connections that you can make. Look at your life and your habits, find people you can connect with and start building those relationships now.
Volunteer in your community to help others learn your craft. Whether it is at an elder care facility, your local boys and girls club, or another organization. Sharing what you know and love will help inspire others. They become invested in you because you invested in them. Reciprocation is the word, people!
2. Start a Facebook Page
Most of you probably already have one, but this is more than just a Facebook page. This page should just be about you as an entrepreneur. You need to maintain a certain level of professionalism on your page. No posting drunken pictures, embarrassing pictures, or photos from when you were a goofy kid! You need to be involved and engaging, but you probably don't want to be posting about your personal dilemmas, using abusive or foul language, or posting controversial materials that may turn people off of your brand. You need to build your friend list as much as you can. When you do make it; these people will know you, they will be invested in you and will probably buy your service or product! See more Facebook Tips here. 
3. Twitter
This was the hardest one for me. I had this mental image of Twitter. I figured it was a bunch of teenagers tweeting stupid crap like "I just got in the shower, think of me!" and… I'll be honest, some of it is! You need to treat your Twitter like your Facebook page. Follow people who interest you and who might be related to the biz. Don't just follow everyone who follows you, because a lot of them are spammers. Be selective. Post thought-provoking insights, inspirational quotes, your experiences, and links to other entrepreneurs' work (or your own). It takes time to build up a good, legitimate following on Twitter, but in the end, it is worth it. These are more people that you can market to once your product launches. For a deeper guide on Twitter, don't miss this article.
4. Get Involved
Entrepreneurs sometimes have this vision of them working all alone building their company until they can get investors, then blowing up. That is rarely how it plays out. Most companies that make it do so because the main founder discovered like-minded people who wanted to build the same thing together. How do you find those like-minded people? By getting involved beyond just the contacts. Be an active member in forums, in discussion boards, in associations. Don't be so afraid of someone stealing your idea to even talk about it. File the appropriate patents, trademarks, etc. then talk about it. Find passionate people like you to network with. Help others who are building other dreams. The entrepreneurial community can be very competitive, but it is also incredibly supportive. 
Writers often have this image of sitting alone in a coffee shop writing a book or hiding in a basement slamming out thousands of pages a day. But, there are so many great communities out there for writers and you need to get involved. This will teach you about your craft, and the movements in the industry, and give you a great support group and in the end most writers are readers so it is another great place to market your book! Some great sites I am active in are GoodReads, Association of Author's Representatives, Horror Writers Association, Science Fiction and Fantasy Writers of America, Absolute Write Water Cooler, and many blogs written by agents, authors, publishers, and other professionals in the business. The important aspect of being involved is to comment at these sites. Get to know the communities. When your book does come out, you may be able to advertise with them, and in the case of the bloggers get them to interview you, review your book or otherwise mention you or your work! Plus, people become familiar with your name, comments, and writing style. When you get involved make sure that you are presenting a positive image that will help you market. Every post you make will reflect back on you!
5. Start a Blog
'What? You want me to directly compete against you?' You may be thinking. No, not really. Although competition is healthy. You don't have to write an Entrepreneur's Tip blog, particularly if you are new in the industry and not experienced with writing. Find your own unique angle to pursue that will drive the right audience for your products/ services. Show that you are doing your research for your market needs, show that you are listening to that audience, and provide updates on your progress. 
You can start a blog on pretty much any topic. You can do a book review blog like my Friend Linda with Books For Me. If your interests are in Science and you are a science fiction writer, start a blog on Science and the exciting new breakthroughs being made each day. If you like to travel, or dream of traveling, start a travel blog. If you like Anime, start an anime blog. If you are into paranormal stuff, start a blog on paranormal sitings and your theory on them. It is best to keep it close to your publishing interests, as this is another source to market your book when it comes out! For example, if you write historical romances, you probably wouldn't do well to start a true crime blog. Not a big cross-section of people read historical romances and are interested in the Serial Killers of the Century! But Clive Cussler would do o.k. if he started a blog on Environmental Science or Oceanography. Though his books are adventure books, they almost all happen at sea.
There are many other options for building your platform and all of them work. We will review this often because your platform should always be under construction. Each of these suggestions can and will keep you busy. In the beginning, you may not be able to handle more than a few. But the bigger your platform the more hands you can get your book into and that is what writing is about. We want to share our craft. Start building so that when it is time, you can start sharing!
Do you have any tips on building your platform? Please feel free to share them in the comments! Questions? Ask away, we will do all we can to help!
Until next time, 
Keep Writing!