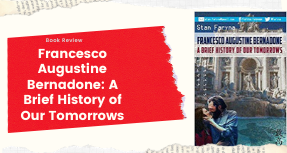 Hello Lovelies,
I am delighted to share an unexpectedly enjoyable little book with you today. I received the paperback copy of Francesco Augustine Bernadone A Brief History of Our Tomorrows from the author to do a book unboxing on Youtube and for review. This in no way impacted my view of the book.
Check out my unboxing and first thoughts video.
Genre:
LitRPG Sci-fi
Synopsis: 
#GameLit #LitRPG #Science Fiction
Can you imagine the future? How about the second half of the 2020s? Maybe what you imagine is not how Stan Faryna sees it. The Dollar and Euro have collapsed. The price of one avocado is like what you pay now to go to the movies. Hundreds of millions of gamers hustle in an epic online game competing against artificial intelligence and each other for prizes worth big money. Most of those gamers will be lucky enough to pay for their daily ration of beans and rice. Entrepreneurial players will pay their rent.
Can Francesco find windfall in a dark, dystopian and post-apocalyptic virtual reality game? Zombies, guns, machetes and permadeath in a game might seem inconsequential to us, but the cost of failure will destroy him. Left untreated, his much beloved wife will succumb to cancer. There is more than a fast and exciting story going on here. Faryna nails three birds with one stone. His long-reflected insights will help some of us to live, love and grow with courage.
Beyond the realism of this tragic, near future world stage for Francesco's story, Faryna offers sharp insights into the human condition, the power of love, and hope. He does so with a nuanced irony and sensitivity that feels too true to ignore – if also difficult to accept. The author asks us to come to a higher place of self-understanding and action, but he does not throw down a gauntlet of big words and intimidating intellectual challenges.
###Recommended reading for trips to the beach or park, coffee shop stalking, lunch hours, lazy afternoons, white nights, and public transit such as planes, trains, buses and ferry. It also makes an excellent gift for those who do those things.This story may be most appreciated by those who enjoy works by the following authors: Ernest Cline, John Wesley Rawles, Paulo Coehlo, Gabriel García Márquez, Frank Herbert, Le Guin, P.K. Dick, Derek Prince, G.K. Chesterton, Tolkien, C.S. Lewis, Gabriel Honoré Marcel, Robert Hugh Benson, Kierkegaard, Steinbeck, Solovyov, Zora Neale Hurston, Dostoyevsky, Shakespeare, Cervantes, Dante, Aquinas, Augustine, and Homer.
My Take:
So this is only my second foray into LitRPG as a reading adventure. And it was definitely different from Conquest. However, there were quite a few similar themes that I think might change the view a lot of non-gamers might have of gamers. Both of these stories have a lot of similar themes. The duality of good and evil in everyday people, the power of love, and the concept of how some people may get lost in video games while others find a higher power. 
This definitely had a much heavier focus on the RPG game aspect than Conquest, but I like how the author clarifies terms the first time (Like RPG stands for Role-Playing Game, MMORPG is multimedia online role-playing game. I have heard these terms for years, living in a house of three gamers, but I never really knew what they stood for. He also defines non-game terms to like EMP. I never realized that stood for European Military Protectorate. Lol. So it was a very educational experience, neatly woven into the story so as not to feel too educational. 
I love Francesco, and his love for his wife. The depths he goes to to save her, and the willingness to risk everything, quite literally, to get her the treatment she needs, is such a beautiful representation of what love is all about. 
The author does a great job developing a believable game world based around a lot of the things that are popular in games now, and extrapolating some interesting advertising trends to a realistic expectation for near-future. I am not a gamer, but I have sat in on enough of my husband's DayZ games to get a good chuckle over Carl and the FOH group that is run by John Dionysis. It reminded me of a group in DayZ run by The Real Morgan Freeman. They are a group of really great players who tend to punish bad players, and reward and help good players. I could totally picture them as part of this interaction. 
This is a short prequel-type story that is clearly driving to a much bigger story and I can't wait to read it! If you want to give this little story a try, take a peek inside.
Well worth the read!

Until next time, 
Keep reading!