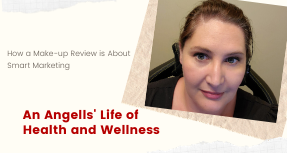 Hello Lovelies,
Some of you may have seen my makeup tutorial recently, and I've had a few people who have questioned if I was getting into the makeup space. I may not, or I may if there are enough of you who are interested in seeing that.
However, that video was really about how companies (and people) who are thinking outside the box will be able to adapt and become the businesses of the future.
During Covid-19 thousands of businesses closed their doors and many were not able to reopen after three months in lockdown. But I have shown and talked about businesses who adapted. From nail specialists and chef's hosting virtual "pamper parties". with a small handful of participants each paying a small fee to participate.
From companies shifting their focus form their brick and mortar locations to their online services. From restaurants offering delivery or pick up when they had not offered that before.
Il Makiage
Il Makiage has built itself for the online generation. They are amazing!
Even if you have no idea about makeup, they have an amazing quiz that helps you pick the perfect foundation. And by perfect, I really do mean perfect. Woke up Like This was exactly the level of coverage, the texture, the right shade for me.
They have a bunch of other quizzes to help you find the right concealer, the right brow kits. You can shop by product, or by "talent".
Under the talent section, they have several makeup artists who create different looks using all Il Makiage makeup and you can see what products they used to create the look.
If you'd like to see more makeup reviews and content, then please visit the video on Youtube, subscribe to my channel, give the video a like, and comment on what you'd like to see next: A product review or me trying one of the Talents' Looks?
Il Makiage lets you try up to 4 of the items from the look for the cost of shipping in their "try before you buy" program.
I mean, come on. How amazing is that? Sure, the cost of the makeup is in your higher-end price ranges, but they make it pretty much painless to try their products.
I am not makeup obsessed. I've had my fun with expressing myself with makeup but most days I don't wear any makeup. But they make makeup fun and they keep adding more talent over there. I LOVE it!
Seriously, I don't need new makeup but I have a 15% off coupon that is burning a hole in my pocket. And I don't even usually do coupons. I am generally immune to "marketing tricks" but they don't use these techniques as tricks. It is just a part of doing business and I love how they do business.
I kinda want to get into the makeup scene just because of them. How crazy is that?
The Big Picture
The reality is that innovation has always driven business development and it will continue to drive business development. Online shopping has been consistently growing year after year. Lockdown made it not just a convenience, but a necessity. Several of the thought leaders on business are saying that Covid has advanced online business by years! And as the virus continues to march along, most businesses thought leaders are saying that if you do not have a solid online presence and strategy you will get left behind.
The great thing is that so many brick and mortar stores have seen huge leaps in their sales, which means that people are willing to shop at online stores besides Amazon at growing rates. This means that you do not have to rely on Amazon to have your online store and sell your goods.
Need Help?
So let's talk about your business.
What are you doing to innovate? How are you changing the business landscape?
If you are struggling with this idea and would like a free consultation then contact me.
Whether you want to up your social media game or expand your online distribution, whether you are investing in a side hustle or are creating a business from scratch after being laid off, I am happy to help you take your company outside the box.
I've provided consults and support for small IT companies, SAAS businesses, MLM friends who want to expand their reach, Book bloggers looking to make some money, fiction and non-fiction authors, Etsy shop creatives, even nail technicians who didn't believe me when I said that they could find a creative way to shift their business online during the Covid Crisis.
I'd love to help you too!
Until next time,
Keep Growing!