Hello Lovelies,
Over the last 10 years I have been on a journey to reduce the excess garbage in my diet in an effort to live a more clean and whole foods life. This journey started when I was 24 and diagnosed with fatty-liver disease. Something that my doctor said he almost never saw in patients my age who didn't drink. (Thanks, jerk!) When I heard those words, I realized he couldn't help me treat my condition because he didn't believe me about my diet. So I did what any sane person does and I hit up the internet.
What I found was that a lot of people my age were being diagnosed with fatty liver disease despite not being heavy drinkers. One thing that the most forward-thinkers of the time (John Hopkins and the Mayo Clinic) discovered is that my generation was heavily exposed to highly processed foods in our youth and it is hypothesized that may contribute to the problem. Now I make as much of my own food as possible and read labels like they're going out of style.
This recipe is a family favorite but is not so keto-friendly. Check out my modified keto-friendly Homemade meatballs if you are looking for KEto food.
An Angell's Life of Homemade Meatballs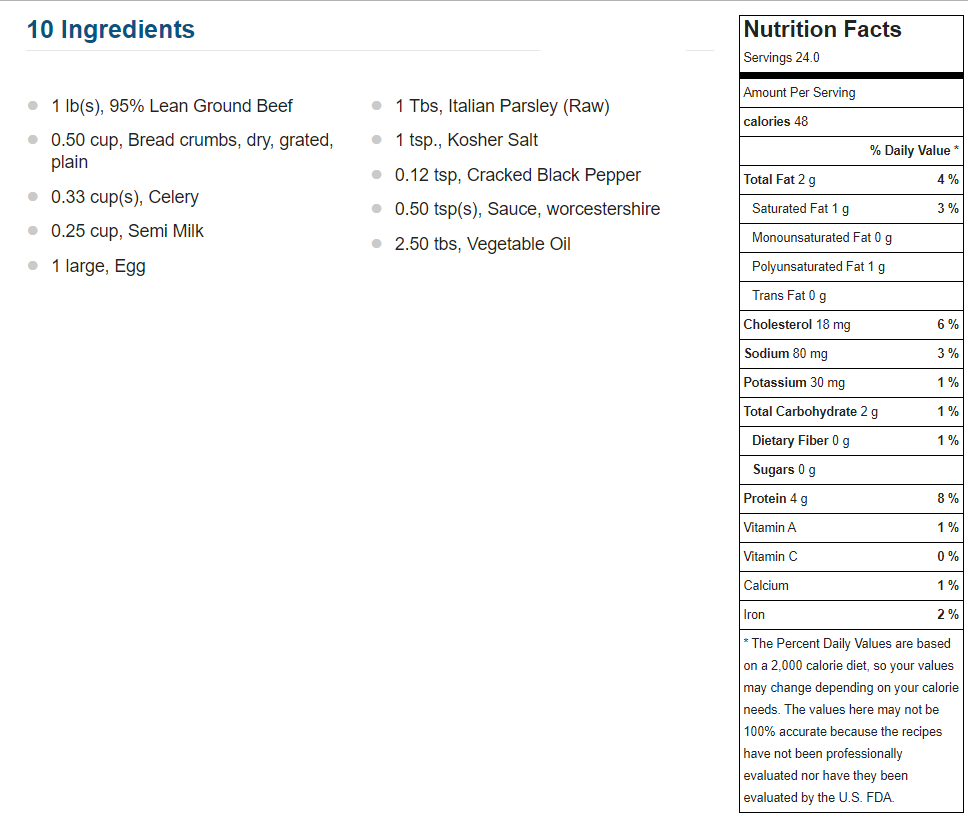 Now if I did this right, you should be able to click this link and add my recipe for Basic Homemade Meatballs to your Myfitnesspal.
Let me know if that works and I will go through and update all the recipes to make it easy for you to add them too!
Directions for Homemade Meatballs
Line a baking sheet (or two, I always rotate two out.) with parchment paper. This will make clean up SO MUCH EASIER.
Turn oven on to 375° (350 if you are doing larger meatballs or cooking in a high altitude environment.)
Add all the ingredients except the olive oil to a mixing bowl.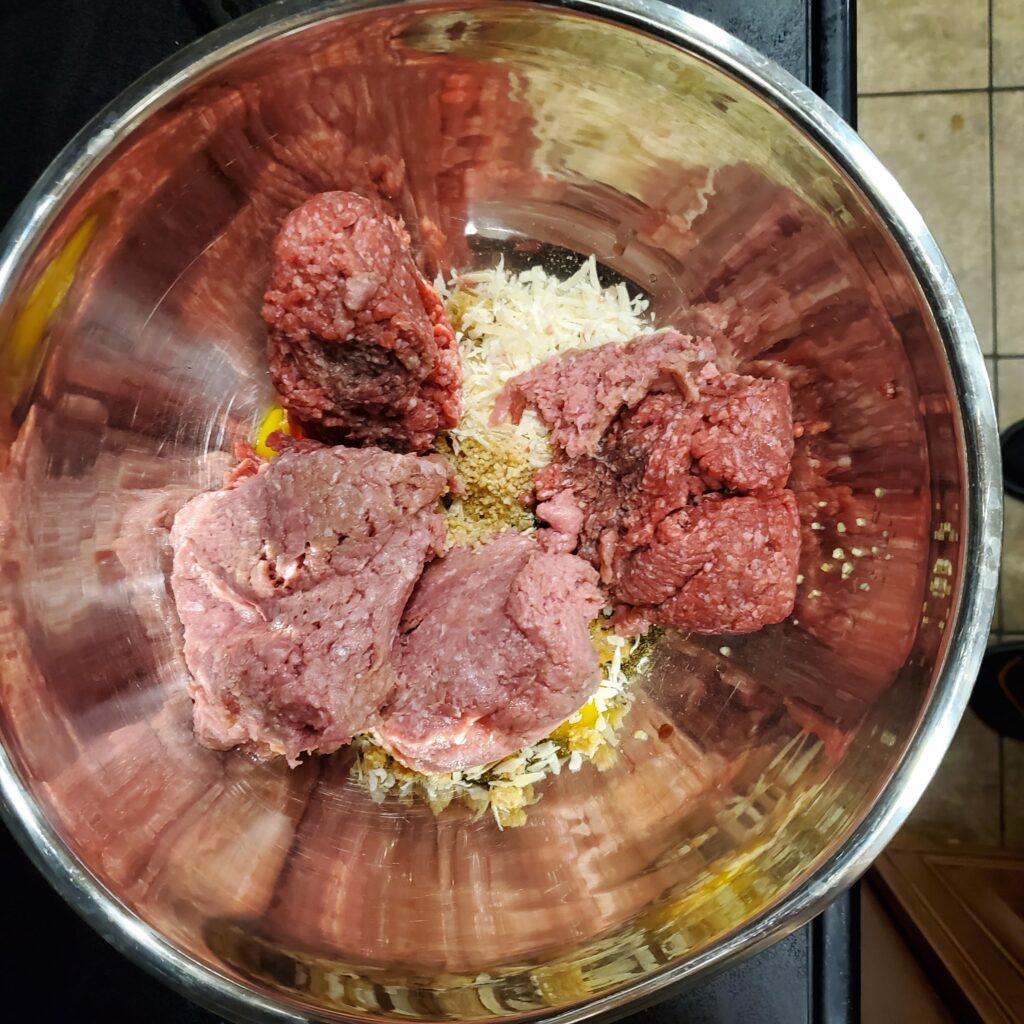 Stir the ingredients thoroughly.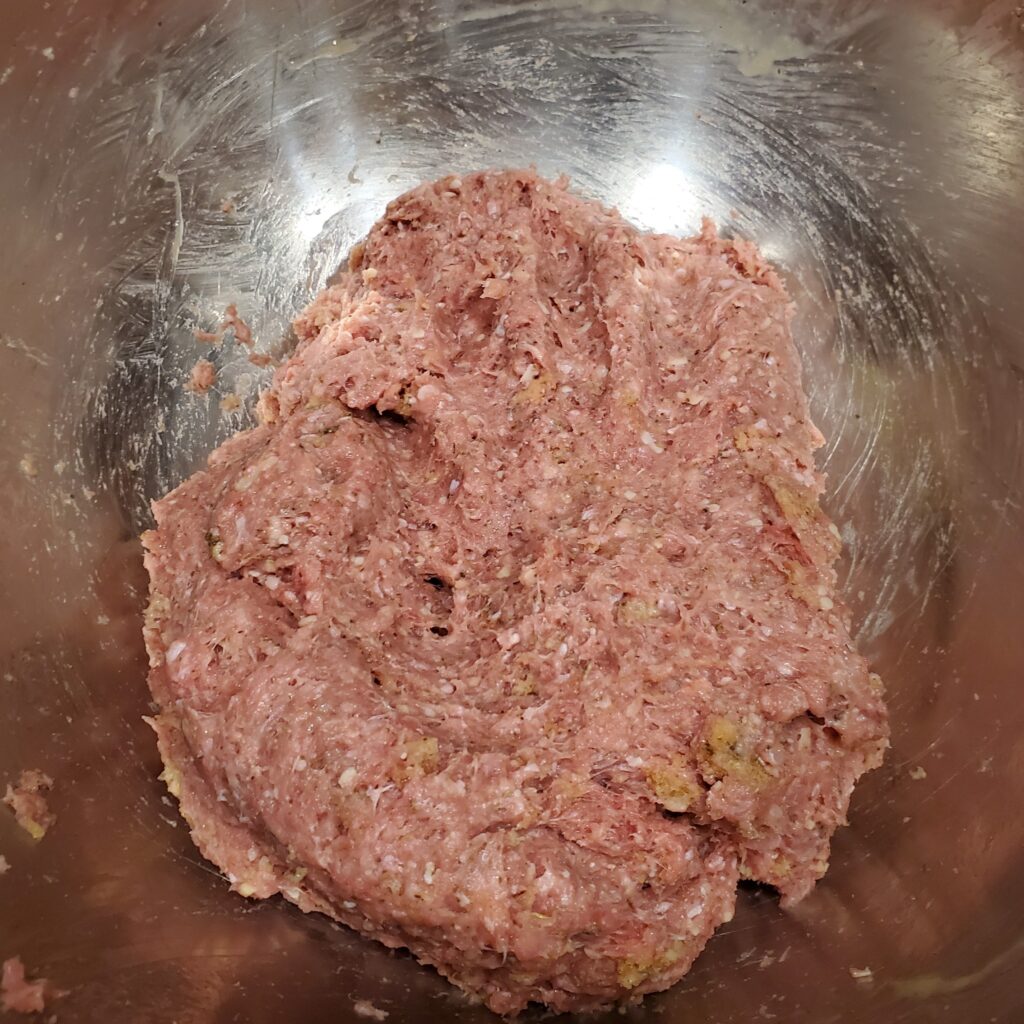 Create the meatballs by adding a scoop to your hand and forming into a ball then coating with Olive Oil. I aim for about 2 tbs worth of meat so I can have 3-5 be a serving. My husband likes making them the size of his fist when we plan to do open-faced sandwiches. Just know that however many you make, divided by 24 is a serving size. This is especially important if you are counting calories because they can add up fast.
After you fill up 1 tray, put them in the oven for 15 minutes.
While they're cooking, fill up the next tray.
Pull them out to rotate and then put them back in for 15 more minutes.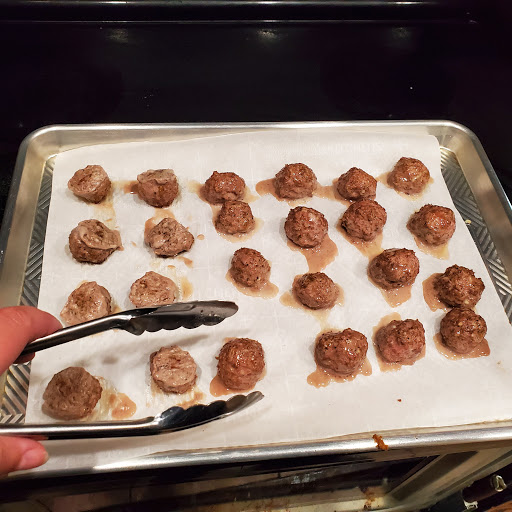 Serve hot or freeze for future use.
Why make Homemade Meatballs?
As the recipe says, this makes 24 servings. I can usually make these once a month and it generally takes me about an hour and a half. That is 6 meals and several snacks worth of food.
The great thing about this base recipe is that it is super versatile. If you don't have fresh parsley, you can use Italian seasoning. My husband really enjoys it when I make it with a dollop of tomato paste when we know we'll be using it for pesto or spaghetti. It doesn't really work in Alfredo for some reason. You can add cheese. We've made cheddar meatballs, parmesan meatballs, and mozzarella meatballs before and they were amazing!
Have you tried my homemade meatball recipe? Let me know what you thought in the comments below. Was there a variation you tried that you really enjoyed? Tell us what you added!
Until Next Time,
Stay Inspired!