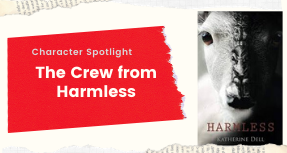 Hello lovelies, 
So I came across this really cool author this weekend, and I couldn't wait to share her book with everyone because I totally added it to my TBR! 
Harmless
Be careful what you wish for.
After moving from Vancouver to isolated Hazelton, BC, high school senior Rachel Barnes hopes she'll finally find closure and a sense of direction after tragedy has torn her family apart. When she and her friends discover the old spirit box her grandmother gave her, they see it as a chance to wish their troubles away. But the Great Spirits—deer, crow, bear, and the mythical wendigo—give away nothing for free. 
So instead of worrying about fitting in and finding a boyfriend, Rachel finds herself in a race to control the malevolent spirit who's taken up residence in Mason Allen, who she fears and craves in equal measure. What began as a harmless game forces Rachel to confront her past—and offers her a future she never imagined.
Step into a reality that is not as it seems in Book 1 of the Harmless series.
Ya'll know I've got a thing for all things Native American, right? Plus, WENDIGOS! Yes, you read that right. I was definitely intrigued! Then I saw these awesome one-liners: 

That mug, so compelling, and who doesn't love tea, right? 
I literally spewed my coffee when I read this. It's so true, when you look at the ancient mythos. A writer who did their homework always has a special place in my heart. And we all know I love the snarky guys. I think I totally get why Rachel has a thing for Mason…
Ah, so the chill factor is definitely there. We all know I can only do so much romance. I need more. This promises to have it.
But for those who like the romantic bits, there will be some, and this feeling is one I can relate to.
And that touch of mystery!
 What is happening here? See! My interest is totally piqued! Bam, on my TBR! 

How about you?
Are you interested in learning more about Harmless? Well, here it is on Goodreads. But for those interested in getting a free sample, the author has the first bit on Instafreebie. Trade your email for the sample! 
Until next time, 
Keep Reading!