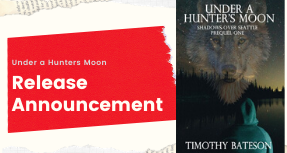 Hello Lovelies, 
As some of you may recall, about a year ago I reviewed Under A Hunter's Moon, an interesting urban fantasy shifter novel by Timothy Bateson. *Hint, I enjoyed it!*
Well, Tim has some exciting news:
He's got "Under A Hunter's Moon" re-release on wide distribution, with a live date of June 26th 2018, and currently available for pre-order at many ebook retailers. I absolutely LOVE the new cover!
​​About "Under A Hunter's Moon "Richard Parsons is a maverick wolf-shifter with a tendency to find trouble. When a traveling exhibition returns to the McCaw Museum Richard finds that he has personal reasons to visit after hours. His audacious plan goes awry when a particular display forces painful memories to the surface. Can Richard face down the demons of his past before the police become aware of his presence? Where to order: 
Amazon, Smashwords, Kobo, Barnes & Noble & iBooks
Retail Price for eBook: $0.99 (USD)eBook ISBN: 9780463358368eBook ASIN: B07CS1SQ8T  

About The Author
Timothy Bateson is a writer who broke into the market in 2014, with three short stories being featured in Halloween and science-fiction anthologies. In 2016, Bateson self-published a re-release of "Under A Hunter's Moon", the first of several stories set in the "Shadows Over Seattle" world, which he co-writes with his wife, Sandi Bateson is also a blogger who often spotlights books and fellow indie authors, alongside his other interests, such as the Brain to Books Cyber Convention events, falconry, journaling, quotes, and reading.
So go get this fun summer read and get hooked on the world of Shadows over Seattle today! 
Until next time, 
Keep Reading!