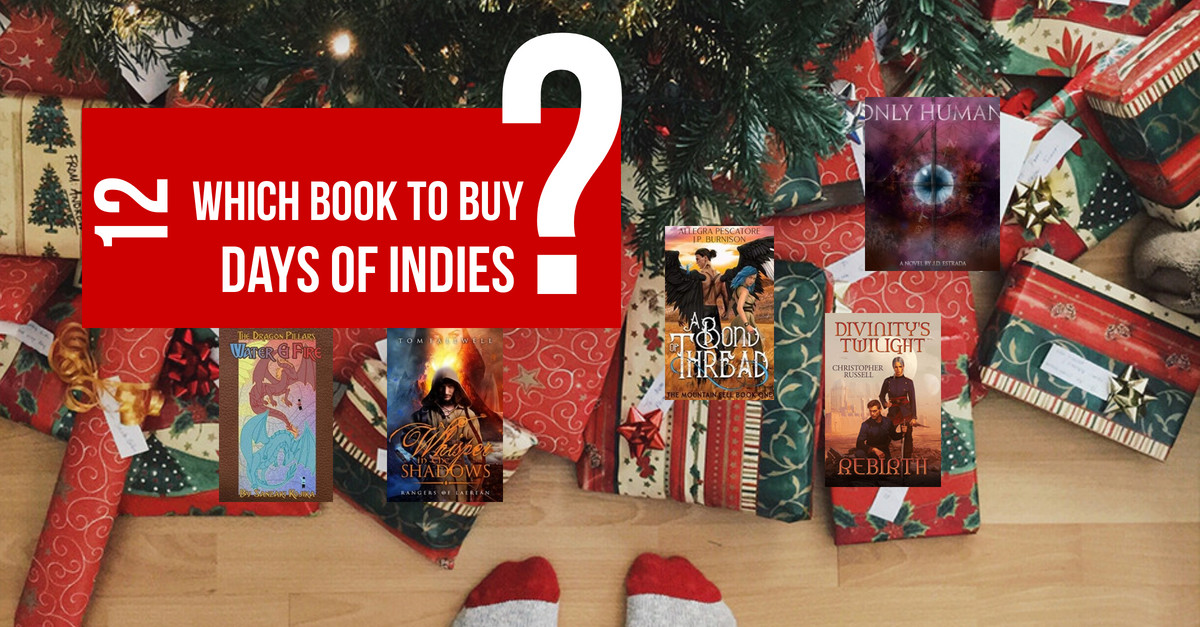 This post was updated 12/13/2021
Hello Lovelies,
Welcome back to my annual 12 days of Indies, where I share some of the top indie books available. For those who are new to this fun event, the deal is that each day I will share a new list of books that are on sale from now through December 24th. Each day, I will choose one book from the list to purchase and encourage you to do the same. Then share the one you chose and invite your friends and followers to also join the fun and purchase a book.
From the beginning of this event, I've always required that e-books be listed $2.99 or less. to be included on the list, so for anyone who chooses to participate, you can do so for under $40. However, several of the authors were good enough to also include a sale on their paperbacks and as I am a total paperback hound I will be including those on the list as well. I try to collect a wide range of genres each day so that you should have no problem picking one book a day.
This is a great way to feed your reading for 2021 at a reasonable price while also supporting indie authors.
Without further ado, let's kick off today's list of books.
Day 12 of the 12 Days of Indies
Water & Fire (The Dragon Pillars Book 1) by Sanzaki Kojika
There is a legend that everyone knows- the legend of the Dragon Pillars. Every several hundred years, darkness befalls the land. The Dragons awaken and choose their Pillars, humans strong enough to withstand their powers, and together they drive back the darkness.
In the towering cathedral of Vivdaugas, students flock to study the archives built upon the legend and train to reach the glory of its heroes. Garred Conway is preparing for his test to become a true Defender when a storm threatens to destroy the citadel, and the land around it. Trapped in the catacombs, desperate to save those he cares for, he finds help from the most surprising place- the Water Dragon Aysu. Now, as Aysu's new pillar, he finds himself with more responsibility thrust on him than he could have ever imagined.
Only $2.99
A Whisper In The Shadows: (Rangers of Laerean, #1) by Tom Fallwell
When the Ranger Baric meets the exotic and alluring woman from Vaar'da, called Whisper, he agrees to assist her on what seems a simple rescue mission that soon turns into something far more complicated than he expected. Their journey soon becomes a deadly and suicidal quest into the Great Divide, an area of Hir where men fear to travel, into the realm of the demonic Manenase, who live under a great volcano in the center of the Boiling Sea.
The fate of Hir depends on the courage and skills of the heroic Rangers and their small Vaar'da companion, as they struggle to save the world of Hir from impending disaster.
Paperback is also on sale: normally $19.99 on sale for $16.99
E-book only $2.99
Divinity's Twilight: Rebirth by Christopher Russell
WINNER: 2020 Chanticleer International Book Awards for Fantasy (OZMA)
Enter the world of Divinity's Twilight, a gripping fantasy epic from the mind of Christopher Russell. Ancient forces will rise, realms will be shattered, and a band of unsuspecting heroes will shoulder a cosmic struggle two millennia in the making.
Teaser
A world consumed by war . . .
An ancient evil resurrected . . .
A millennia old bargain comes due . . .
When two blades clash, the third will fall, and the fate of all will be jeopardized. To save Lozaria, the failures of the past must be atoned for by a new generation of heroes. The time has come for mortals to cast off sight and, in doing so, truly come to see . . .
Victory is never absolute.
Seven centuries ago, the forces of order won the Illyriite War on the plains of Har'muth. Darmatus and Rabban Aurelian slew their elder brother, Sarcon, the despotic architect of the conflict, then sacrificed themselves to banish the cataclysmic vortex opened with his dying breath. The first advent of the Oblivion Well was thwarted. Even without their vanished gods, the seven races of Lozaria proved themselves capable of safeguarding their world.
Or so the story goes.
The year is now 697 A.B.H (After the Battle of Har'muth). Though war itself remains much the same, the weapons with which it is waged have evolved. Airships bearing powerful cannons ply the skies, reducing the influence of mages and their spells. Long range communication has brought far flung regions of Lozaria closer than ever before. At the center of this technological revolution are the three Terran states of Darmatia, Rabban, and Sarconia, who have fought a near ceaseless campaign of 700 years in an attempt to best each other. The roots of their enmity lie buried beneath the wasteland of Har'muth, a place all three nations consider best forgotten.
However, an ancient power sealed within Har'muth has not forgotten them, and the descendants of those who fought on that field must now take a stand to rectify the mistakes of the past.
Grab the e-book today for only $2.99 from your preferred retailer.
Or grab the discounted paperback (Normally $19.95, sale $12.95) from the author's website
Special Features: Signed, Includes a bookmark and one poster of your choice (Put: Pyrevant, Airship, Lilith, or Valescar in the check-out notes)
A Bond of Thread by Allegra Pescatore & J.P. Burnison
Enter the Nine Lands of the Mountain Fell. 
Skye has only ever known pain and solitude since waking up with neither memories or magic. Hunted for being a Ruler in a time when they are scarce, she has survived in the wilds near the Rim, always on the run from the rest of her kind. Only starvation could draw her close to a village, but when a chance encounter and a bit of bad luck launch her into the arms of a man whose soul is bonded to hers, hiding who she is may no longer be possible.
Ilyas is a hunted man. Wanted for killing the last High Queen of Vine, he is plagued by his past of wholesale slaughter. He never wanted another Queen, and certainly not a half-feral, distrustful girl who gave up on the Fae a long time ago. Unfortunately, Soulbonds are not so easily walked away from, no matter how hard they both may want to, especially when trapped together in a cave with a pack of Feral Fae right outside.
With long-held enmities breaking out between the besieged villagers and all their lives on the line, Ilyas and Skye must learn to work together and trust each other if they want to survive.
E-book is only $2.99
Only Human (The Human Cycle Book 1) by JD Estrada
Nathaniel Runnels isn't a fan of life. He isn't a fan of the news, which is a bust because he's a reporter. He's lost faith in journalism, in the truth, in civilization and in himself. So it's quite the surprise when he gets swept up in a quest to save the world. Perception and reality collide as one man faces one question, would you sacrifice your humanity to save mankind?
Only Human is a tale where the truth is revealed about vampires, about therians (make sure you don't call them werewolves), about angels, about demons, the photogeni plant people and humanity as we supposedly know it. This isn't your typical book, these aren't your typical vampires and what has been said is fiction, may actually be truer than the history you've been sold.
Pick One
So the point of the challenge is to pick at least one book each day and this is my least favorite part of the challenge, TBH. All of these are on my TBR and it is always so hard to choose! But I have been kinda slack on my IG bookstagram the last year so definitely taking advantage of the paperback sales for A Whisper in the Shadows and Divinity's Twilight. Those covers are just gorgeous!
For those who didn't see the masterlist, Tom Fallwell has all the books in the Ranger's series on sale… Just sayin'!
Which one will you be buying? Let us know in the comments below and be sure to share with your friends and family and maybe your book club!
Until next time,
Keep Reading!