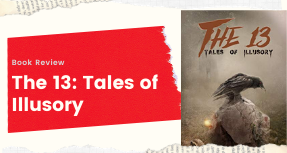 Genre:
Horror/ Short Story Collection

Synopsis: 
Evil underwater pixies, Vampires, Norse gods, lycans, puppeteers, ghosts, psychopathic neighbors, and more…
These 13 enchanted tales will haunt you long after you've finished reading them. You'll second guess everything, check your closets before sleeping, and peek over your shoulders by day. Down down in the depths they fell, bodies in the dark of a liquid hell.
Enter if you dare…
This is the 1st book in the 13 series.
Can you survive all 13?

My Take:
This is a deliciously dark collection of 13 short stories, most with a supernatural element. 
The first story, Soul Survivor, is actually a page long poem that sets the creep factor nicely. Next, we enjoy a short story, "The Puppet Master" that dabbles in Romani myth and legend. "No Returns" is an unexpected short story with a dark twist at the end. "Wade, Haunted" is a longer short story/ cautionary tale with a dash of naughty."Season of Change" which is one of my favorites, takes a look at neighbors. "On the Ninth Day" is a clever piece based on the Norse God Odin. "Strike a Pose" is about the victim of a creative killer. Dark, twisted, and fun. "A Child Lost" looks at the world of Pixies. "The May Queen" plays on the ancient tradition of the May Pole. "The Chair" is a morbid look into the world of an electric chair. "Tears of a Sinner" is a dark look into an arranged marriage. "What the Sign Saw" is one of the longest pieces, and is a dark love story that I also really enjoyed. "The 13th Year" wraps up the tales with a unique view into the lore of vampires. 
If you are a fan of Edgar Allan Poe, then I think you will enjoy this modern take on the dark, macabre, and supernatural.
Until next time,
Keep Reading!