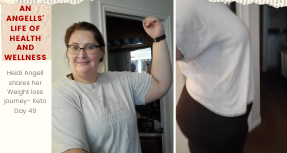 Hello Lovelies,
This week has been very busy with life, and I sadly had the last course in Weigh to Health. It's hard to believe that I did a year-long course solely focused on weight loss and healthy eating. I started out that course aiming to lose 7% of my 365 lbs (25 lbs) but secretly I hoped to lose 50-100 lbs which everyone says is a reasonable weight-loss expectation (1-2 lbs a week.) Needless to say, nowhere near that. But I learned some great information and combining that with Keto, I hope will let me see that kind of results with Keto. Let's get to the Keto Day 49 results, shall we?
Keto Day 49- Week 7 Measurements
Last Week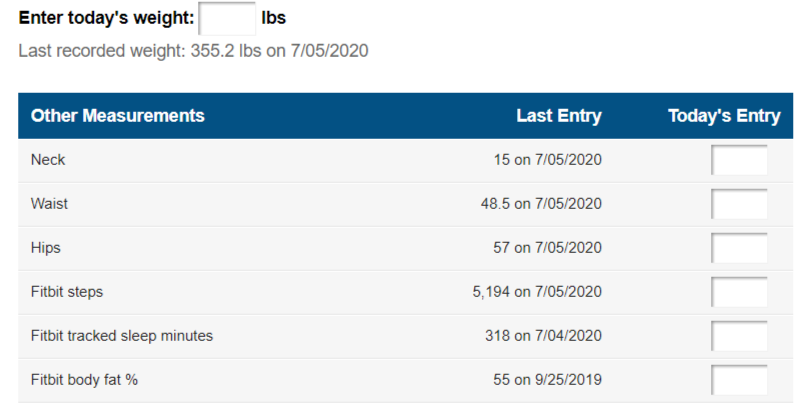 This week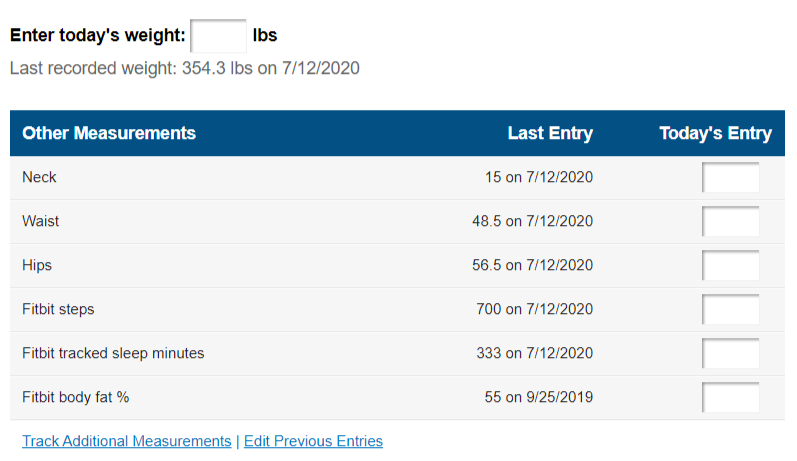 I'm down .9 lbs. My hips are down 1/2 an inch.
Keto Day 49- Week 7 Fitness data
Strangely, I didn't get an email last week, which was super frustrating. IDK what is going on with Fitbit, but I keep getting more disappointed with them. So we will go with what I reported last week
Last Weeks Fitbit data:
Sunday, June 28th 4,483 steps, 2.07 miles, 39 minutes of activity
Monday, June 29th 4534 steps, 2.1 miles, 24 minutes activity. This makes no sense because I went for a walk in the morning for 30 ish minutes (I totally forgot to set my watch to log the workout.) AND I went swimming for 45 minutes so my fitness minutes should be 75 minutes minimum.
Tuesday, June 30th. 7,7722 steps, 3.54 miles, 157 minutes of activity. This makes sense as I went for a 25-minute walk that morning and swam for 46 minutes. I also did a lot of chores and moving around every hour or so, which made up for the rest of that activity.
Wednesday, July 1st. 6,845 steps 3.04 miles 58 active minutes. I went for a 25 minute walk and I also did a 30-minute resistance band full-body workout.
Thursday July 2nd. 4,068 steps 1.88 miles 0 active minutes.
This makes no sense at all because I did a bunch of cleaning and running up and down the stairs. I also did a 20-minute resistance band core training session, but I did forget to set my watch so I guess that's why?
Friday July 3rd 3,636 steps, 1.68 miles, 34 active minutes.
Again, I don't get it. I went for a 45-minute swim and while I did spend about 15 minutes talking to a lovely lady there about my experience with back issues and suggestions to treat her own, I only logged about 75 yards less than I usually log because we were walking laps in the pool while we talked. I even logged this in my watch so I don't know why it shorted the workout.
Saturday July 4th 5782 steps, 2.68 miles, 47 active minutes.
James and I went for a lovely 40-minute walk to see the fireworks setups and watch them up close before the sun fully set. The rest of the day was cooking, prepping, cleaning, and having fun as a family so I guess the active minutes is pretty close.
This week's Data
Sunday July 5th 7,400 steps, 3.4 miles, 72 active minutes.
I went for a walk and did a 30 minute band workout. Of course, Fitbit didn't track my walk time, just distance of 1.69 miles which lately I've been doing in 40 minutes so the active time seems accurate.
Monday July 6th, 5,295 steps, 2.4 miles 101 active minutes.
We went for an hour walk Monday morning and I swam for 45 minutes so again, close timewise, however because of my doubts on Fitbits accuracy, I actually measured my laps during my swim. I did 1,100 meters. Fitbit recorded 775 yards, which = 708.66 meters. So Fitbit shorted me 400 meters. That is not a small shortage! So I have reached the point that I don't feel like I can truly trust my fitbit data.
Tuesday July 7th, 12,580 steps, 5.69 miles 142 active minutes.
I've started doing PT exercises again which is a 30 minute core strengthening and stretching routine every morning. I went for a morning walk for about an hour and then went for a 45 min swim that fitbit tracked as a walk for some odd reason. I did 1,000 meters.
Wednesday July 8th 7127 steps, 3.3 miles, 45 active minutes
30 minutes of PT and a 45 minute walk equals 75 minutes of activity so fitbit is off.
Thursday July 9th 9,536 steps, 4.36 miles, 62 active minutes.
I spent 40 minutes doing PT, then we went for an hour long walk which is 100 active minutes.
Friday July 10th, 3,973 steps, 1.84 miles, 49 active minutes.
a 30 min PT workout, 45 minute swim, and 30 min band workout equals 105 min activity.
Saturday 2,292 steps, 1.06 miles, 0 active minutes.
I don't understand this because it logged a 23 minute workout, which I'm pretty sure was my doing chores. I also did my 30 minute PT for a total of 53 active minutes.
48,203 from 37,070 steps- up 11,133 steps from the week before.
22.05 miles up from 14.31 miles- up 7.74 miles from the week before.
471 Active minutes up from 359 active minutes last week (according to the minute's tracker. According to my known workouts it should've been at least 640, up from 430 minutes) up 112 minutes (or 210 minutes, respectively.)
So yeah, wildly different activity numbers. I did do several tests of counting steps during my hourly get up and move sessions and the step count seems accurate so at least it measures that correctly. But beyond that, Fitbit doesn't seem super accurate and Myfitnesspal doesn't seem to know how to log the activity.
This is made particularly frustrating because I tried to recalculate my macros this week as it is recommended to do every 6-8 weeks to keep the weightloss moving and according to most of the trackers, my base is 2300 cal, but my activity level I should be consuming 2600 calories for a 15% weight loss. And here I've been trying to schedule 2100- 2300 calories so basically always riding my metabolism on the verge of starving.
Keto Day 49- Week 7 Food Data
Last week's food data:
This week: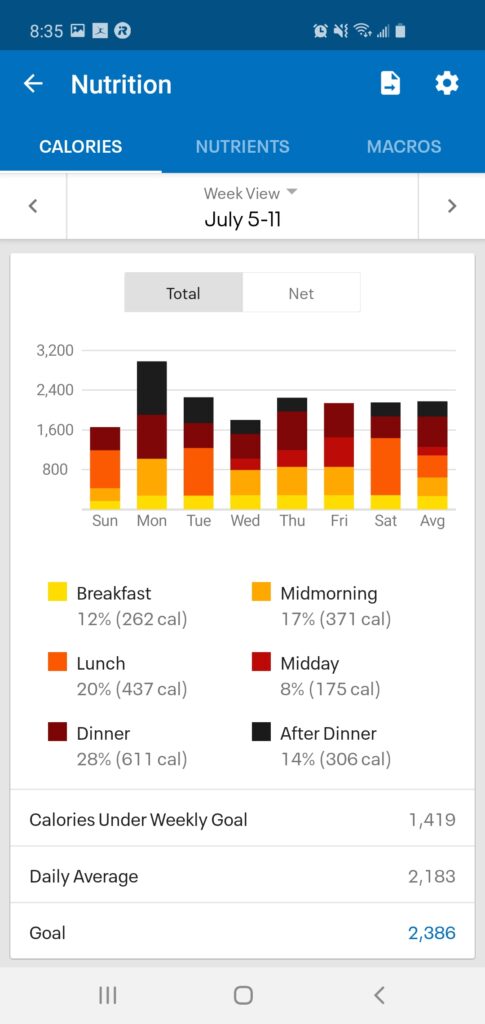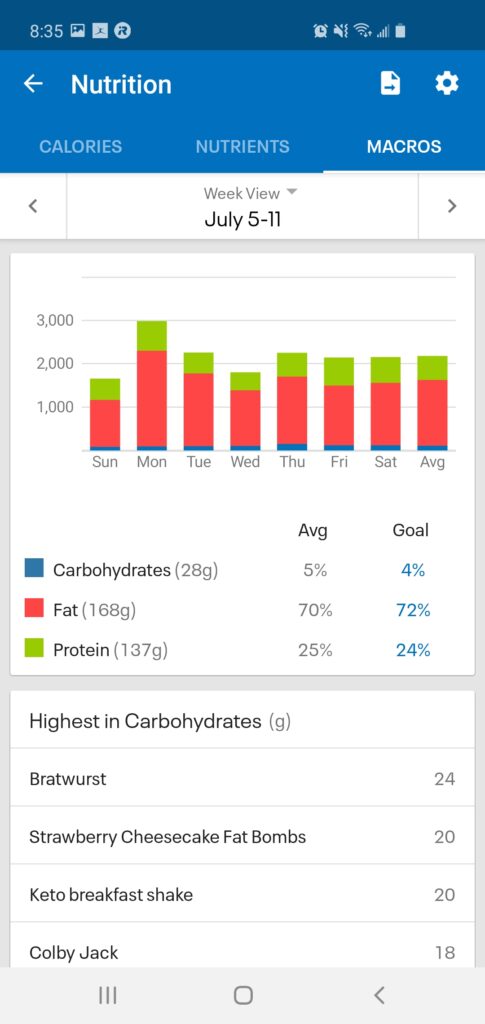 I need to up my food game. I know that I can't possibly do 2600 calories a day as I struggle most days to manage 2,100, but I scheduled for 2300 and still ended up short. I need to focus on adding more calories earlier in the day. I also need to look at food prep that is not protein so I can go for a non-protein add on when I'm hungry. Man, Monday's swim left me straight up ravenous!
It's tricky though because of the carb restrictions. I went over on both carbs and protein last week. Sure, not a ton, but trying to figure out how to maintain this delicate ecosystem of Keto dieting is becoming very stressful. I may consider upping my carb minimum to 30 to fit within my macros while giving me the space to eat the number of calories I need. IDK. We shall see. Still doing research on this part.
Oh, and I bought a new bathing suit. I was kind of thrilled when I guessed my measurements right and wanted to celebrate that my top is down from last year at a 3X and everything was tight, to this year where a 2 X is loose. I was also excited that I'm down on my bottoms from a 4X to a 3X. I suspect that my early tracking efforts last year were not accurate in what they were measuring.
Then I had James take a picture and was sad all over again.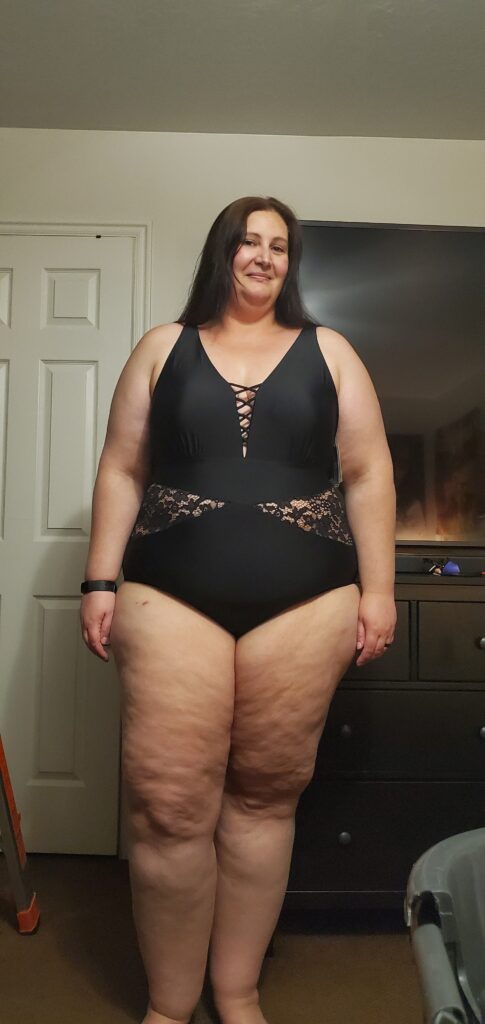 My legs are just disgusting. I honestly debated not including this picture because I am embarrassed. This is what people see when they look at me.
But it's important for me to be real with myself and be honest with where I am otherwise I can never get to where I want to go. I'm more motivated than ever to make sure to include weights in my regiment to help tone that hot mess of fat up. I won't share photos like this too terribly often because honestly it is really disheartening and unmotivating to see myself like this.
But I think at least every 3 months or so will be important so I can truly see some changes happening, hopefully.
Keto Day 49- Next Steps for Week 8
The last day of Weigh to Health class was all about creating strategies for success beyond the class. It looked at some interesting statistics from The National Weight Control Registry
This is a study on people who've lost at least 30 lbs and kept it off for 1 year or longer.
Some of the interesting statistics that they found correlated between members to maintain weight loss:
Most managed their weight loss and maintenance through diet and exercise plans and tracking.
Most eating plans averages 56% carbohydrates, 24% fat, 20% protein
Most days included 60-90 minutes of moderate intensity exercise.
Most people kept daily food records and weighed in daily or weekly.
The biggest indicators of success were tied to mindset changes around making these habits (tracking diet and exercise) as lifestyle changes, not just "the diet mentality."
which has kind of been daunting for me. Like, I don't mind the workouts, though I realize that I'm pushing on being a bit too much. Definitely doing more than 60-90 most days. My daily average is right there, depending on if you take the Fitbit active minutes or my estimated active minutes based on my workouts.
So I'm not aiming to add more "active minutes". Instead, I am aiming to increase the effectiveness of my active minutes. I started this last week and will continue to push this week. I am consistently swimming for 45 minutes three days a week. My goal is to spend as much of that time pushing from moderately active to vigorously active. What's the difference? Moderately active means you can hold a conversation but you're winded. Vigorously active means you cannot speak during that time frame. Last week I started pushing myself to that point during my workouts for short burst, but I wasn't really tracking how much time I did it, just doing my best to maintain it as long as possible.
This week I am going to attempt to actually track the difference in my workouts to achieve that. Still trying to determine the best way to do this. It will probably be by tracking whole workouts in Myfitnesspal notes, and then logging just my high intensity portion of my workout in fitbit maybe?
The other option is to see if I can somehow influence the figures on the "workout tracking report" in Fitbit: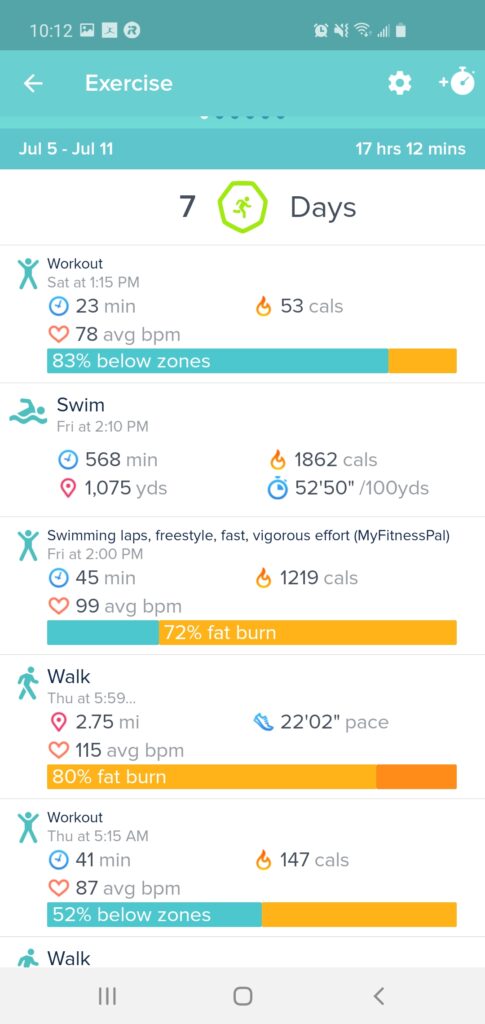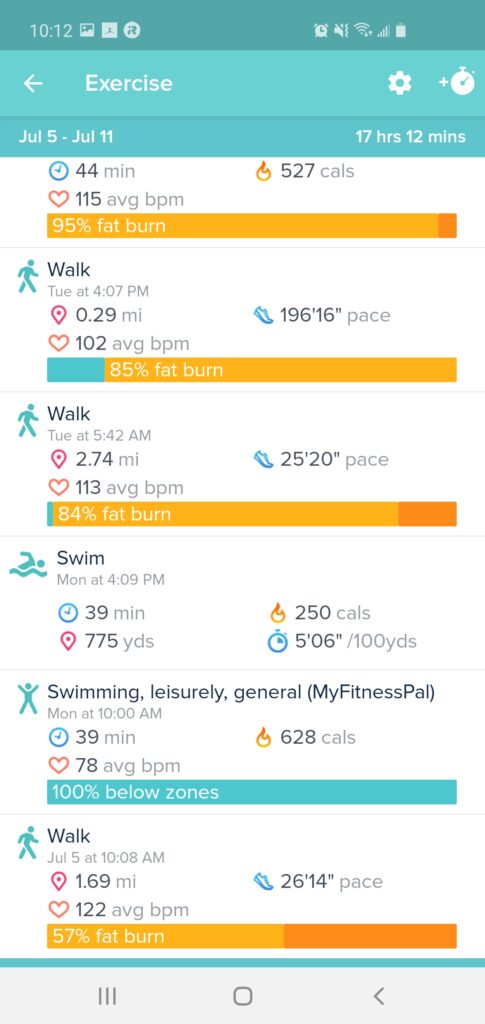 Given how unreliable I am finding the Fitbit data, I'm not sure which would be best. So for this week, I will try to do both and see which gives me better data. I also need to figure out the best way to cross over between fitbit and Myfitnesspal to achieve a cleaner record. I was logging workouts in Fitbit, then when the data didn't add up, logging in Myfitnesspal but I'm thinking that may not be the best approach. Not that either of their calorie counts seem very accurate. They're just guessing, really. Which is abundantly less useful than the calculators online based solely on my height, weight, age, and perceived activity level.
So upping my exertion, also upping my calorie goal to 2500 in hopes that my reality will be closer to that.
I have discovered that there are no keto experts in my area who take my insurance. There are only 3 keto experts in the area. period. They range in cost from $50 for a 30 minute consult to $500 for a 90-minute consult (which I am guessing would hopefully include the weighing, measuring fat, and maybe offering a meal plan? None of them are very clear on this.)
So I plan to stick with my nutritionist if she'll allow it. Sure, she can't help me understand what I'm doing with the diet, but she can run my tests, check my cholesterol, take my measurements, and I know, like, and trust her to encourage me and help me consider adapting as needed.
Follow my Keto Journey
If you would like to see my Keto Journey, you can check that out here:
Otherwise you can just use my recipes to to build your own meal planning!
Until next time,
Stay inspired!