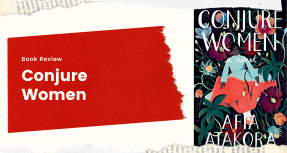 Hello Lovelies,
I actually finished reading Conjure Women, a historical fiction novel based in the reconstruction era south back in the end of May right before all the protests. It was the book of the month for The Reading Den. I really enjoy what Lin is doing with her reading group and if you would like to find an eclectic group of readers, this is the place for you. Lin is an eclectic reader and she lets all of us vote each month on the group read. We've been getting regular suggestions of historical, scifi, fantasy, and romance so far.
But I digress.
Genre:
Historical Fiction / Historical African Fiction/ Mystery Thriller
Synopsis:
A mother and daughter with a shared talent for healing—and for the conjuring of curses—are at the heart of this dazzling first novel

"Lush, irresistible . . . It took me into the hearts of women I could otherwise never know. I was transported."—Amy Bloom, New York Times bestselling author of White Houses and Away
Conjure Women is a sweeping story that brings the world of the South before and after the Civil War vividly to life. Spanning eras and generations, it tells of the lives of three unforgettable women: Miss May Belle, a wise healing woman; her precocious and observant daughter Rue, who is reluctant to follow in her mother's footsteps as a midwife; and their master's daughter Varina. The secrets and bonds among these women and their community come to a head at the beginning of a war and at the birth of an accursed child, who sets the townspeople alight with fear and a spreading superstition that threatens their newly won, tenuous freedom.

Magnificently written, brilliantly researched, richly imagined, Conjure Women moves back and forth in time to tell the haunting story of Rue, Varina, and May Belle, their passions and friendships, and the lengths they will go to save themselves and those they love.
Praise for Conjure Women

"[A] haunting, promising debut . . . Through complex characters and bewitching prose, Atakora offers a stirring portrait of the power conferred between the enslaved women. This powerful tale of moral ambiguity amid inarguable injustice stands with Esi Edugyan's Washington Black."—Publishers Weekly (starred review)

"An engrossing debut . . . Atakora structures a plot with plenty of satisfying twists. Life in the immediate aftermath of slavery is powerfully rendered in this impressive first novel."—Kirkus Reviews (starred review)
My Thoughts
I went into this story with no preconceptions. I didn't get a chance to vote that month, but I wanted to participate and I do enjoy historcal fiction, so I was ready to go.
I'm glad I went into it blind. There were a couple of people in the group who had a hard time with some of the topic matters. Abortion, miscarriages, child sickness. It hit hard for several of us. We might not have chosen it if we'd known it covered those topics.
But I am glad I ready it, and glad we read it before all the protests. It was wonderfully well researched by the author, felt very authentic to my recollections of what I learned in school when we went to the plantations every year for a school field trip (welcome to the South.) The startling reality I recognized as I read the story is that a lot of the issues that the author addresses still plague women today. Certainly not in the same light, but they are certainly still a struggle and especially so for the impoverished.
While the main focus on the story is the plight of black women going from slave to freed, they're not the only woman who's story is told. While their white mistress's life was seen as better, her life was still not much better and in some ways was exactly the same as theirs.
There was a soulful oneness woven at the end that left me too touched to even do a first thoughts video and by then we were swept up in the protests and loss and it felt like my voice was not the voice that needed to be heard right now. But that sense of oneness has not faded as life moves on. That sense of all humanity being tied by binds that may seem invisible but can be felt as life goes through so much upheaval still holds onto my heart. While I have moved onto another read, my heart often flickers back to Rue and Varina and how they represent all women.
Despite many of the tough themes, I really suggest that you take a look at Conjure Women.
Until next time,
Keep Reading!