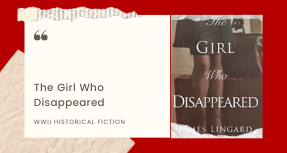 Hello Lovelies,
I met an author on Linkedin and was intrigued by his story so I wanted to take a moment to introduce you to it. I've really been on a historical fiction kick but this one is unique in that is based on the author's experience so not quite biographical but with that personal touch. Those tend to be pretty awesome!
THE GIRL WHO DISAPPEARED
by James Lingard is a fact-based historical novel set in Britain in the 1930s and continuing through the Second World War and the 1940s and 50s.
Emily living with her strict parents in Halifax falls in love with Walter Lingard but on bringing him home, her father throws him out of the house and tries to force her to marry someone else. Emily elopes with Walter during the night to escape her domineering father.
They start their married life in America but move back home for Walter's career at Lloyds Bank. Their lives are turned upside down by the Second World War.
This sounds like a fascinating novel set in a turbulent time, using a woman's voice on her thoughts and feelings of war. Her character grows as time passes from a spoilt young woman to a mature lady who has experienced a challenging life. We see her struggle to survive the devastation brought about by the war as she and her four year old son are thrown into the midst of danger and death. The family experience rationing and the terror of bombing. Their air raid shelter is destroyed by a direct hit. 
When Walter volunteers for the army, Emily and her son are evacuated to a rat infested cottage in a farming community near Hebden Bridge. The war changes Walter into an efficient army officer who demands to be obeyed. Emily worries that she might have a rival for his affections.
The Girl Who Disappeared is a moving love story about one woman's enduring resilience, a story full of quiet humour and surprising twists and turns.
Bradford Telegraph and Argus
KEIGHLEY features in a new romantic novel set during the era of the Second World War.
Author James Lingard has devoted an entire chapter to his family's time in the town, during the years immediately after the conflict.

"Chapter 18 is devoted to the years my family spent in Keighley," said Mr Lingard.

"My father was manager of the Lloyds Bank branch in the town from 1947 until the early 1950s. I well remember the town as it then was."

The Girl Who Disappeared is a historical novel, inspired by real events. 'Heroine' Emily falls passionately in love with working-class Walter but the relationship is fiercely opposed by Emily's class-conscious father. Her actions see her struggle to survive the devastation which follows during the Second World War.

 "The war changes Walter into an efficient army officer and Emily worries that she might have a rival for his affections," says Mr Lingard, who adds that he has been delighted by early reviews of the novel.

One reviewer described it as "hard to put down" and "a very well-defined – and at times frightening – view of life in Britain during World War II".
I'm not generally up on the romance novels, but it sounds like this one pulls a lot from real life which I find quite compelling. Add in the historical elements and the struggle of life during war, I'm definitely intrigued.
How about you? Want to take a look at The Girl Who Disappeared with me?
Until Next Time,
Keep Reading!