Hello Lovelies,
So here we are, Keto day 21 and I woke up this morning feeling very blech. I haven't been sleeping great the last week (probably in part from the antibiotics, probably in part from eating late, and probably a lot because of working too close to bedtime.)
I got on the scale to do my measurements figuring I was going to see some really good stuff. And while I was recording my measurements, I kept feeling sad and disappointed. I put off writing my post as I had a couple of other projects I needed to quickly (or not, because it has been that kind of day!) get taken care of.
An hour ago I figured out why everything has kinda sucked (even though objectively, not really) all morning. Today is the first day of my period. (I know, some of you are screaming "TMI!") I tell you this for two very important reasons. For anyone who has known me for any amount of time, I have ridiculously horrible period symptoms sometimes. Like cannot get out of bed, will pass out from blood loss bad sometimes. Like it is not uncommon for me to gain 10 lbs in the days before my period and lose it during my period type bad. With that also comes some serious emotional flux. It is not uncommon for me to have to ask "Is it just me, or is XYZ really annoying?" or to burst into tears of frustration because I can't figure something out fast enough.
Just warning you, that is where I am right now. Having an intensely miserable period that has me audibly groaning from the cramps being so intense, and I've burst into tears three times already today.
And yet, knowing this is what's going on, I have some good info so let's get into the report.
Keto Day 21- Week 3 Measurements
So, just a quick recap of last week's data: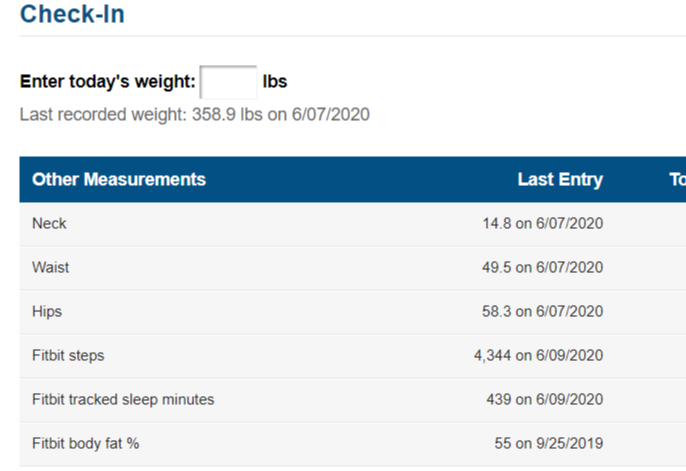 And here is this morning's data: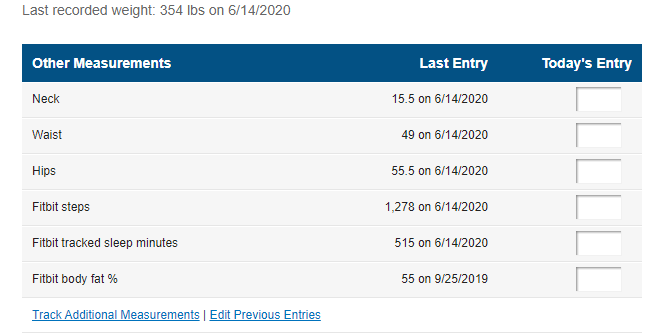 I've lost 4.9 lbs! I should not be disappointed. You will see that I actually gained a bit since my appointment on Tuesday with my Dietitian and I suspect that is what set my mood off negatively.
I also weirdly gained in my neck. I have no explanation.
I lost a half inch from my waist
and I lost a whopping 2.8 inches from my hips.
I also decided to take some additional measurements to track other places where I may see size fluctuating.
I'm not sure if I plan to do these extensive measurements once a month or add it to my weekly. We will have to see.
So, as I mentioned last week, I have some additional data from my dietitian's visit.
I will have another visit in August and be able to share the difference in the numbers.
Keto Day 21- Week 3 Fitness data

And here is my raw data for this week:
Sunday June 7th was 0 steps, 0 miles, 0 minutes.
Monday June 8th 1,047 steps, .48 miles walked and 0 minutes of activity.
Tuesday, June 9th 12,394 steps, 5.73 miles and 242 minutes of activity
Wednesday, June 10th was 8,132 steps, 3.62 miles and 90 minutes of activity
Thursday, June 11th was 7,155 steps 3.27 miles and 104 minutes of activity.
Friday June 12th 5,02 steps, 2.16 miles, 12 minutes of activity
Saturday June 13th 2,450 steps, 1.13 miles and 32 minutes of activity
Sunday and Monday I was sick with that sinus infection blooming out of control. Tuesday was the first day of the prednizone. I went swimming on Tuesday and Thursday, which was actually kind of amazing. But the last couple of days I didn't get in my workouts or step goals as I was struggling to get projects done.
Keto Day 21- Week 3 Food Data
For my food intake this week, I am getting a better handle on the carbs and fat but went a bit high on the protein.
I also did pretty well keeping my calorie intake within range.
I will be spending the rest of today working on food prep to help me keep my winning streak going next week. We planned out some dinner meals from the Keto diet book and I will report back on those next week.
Keto Day 21-Next Steps
1. For fitness, I will try this HIIT training video this week.
2. I have an hour of swimming scheduled for Tuesday and Thursday. We only really manage to get about 45 minutes based on the Covid routine though.
3. We are continuing our daily walking routine and James got resistance bands as an early Father's day present so we will be trying those out Monday night instead of lifting weights. My hope is to have two days of "weights" like we were doing before Covid.
4. I want to continue my research and understanding of Ketolife tapping into the data below. I hope to report back some interesting findings.
5. I just want to give a quick shout out to my mom and my sister as they are the ones who inspired me to go on the Keto diet.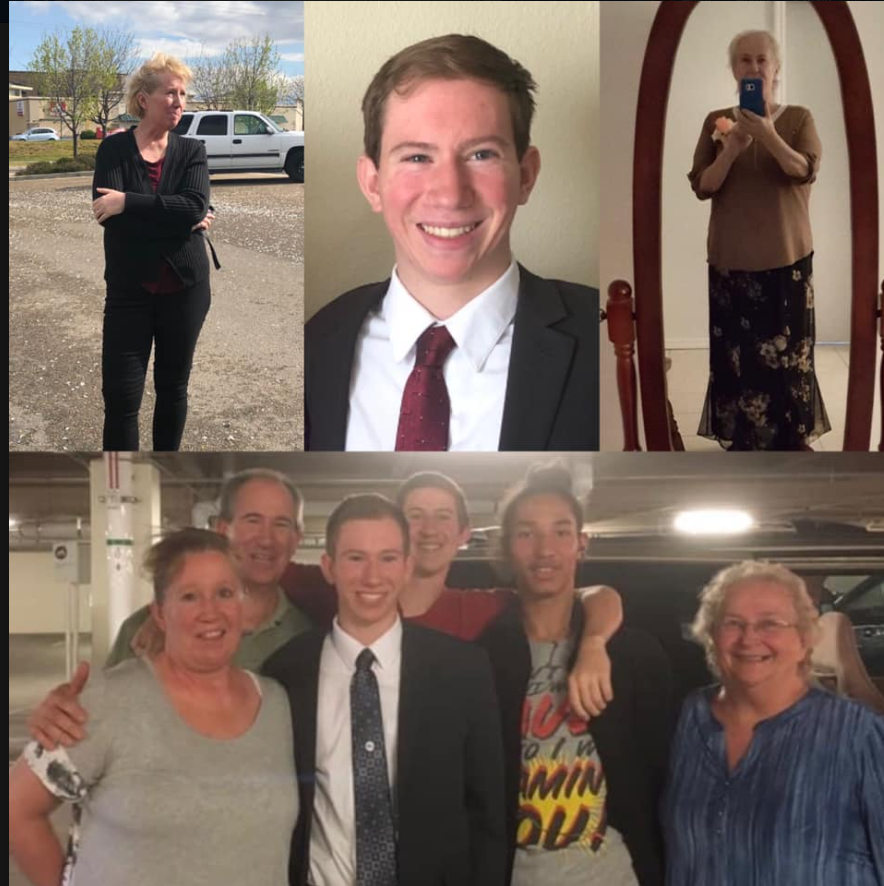 The bottom picture was from a year ago when my nephew was headed out on his mission. The pictures above are from each of them this month. My mom has lost 75 lbs on and my sister has lost 40 lbs on Keto. Without their support, their tips, and honestly seeing this visceral change for them, I would not be where I am on my journey. Cheers to you two amazing women!
Continuing research
I have a lot of fact-checking to do in that book. Will come back with some of my findings and some of my opinions on some of the recipes.
I also plan on taking a look into these resources
Carl Frank's Intellectual Hedonism– This is just a giant list of resources, which gets my little geek brain so happy!
Here are a host of Youtube Channels I was advised to check out.
Dr. Jeff Volek– This is just one of a ton of videos he's done, but he doesn't seem to have his own channel so I will have to look up more as I do the research.
Dr. Stephen Phinney– He seems to be the same as Volek.
Dr. Eric Westman And he seems to be the same.
If you are just joining my Keto Adventure and want to see where it all started, don't miss out:
Do you have any questions about keto? Have any tips based on what I'm doing? Feel free to let me know in the comments!