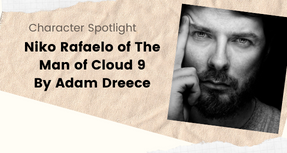 Hello Lovelies,
We have an awesome guest post for our Thoughtful Thursday, in the form of a Character spotlight! I am so excited for this one! let's get right to it! 

​​Meet Niko Rafaelo – The Man of Cloud 9
No. Not now. It's a terrible idea. We've all heard these at one point in our lives when we put forward an ambition or desire, only to have it shot to pieces. Often the other person has no idea how vulnerable we are in that moment, how soul-crushing that response is. I had this happen many times throughout my life: as a kid with big ideas, as a software developer, and as an aspiring author. There are few things harder to take than finding you can't escape the orbit you're in, and that none believe you can. This is at the heart of The Man of Cloud 9's main character, Niko Rafaelo.MXLLS
​​
Niko's a man possessed by the idea of a new generation of nanobots (a banned technology) and integrating it with the human microbial cloud (the bacteria that surrounds each of us). But in the late 21st century, after 70 years of climate devastation and social unrest, there's little appetite for big dreams and dangerous ideas. Part Steve Jobs, part Nikola Tesla, Niko throws everything he has at breaking through the wall of no, and see his ultimate vision realized.
People like Niko have a defining moment in their life, where their path forward is seemingly set in stone. For Niko, it happens at age 17 with two life altering events. The first is the death of his parents and brother, and the other? Well, you'll have to read the book to find out.
The Man of Cloud 9 is available in paperback and eBook, and is available at
Amazon, Kobo, Smashwords and Barnes & Noble
I am eager to read this book! I have been hearing great things about Adam Dreece's works and it is right up my ally! Are you excited? Let me know and maybe we can do a "club read" together! 
Don't miss my Book Unboxing or my book review! 
Until next time, 
Keep Reading!