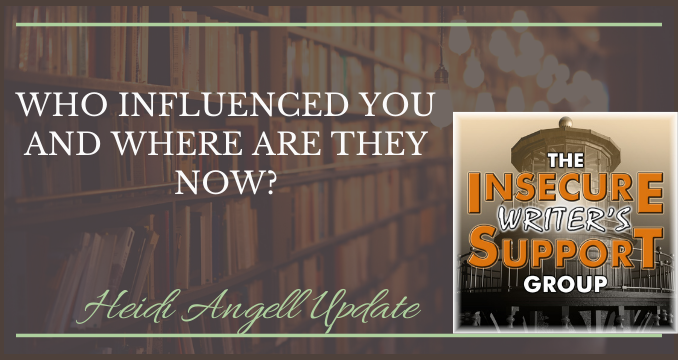 Hello Lovelies,
Happy February. So glad to say that. January was a disaster! I got Covid the first of the month and was down in bed for almost 2 whole weeks. I am still struggling with a nasty cough and getting winded during random activities. It has also put me behind on my goals. But I keep trucking. I finally got my 2022 resolutions sorted after a lot of soul-searching. I created an aggressive schedule to get me back on track and while I have yet to maintain the schedule, I am definitely seeing a lot more progress towards goals. I began seriously tackling my PMP certification requirements, am on schedule to re-release Elements of a Broken Mind this month and hopefully will have Angel's Dance ready end of Feb, early March for a big promotional push for the series in March. *fingers crossed*.
#IWSG February Question of the Month
Purpose: To share and encourage. Writers can express doubts and concerns without fear of appearing foolish or weak. Those who have been through the fire can offer assistance and guidance. It's a safe haven for insecure writers of all kinds!
Posting: The first Wednesday of every month is officially Insecure Writer's Support Group day. Post your thoughts on your own blog. Talk about your doubts and the fears you have conquered. Discuss your struggles and triumphs. Offer a word of encouragement for others who are struggling. Visit others in the group and connect with your fellow writer – aim for a dozen new people each time – and return comments. This group is all about connecting!
Be sure to link to this page and display the badge in your post. And please be sure your avatar links back to your blog! Our Twitter handle is @TheIWSG and hashtag is #IWSG.   
You ready?
Let's rock the neurotic writing world!
February 2 question – Is there someone who supported or influenced you that perhaps isn't around anymore? Anyone you miss?
After walking away in 2019, I lost touch with a lot of my network. I was hardly online, and did nothing with the book world for over a year. When I came back in 2020, I was focused on doing the work, not rebuilding relationships. And even with that, I struggled a lot. It wasn't until late 2020 early 2021 that I started reaching out to rebuild relationships. I was shocked to find so many reviewers and authors who also hit burnout and walked away in a similar time frame.
And as I work to republish my books, I find more and more to miss. One of my earliest connections was a book reviewer named Justin. He seems to have walked away from his book blog and his GoodReads librarian work. I'm sad.
Amanda Baily, who founded OWS, seems not to be doing much with her writing and that is a shame. She still is passionately sharing memes about reading and creating, but is too focused on a day job to pursue re-publishing her works. Which is a shame as she was a very gifted writer.
Joshua Robertson and his wife Diane both walked away from writing as well, again a huge shame as both are extremely talented fantasy writers. Though, I see teasings of both maybe exploring coming back or at least promoting their current publications and this makes me so happy!
While Rebekah Jonesy and Isa McLaren, who were on the board with my at OWS, have started their own publishing house and are releasing books like crazy, I haven't been able to really reconnect with them and I miss the good times working together via video chat.
Angela Chrysler and Timothy Bateson, who were amazing connections I made through B2B CyCon also seem to have left the book world.
There are so many more who've gone on to other things and it makes me sad. But at the same time, I am grateful for the good times we had. Grateful for the ways that they inspired me to keep going on my journey, and hopefully I was able to inspire them too.
The reality is that whether you are reviewing or publishing, the book world is very transitory. We are all seeking a connection and often looking for monetary goals as well (as anyone in business should do, nothing wrong with that.) but when we don't hit those goals, many move on to other things.
This is why it is so important to support creatives- whether it be book reviewers, authors, or other creatives. Buy from those you can, but even just a comment on a video, or a blog post, lets us know you care. The internet gives us a great opportunity to reach so many but it also is a massive sea that we can easily feel adrift upon. For many, we are working full-time jobs and pursuing our passion, that life imbalance is a recipe for burnout!
So please, let us know you care with a like, a comment, a purchase. Help us keep providing for you by letting us know you appreciate us.
And don't forget to check out the awesome co-hosts for the February 2 posting of the IWSG are Joylene Nowell Butler,Jacqui Murray,Sandra Cox, and Lee Lowery!
You can see the rest of the hop at IWSG Bloghop
Until next time,
Keep Writing!