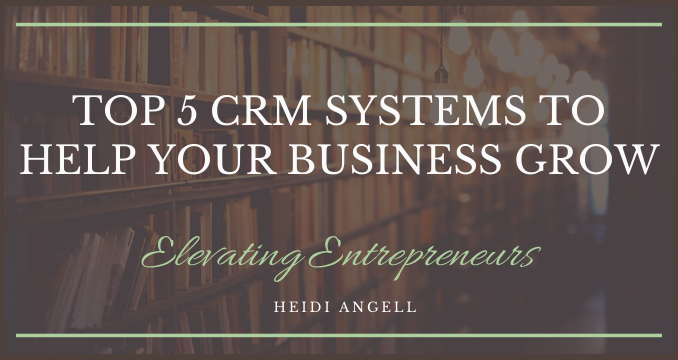 Being a small business is tough. It seems that there is always a new piece of software you need to keep the business going and growing. It's tempting to put off Customer Relationship Management (CRM) software as long as possible and instead use things like Excel to "keep track." But it is much easier to maintain a current customer than to constantly have to bring on new ones, and keeping in touch and keeping them happy is key to bringing them back. Being able to track those interactions with CRM is absolutely necessary, and with so many free and cheap options for startups and small businesses, there's no reason not to use a CRM. So let's take a moment to review the top five CRMs for small businesses.
5. 

Insightly
Insightly has a solid 4.0/5 rating. We suspect that their cool basic plan that is free for 2 users has a lot to do with this.  The plan allows you and a partner to manage projects, sales, and contacts all in one place, making this ideal for startups testing new tools.  It also offers several tiers so it can grow with your business, but Mopinions states:
Pitfall: it does not provide custom reports or dashboards and is really only convenient for SMBs [Small Medium businesses.]
Other common complaints are that it does not have product statistics, therefore making it less practical for those who manage standard cost projects or mass retail sales. On the flip side, it would be quite ideal for those who have to bid on projects.
4. Salesforce
Salesforce is by far one of the most popular, but only has a rating of 4.2 out of 5 stars. This is surprising with the multitude of customizations, plug-ins, and training available. It is on the pricier side of options as you customize down the line and is tricky for smaller businesses to implement out of the box. But it is a great system to grow with your organization. You can try it for free for 30 days.
"With Salesforce, we can see what promotions worked best, and why. Being able to analyze everything from one database is so powerful. Salesforce is like a living, breathing, evolving organism, just like we are."
3. Agile CRM
Agile ranks 4.3/5 and as the name implies, they offer a wide range of products to assist in sales, marketing, and customer service. Their startup feature offers 10 free users a wide range of handy tools. Then plans range from  $8.99 a month up for $47.99 a month. Most customers appreciate the ease of use and versatility to meet the needs of several departments.
2. HubSpot CRM.
HubSpot has been a leader in CRM for some time, and that is reflected in its 4.4/5 rating. It is easy and intuitive and offers a tutorial on how to create a Frankenspot, which is basically a free version HubSpot full suite by using free applications like Shopify, MailChimp and more. Fit Small Business said it best:
HubSpot's best features are its price and its simplistic user interface that looks and behaves much like Gmail, making it easy to learn. For very small businesses, or for businesses that are using a CRM for the first time and aren't sure exactly which features they need, HubSpot's free plan is an ideal introduction to core CRM features such as contact management and lead or deal tracking.
The greatest struggle HubSpot has is that it could use more workflow automation and more reports. That and the paid plan starts at a hefty $50 a month and grow rapidly from there.
1. 

Pipedrive
Pipedrive has an excellent 4.5/5 ranking. Its user-friendly interface, integration with a lot of 3rd party apps, and intuitive system provide a short learning curve and a loyal fan base. The reporting systems make this much more friendly to product sales or large retailers, but as Fit Smal Business notes:
Pipedrive lacks lead assignment and lead-based routing functionality, which makes it a less viable alternative for account-based sales requiring multiple points of contacts. While leads can be prioritized based on time since last contact, the software's lead scoring rules are also not as robust as found in other products.
Here are my top picks for the top 5 CRM management systems. Which system do you prefer? Let us know in the comments below.
Until next time,
Keep Growing!