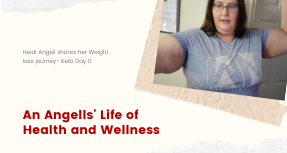 Hello Lovelies,
I meant to put this post up on Sunday May 24th, as part of my mad dash plans to start the Keto Diet, but I got swept up in Keto planning and then had a bunch of other projects due that had to come first.
Secretly, I suspect I also delayed because it is scary being this vulnerable. It is all well and good sharing health and fitness tips when you are a size 8. Or when you have a strong reason to believe that your efforts will result in change.
Those who've read my Health and Wellness Journey, know that I have valid reason to fear that Keto won't work for me. As in it won't take off the weight. I'm not sure if I will ever find the thing that will work. But I can't quit trying to lose weight and stay healthy (not mutually exclusive activities) and with my weight efforts going backward, it is time to bravely go where Heidi has never gone before. (Yes, I am a trekkie, and no, I am not ashamed of that blatant reference!)
I had planned to wait until we used up a bunch of food we recently bought at Costco, but then I did my weekly measurements and pics and I knew I just couldn't wait any longer.
I am getting the wings back under my arms. I worked so hard at the gym to tighten that all up so it wasn't so bad! While this picture made me sad, this next one made me feel physically ill looking at myself.
I mean, there are no words. I know that for some time I have been working really hard at taking pics at certain angles to hide how fat and disgusting I feel. I feel guilty about it because I see girls using all the crazy filters and photoshopping all their images and I think that most of them do not need to do that.
And here I have been doing low-tech the same thing. I keep getting ads on facebook for undergarments to help hide all that mess. And sadly, I have considered looking at them.
But I don't want to be that person! I knew I could not wait another day to start.
Day 0 Stats
I have actually been considering starting keto ever since Christmas when my weight loss efforts stalled. But kept putting it off as I did more research. Now that I have gained back 13 of the 25 lbs I lost in weigh 2 health, I can't keep waiting. So here goes.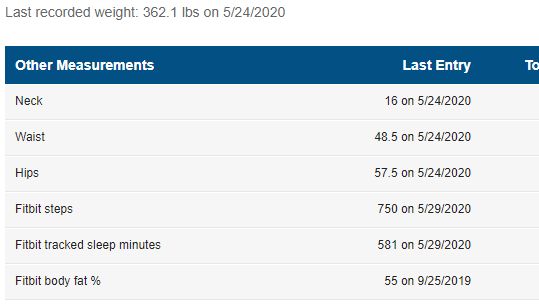 These are my stats recorded in MyFitnessPal. I absolutely love this app! I do have the paid version which allows me to do a lot more with customization and such. It was this ability to customize that made me start seriously thinking about doing Keto.
My Attack Plan
I have been doing a lot of research. Thanks to a lot of my friends on Facebook, I have found a wealth of knowledge and still working through all of it.
My sister Kim pointed me to this really handy website Simple Way to Start Keto and there was a keto counter. For those who aren't familiar with the Keto Diet, the whole idea is that you don't just count carbs, you count Fats (go high) Protein (moderate amount) Carbs (go low) and with any diet, you still need to be careful of your calories.
I respect that a lot.
I also ordered this book in paperback, but it hasn't arrived yet.
And spent some time reviewing the website Ruled.me
I also joined a bunch of keto facebook groups that my friends and family have recommended to me.
According to multiple keto calculators, based on my height, weight, and BMI
my goal is to stay under 25 grams of carbs, consume 190 grams of fat, stay under 144 grams of protein and aim for between 2100 and 2300 calories.
And I will keep doing research. Here are the things I still want to research, thanks to the wealth of resources my friends have provided:
Additional Research
Carl Frank's Intellectual Hedonism– This is just a giant list of resources, which gets my little geek brain so happy!
Here are a host of Youtube Channels I was advised to check out.
Dr. Jeff Volek– This is just one of a ton of videos he's done, but he doesn't seem to have his own channel so I will have to look up more as I do the research.
Dr. Stephen Phinney– He seems to be the same as Volek.
Dr. Eric Westman And he seems to be the same.
What Would You Like to See?
I will be providing all the Keto recipes I find and try and like here on the blog under our Angells' fun with food.
I am a bit torn on what to include in this very public venue. I try to consider in a post why I am creating it. It is for you, my viewers. But with my other posts, it is easy for me to know what to discuss. Here, I'm not sure.
I will do the weigh and stats report. I can talk about what I am getting from the research, what I'm struggling with, what my successes are. But that feels a lot like I'm talking about me. Would that help you?
I considered showing my daily meals because one of the biggest struggles I have had the last several days is that because of my weight and height, the amount of food I have to consume is way higher than a lot of the other blogs I see out there. But most of you probably are not as tall or heavy as I am so would that help you?
I am going to be seeing a nutritionist as I go through this because one of my concerns about going on keto is that at my one year health check up my cholesterol was up and all that fat and oil makes me a bit nervous. Fortunately, my cholesterol wasn't up enough to warrant putting me on medication. Still, I don't want to play around.
So let me know what you would like me to share of this journey.
I will be posting these on Sundays from now on as part of my personal weigh in routine, so look forward for my first week's thoughts and feelings coming soon.
Until Next Time,
Keep Improving!