Description

Welcome to Maximize Your E-newsletter Masterclass.
There are many marketers who believe that the golden age of newsletters has passed and e-newsletter marketing is dead.
That is both true, and horribly false.
Yes, the days of being able to get thousands of people to sign up and open your weekly e-newsletter is over. Yes, it is not a fast-growing platform and if you don't provide quality content it can become an expensive waste of time.
But it is still the best way to communicate and interact directly with your fans on a personal level and if you plan the content right, it is still the best way to get preorders, notify fans about upcoming events, and build loyalty that will drive business for years to come.
Trust me, if major businesses are still investing in and building their e-newsletters, so should you. While it is harder than ever to get someone to sign up, know that person is more likely to become a true fan.
So, if you are struggling with knowing you need an e-newsletter because all the "experts" say so but you've no idea where to start, then this course is for you.
During this Course, Heidi Angell Will Teach You:
The Importance of Having an E-newsletter
Content Strategy
Who to Ask to the Dance
What Goes In The Welcome
If you Build it, Doesn't Mean they'll Come
Getting your first 10,000 fans
This Course Developed by Heid Angell-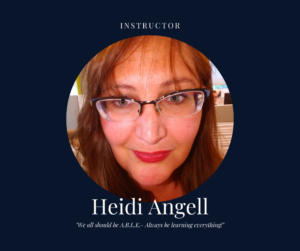 Team builder, Wordsmith, Marketer, Problem Solver, Data Analyzer, Renaissance Woman, Magic Maker, and Published Author
Heidi Angell is a renaissance woman, with 20 years working on all aspects of business development from customer service, marketing, product development, advertising, HR, employee training, and financial management.
Her passion is telling stories that connect people, leading by example, and always learning. After 12 years in the publishing industry, Heidi recognized that many authors had the writing chops, but were struggling to get publishing contracts and sell books because they did not have the skills to be a solopreneur. They did not know how to operate their writing as a business. As such, she developed a series of courses for authors focusing on the business side. She started with marketing as that is her second passion (writing being her first) and what her degree primarily focused on, but has expanded the courses to cover every aspect that she has found authors struggling with and that couldn't be covered in a simple blog post.
She has found many small businesses have benefitted from taking her marketing content and adapting it for their own needs and so has expanded the course to help small businesses as well.
Do not miss out on Maximize Your E-newsletter Masterclass. Grab your seat today.
Until next time,
Keep Building!