Description

Welcome to Social media 101
If you are struggling with understanding how to make the shift from social media for personal use and social media for professional use, then this course is for you. During this course, Heidi Angell will teach you the basic social media marketing principles and keys to tracking that elude many authors, solopreneurs, and small business owners who are trying to juggle many hats.
These key elements are essential to use social media to:
A. Build Brand Awareness
B. Lead people into your sales funnel and
C. Create Brand Loyalty that can lead to a small army helping to share your product further than you could do yourself.
This course is about more than just learning. The goal is to help you implement your lessons into developing your own social media marketing strategy. The course is made up of a variety of educational content including written lessons, video instruction, and worksheets to help you implement what you learn.
Course Curriculum
Course Welcome Material
The Who, What, When, Where, and Why of Social Media- Lesson
How to Find Your Audience
How to Find Your Audience cheat-video
How to Find Your Audience Cheat Sheet- Tracking Doc
Practical Considerations for Selecting Audience and Worldview- Lesson
Audience and Worldview Worksheet
What to Share and How to Create Content for Social Media
What to share on Social Media- Lesson
How to Use Canva Video
How to use PromoRepublic Video
How to use the Social Media Content Calendar- Video
Social Media Content Calendar – Downloadable Content
How to Manage and Grow Your Social Media accounts
Telling a Story with Social Media- Lesson
General Tips on best practices to grow and manage accounts.- Lesson
How to track social media growth- Video
Template to track social media growth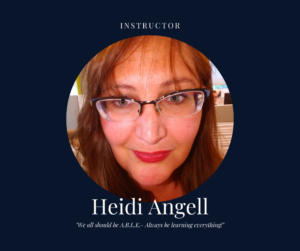 This Course Developed by Heid Angell- Team builder, Wordsmith, Marketer, Problem Solver, Data Analyzer, Renaissance Woman, Magic Maker, and Published Author
Heidi Angell is a renaissance woman, with 20 years working on all aspects of business development from customer service, marketing, product development, advertising, HR, employee training, and financial management.
Her passion is telling stories that connect people, leading by example, and always learning. 12 years in the publishing industry, Heidi recognized that many authors had the writing chops, but were struggling to get publishing contracts and sell books because they did not have the skills to be a solopreneur. They did not know how to operate their writing as a business. As such, she developed a series of courses for authors focusing on the business side. She started with marketing as that is her second passion (writing being her first.) and what her degree primarily focused on, but has expanded the courses to cover every aspect that she has found authors struggling with and that couldn't be covered in a simple blog post.
She has found many small businesses have benefitted from taking her marketing content and adapting it for their own needs and so has expanded the course to help small businesses as well.
Do not miss out on Social Media 101. Grab your seat today.
Until next time,
Keep Building