Hello Lovelies,
Last week was a total break in my routine and in my plans. I went to Idaho on Monday to help my sister and her family move. What was planned the week before to be a 2-day trip, turned into 4 days. I spent Friday and Saturday trying to recover and catch up and today I will be taking some time to reflect on some feelings that have been plaguing me this week. Those feelings were brought into stark relief as I took my measurements this morning on Keto day 63.
Keto Day 63- Week 9 Measurements
Last Week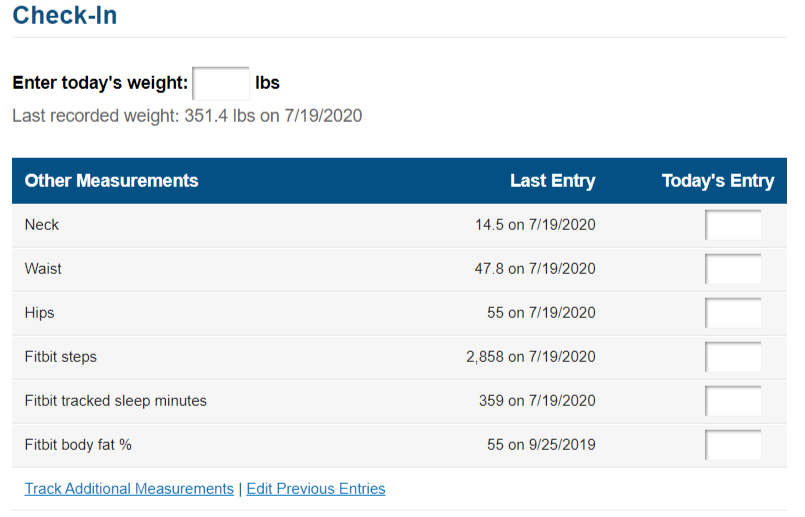 This week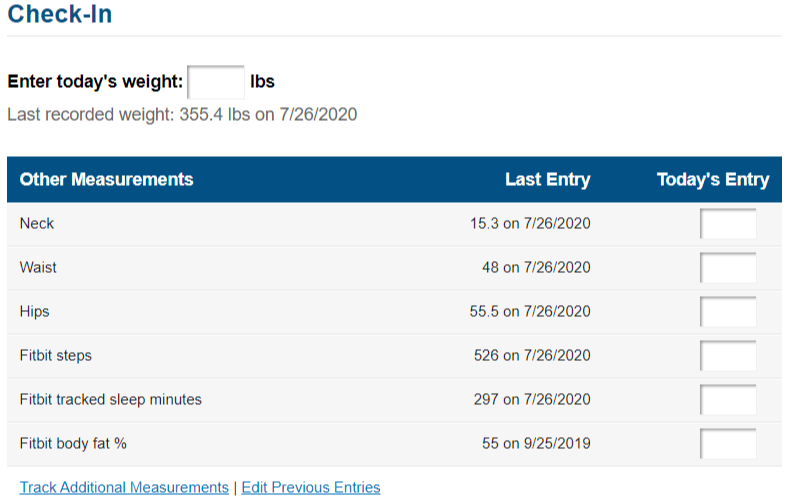 I'm up 4 lbs. My neck is up .8 in, my waist is up . 2 in, my hips up .5 in. I'm disappointed, to say the least. I didn't even want to do my other measurements for fear of further disappointment.
Keto Day 63- Week 9 Fitness data
Last Week's Fitbit data: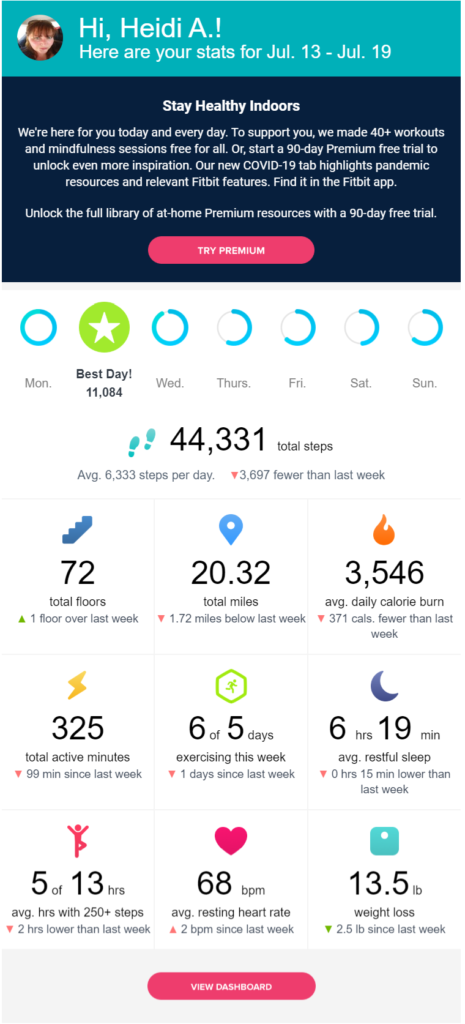 This week's Data
Sunday, July 19th 4911 steps, 2.26 miles, 22 minutes of activity
Monday, July 20th 14420 steps, 6.61 miles, 274 minutes activity.
Tuesday, July 21st. 6817 steps, 3.15 miles, 0 minutes of activity.
Wednesday, July 22nd 4955 steps 2.29 miles 32 active minutes.
Thursday July 23rd 7160 steps 3.27 miles 30 active minutes.
Friday July 24th 4229 steps, 1.96 miles, 15 active minutes.
Saturday July 25th 3858 steps, 1.79 miles, 0 active minutes.
Total steps- 46350 (down 295 from last week) Total miles 21.33 (down .08 miles.) Total active minutes is 373 (down 283 min from last week.) and total workouts is 4 of 5, down from 6 of 5 last week.
So what happened? Well, I didn't go swimming and other than Thursday when my sister and I went for a stroll around her neighborhood, I didn't have any formal workouts logged. Those that were logged were from when Fitbit decided I was working hard enough to count.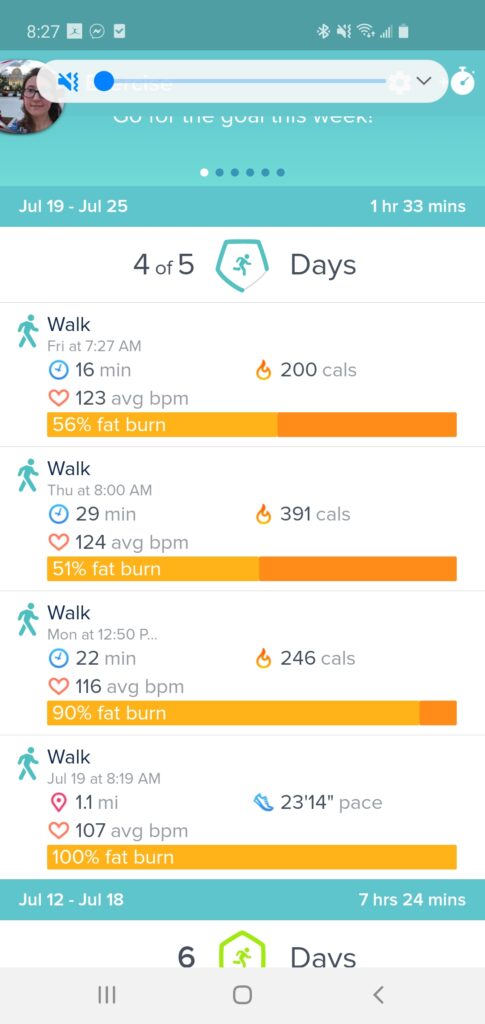 James and I did go for a quick walk on Sunday and love seeing that 100% fat-burn. But Monday I was helping unload furniture from about 12:3o pm until 8 pm with two short breaks in between. I was completely soaked through with sweat, huffing and puffing, and have gorgeous bruises all over my body to show how hard I worked. Yet somehow those 14K steps only account for a 22 min workout? Lol.
Tuesday, I spent the morning unloading and unpacking their kitchen. While I'm not terribly surprised that it didn't log a lot of steps, I am also surprised that it didn't log a workout because I was lifting and bending and making similar motions as when I do laundry which often gets logged as a workout.
Wednesday I helped with unpacking and prepping a room for painting, but I'm not surprised that no workout was logged because I was definitely losing steam. I don't think I was eating anywhere near enough calories for the work we did.
Thursday it logged our walk around her neighborhood but ignored my hour and a half painting a room. Anyone who's ever painted knows that is quite a workout. Fortunately, even if Fitbit doesn't know what I did. I do. Unfortunately, the scale doesn't seem to know.
Keto Day 63- Week 9 Food Data
Last week's food data:
This week:
I didn't track anything at all. I was too busy helping my sister to move. I did accidentally have a Gatorade on Monday, instead of a Gatorade 0.
Other than that, my sister is also doing Keto so we made sure to have keto-food. I loosely tracked my carbs to stay under but other than that, I didn't track.
I will get back on track with tracking and food planning this week, planning to spend today food prepping. But honestly, let's just look at Monday off the cuff.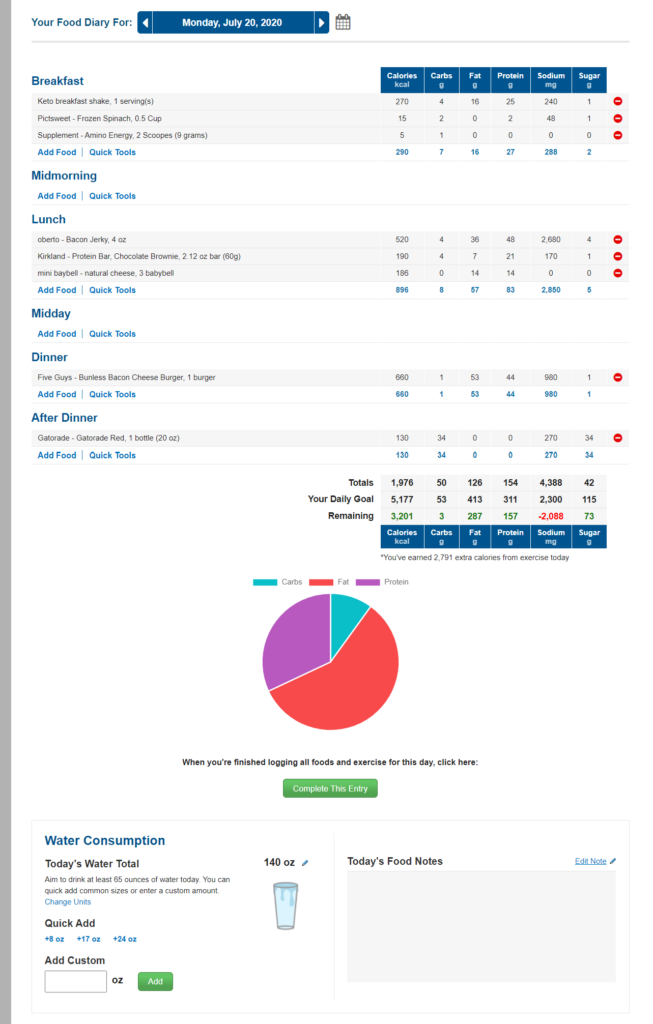 This is the day I ate the most, and despite the unfortunate Gatorade incident, I did keep my carbs to protein to fat ratio. Still, my calorie count was only 1,976 calories. So yeah, way under my calorie count, I bet.
I know I was under most of the week because yesterday I was insatiable. That may be part of the weight gain.
I have also been drinking nonstop, consuming on average 100-140 oz of water each day and yesterday binged on olives probably needing the salt. I hope that contributed to some water retention.
I also swell when I travel and I know that every day I've struggled with getting my shoes on because of the swelling. So hopefully that will all be better next week.
Keto Day 63- Next Steps for Week 10
If we counted the workout days (4) only, I averaged 93 active minutes each work day. Otherwise, it was 53 active minutes per day. I plan to go swimming three days this week and will resume my daily walking routine. I would like to hit a daily average of 90 active minutes.
I am also aiming for 2400 calories a day and tracking my macros.
This week has been a major roller coaster on my mental health and I need to take some time to address my feelings and reframe my viewpoints. I've struggled with envy, a sense of entitlement, anger, feelings of worthlessness.
I am glad I went to help my sister and that I stayed longer than I intended. It felt good to be able to help them out. I felt so strong being able to help them as much as I did. I definitely couldn't have done that a year ago.
On the flip side, I heard back that several jobs I'd applied for were closed and I never heard anything from them despite being highly qualified. I lost out on applying for jobs all last week.
I also didn't prep content through the whole week and felt guilty that I had not followed through with my commitments and chose to stay at my sisters for the extra days instead.
I had a lot of moments of envy as I helped them set up their home, realizing that (other than location) their home was almost everything we've been looking for in our future home, but we're stymied on our goal until I can get a job and there was some unjustified resentment that my sister was able to decide to move, sell her home, and move all in a few months and yet my goals and plans which I've been working on for much longer, none have come to any true fruition.
Then I stamped down some urges to wallow in entitlement that I have done everything I was "supposed to" and haven't gotten the rewards I "deserve".
So yeah, I need to do some cleansing of my thoughts and feelings this week as well as refocusing and realigning with my goals and my journey, not just in health and wellness, but the whole journey.
Gonna be a busy week.
In the mean time, I will remind myself of this bit of wisdom I had at the beginning of the week.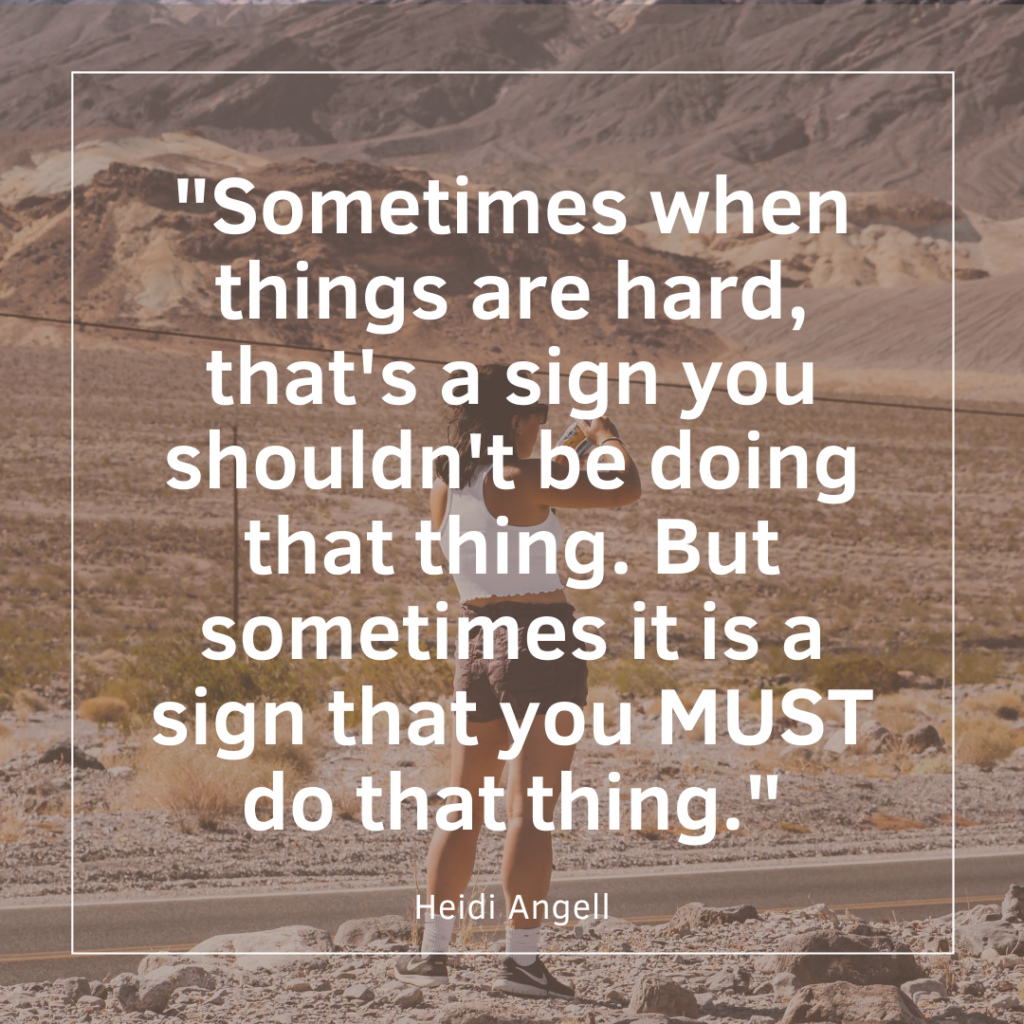 Follow my Keto Journey
If you would like to see my Keto Journey, you can check that out here:
Otherwise you can use my recipes to to build your own meal planning!
Until next time,
Stay inspired!