Hello Lovelies,
I have to be honest, I was so busy trying to catch up from my trip to see my sister the week before, that this week I got a little slack on my tracking. I spent what little extra time I had researching low-carb diet (as opposed to Keto which is just a significantly stricter version of low carb focused on forcing you into ketosis.) and while doing the research, I quit counting carbs and only loosely counted calories (As in, I aimed for 6 meals a day of about 400 calories each so aiming for about 2400 calories a day.) While I wasn't counting carbs, I did stick to my keto-friendly foods. This week I tried a couple of amazing new recipes that are a bit higher in carbs than I usually eat, but are recommended on several keto food plans, stuffed peppers and cheesy bacon cauliflower. So I was quite pleased and surprised when I took my measurements this morning on Keto day 70.
Keto Day 70- Week 10 Measurements
Last Week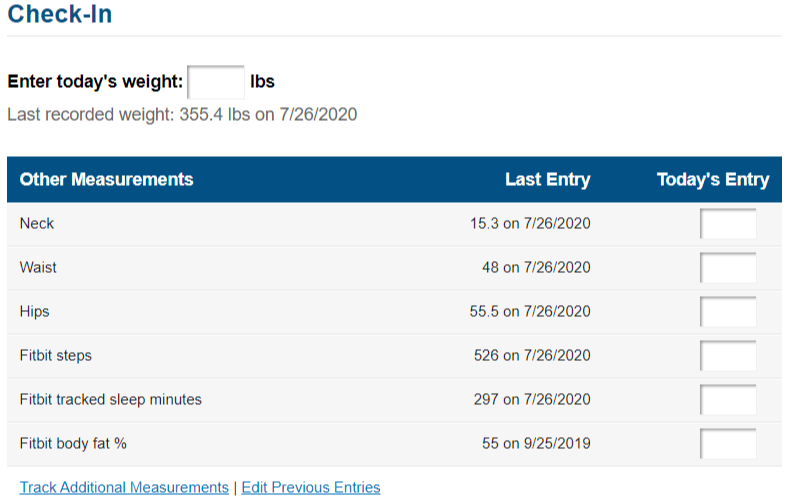 This week: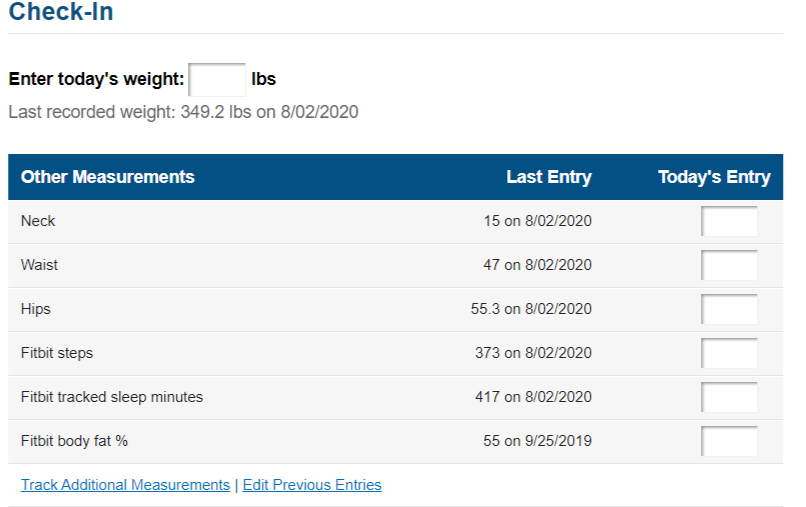 I lost 6.2 lbs! And considering I'm due to start my period any day now, that is quite a pleasant surprise! My neck is down .3 in, my waist 1 in, my hips .2 in. Yes, I am quite happy with those results!
Keto Day 70- Week 10 Fitness data
Last Week's Fitbit data: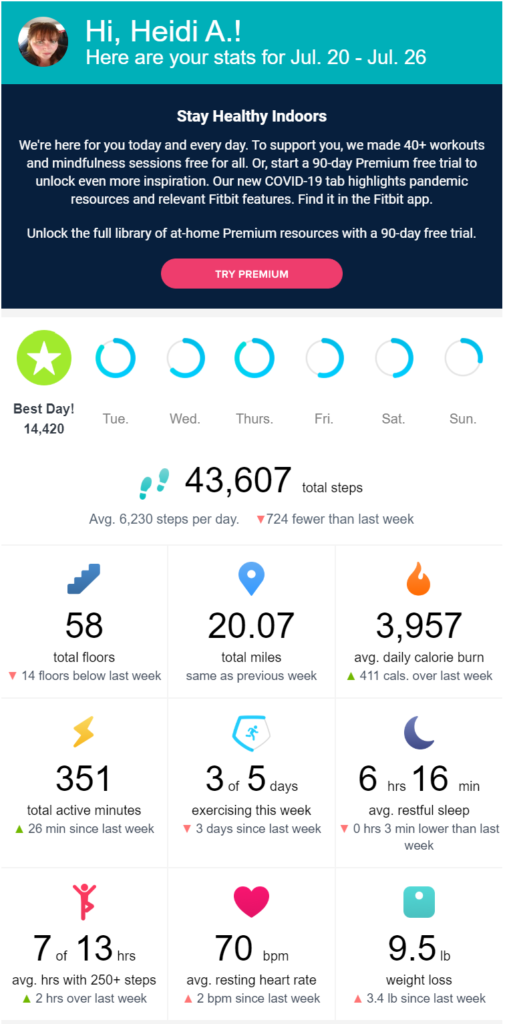 This week's Data:
Sunday, July 26th 2168 steps, 1 mile, 0 minutes of activity
Monday, July 27th 10,265 steps, 4.7 miles, 73 minutes activity.
This is wrong and it annoys me to no end because I even set the stupid manual workout buttons but at some point about halfway through my walk somehow the workout stopped and only logged 2.29 miles. We actually did 68 minute walk that covered 3 miles. I then went swimming that evening and did 47 minutes and 1200 meters ( or 1,300 yards.) So I am on the hunt for a new device. I will wear the fitbit until it dies but want to be prepared to replace it with a more accurate system. I expect that the rest of my daily data is off but I didn't manually track because that is very time consuming.
Tuesday, July 28th. 11,116 steps, 5.13 miles, 85 minutes of activity.
I know we went for an hour long walk. I know skipped swimming and instead did a band workout of about 20 minutes . Despite the high minutes of activity it didn't really log either of those workouts.
Wednesday, July 29th 11,179 steps 5.14 miles 100 active minutes.
We went walking for about an hour and I went swimming for about 45 minutes.
Thursday July 30th 7,598 steps 3.52 miles 93 active minutes.
We had a shorter walk because we got a late start. Probably the 40 min walk logged is accurate. I went swimming for 45 minutes, however I was a bit slow on the swim which may be part of why it didn't log the whole workout. I sprained my ankle when jumping in the pool and that led to me cutting out my workouts for the rest of the weekend in an effort to let it rest and heal.
Friday July 31st 1,818 steps, .84 miles 0 active minutes
I actually did a 45 minute stretch and core workout consisting of 30 ankle rolls, leg lifts, scissors, crunches, side crunches, mule kicks, cobras, and body curls.
Saturday August 1st, 3,400 steps 1.56 miles 17 active minutes.
I didn't do any workout because I reserved my ankle strength for our shopping trip and then was elevating my ankle the rest of the day due to swelling.
Total steps- 47544 (up 1194 from last week) Total miles 21.89 (up .56 miles.) Total active minutes is 450 (up 77 min from last week.) and total workouts is 9 over 5 days.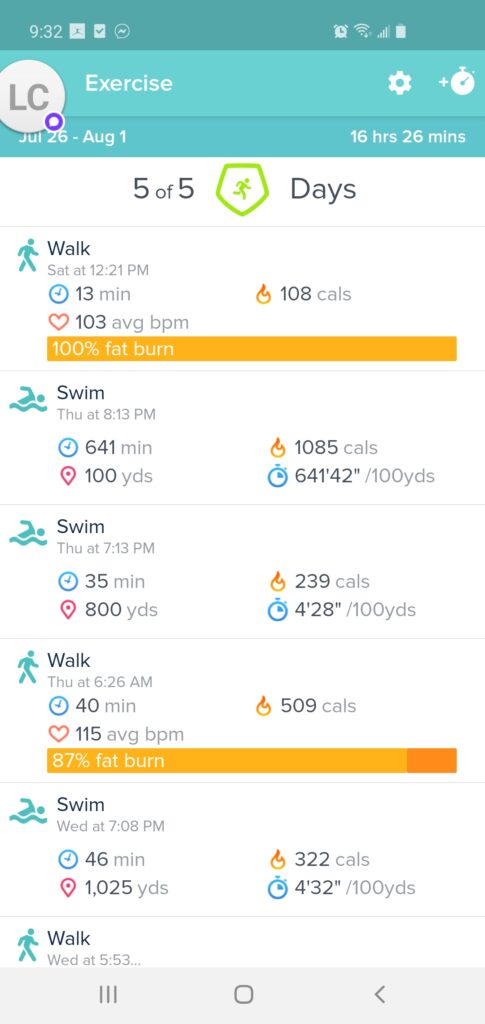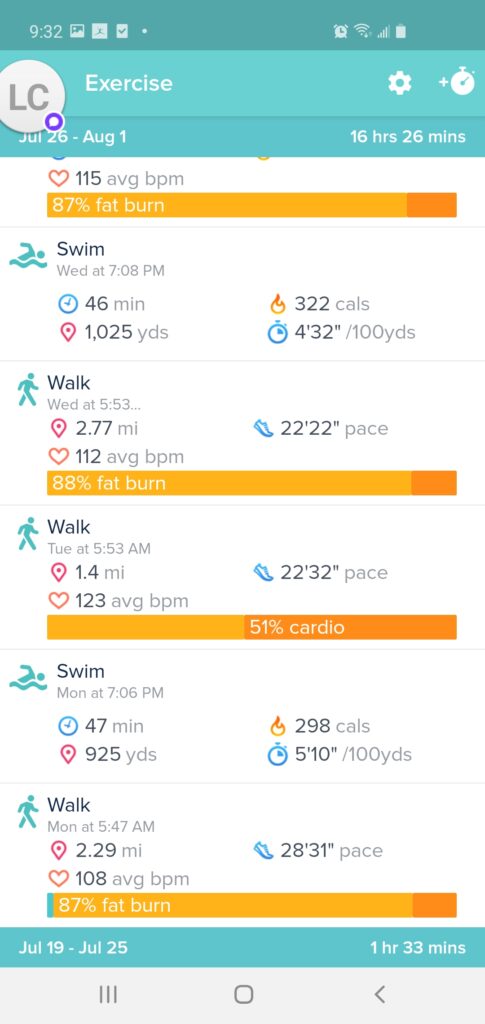 I feel like this level of working out is sustainable long term. Though I would like to include a daily walk on the weekends once my ankle heals.
Keto Day 70- Week 10 Food Data
Last week's food data:
I didn't track anything at all. I was too busy helping my sister to move. I did accidentally have a Gatorade on Monday, instead of a Gatorade 0.
Other than that, my sister is also doing Keto so we made sure to have keto-food. I loosely tracked my carbs to stay under but other than that, I didn't track.
I will get back on track with tracking and food planning this week, planning to spend today food prepping. But honestly, let's just look at Monday off the cuff.
This week:
I was very slack only tracking fully on Monday. I will plan out my menu again this week using My Fitness Pal and hopefully I can stay on task with that this week.
Keto Day 70- Next Steps for Week 11
I also think that rolling back for a bit to more of a low-carb style rather than full-on keto is a good call. I will continue this eating style, aiming to stay below 100 grams of carbs and keeping my macros at the 5-10% carb, 15-20% protein and 70% ish fat. I will still plan for 2,400 calories a day and cap my consumption at 2,800. (According to the average from 3 different calculators, my daily caloric expenditure should be around 3,000-3,500 so that should keep me well in the sweet spot.)
Between my ankle injury and my starting a new gig tomorrow, I haven't planned out my workouts for next week, but my hope is to get at least 3 days at the pool even if my ankle isn't up to hard core lap swimming and I will strive to get back to my walks starting tomorrow. I will add in bands and core workouts if I can't do the walking. Just because I have an injury doesn't mean I need to give up my workouts. But I will take it slow and easy so as not to delay healing of my ankle.
Follow my Keto Journey
If you would like to see my Keto Journey, you can check that out here:
Otherwise you can use my recipes to to build your own meal planning!
Until next time,
Stay inspired!