Hello Lovelies,
Man, I don't even know what is happening. Last week was pretty much a wash in tracking my diet. I started training for a new temp job on Monday and my whole schedule was unknown and up in the air the whole week. Then I started my period on Wednesday and had one of the worst periods I've had in probably six months. I had migraines the last three days (probably from my period) and total exhaustion. It was all I could do to get my morning walks in and finish my training for my new gig. I fully expected to be flirting with the 350 lb line again this week. So my measurements this morning on Keto day 77 were quite a shock.
Keto Day 77- Week 11 Measurements
Last Week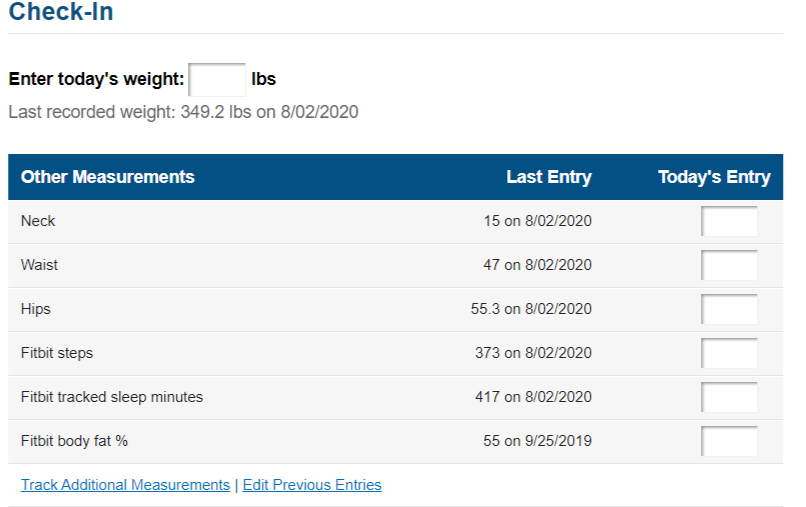 This week: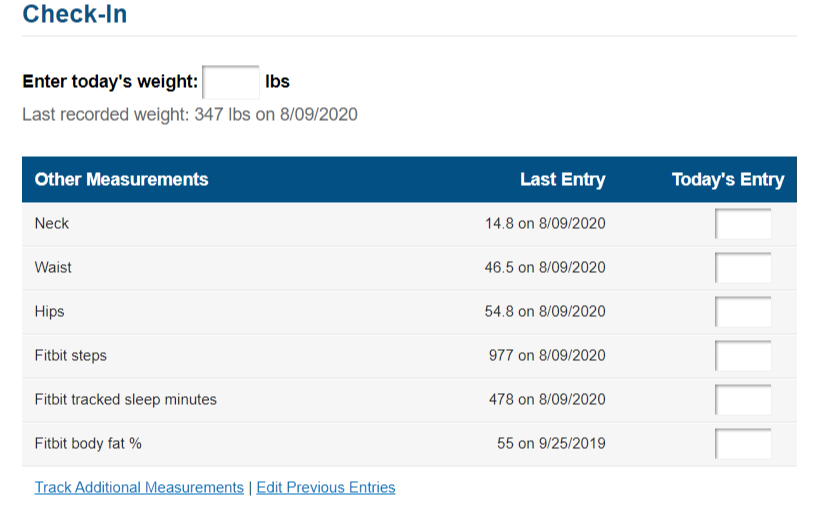 I lost 2.2 lbs! My neck is down .2 in, my waist is down half an in, my hips are down half an in. I can't help but worry if it is because of muscle loss though. My workouts weren't so great this week.
Keto Day 77- Week 11 Fitness data
Last Week's Fitbit data: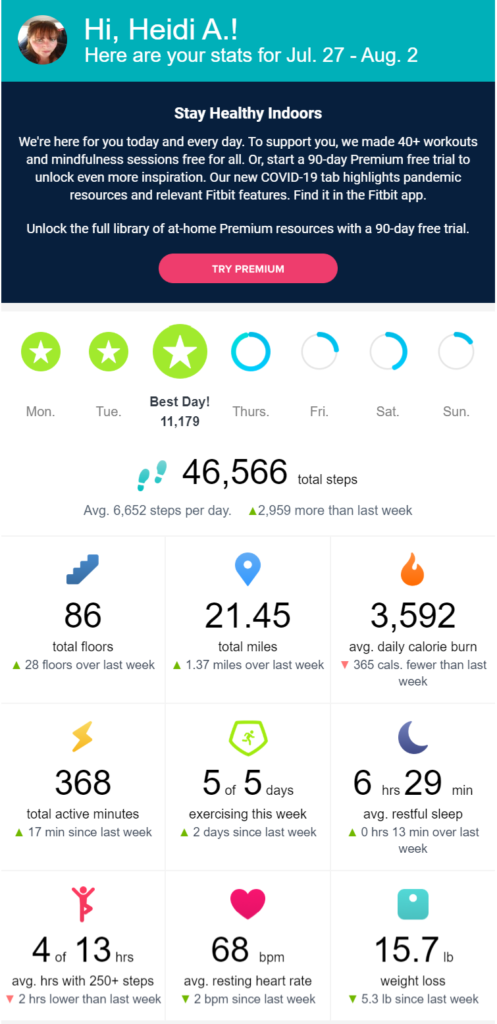 This week's Data:
Sunday, Aug 2nd 1,190 steps, .55 mile, 0 minutes of activity
Monday, August 3rd 5,838 steps, 2.7 miles, 113 minutes activity.
Tuesday, Aug 4th. 4995 steps, 2.3 miles, 44 minutes of activity.
Wednesday, Aug 5th 2096 steps .97 miles 0 active minutes.
Thursday Aug 6th 8,322 steps 3.8 miles 68 active minutes.
Friday Aug 7th 7,588 steps, 3.48 miles 69 active minutes
Saturday August 8th, 2,098 steps .97 miles 11 active minutes.
Total steps- 32,127 (down 15,417 from last week) Total miles 14.77 ( down 7.12 miles.) Total active minutes is 305 ( down 145 min from last week.) and total workouts is 4 over 5 days. (Down 5 workouts.)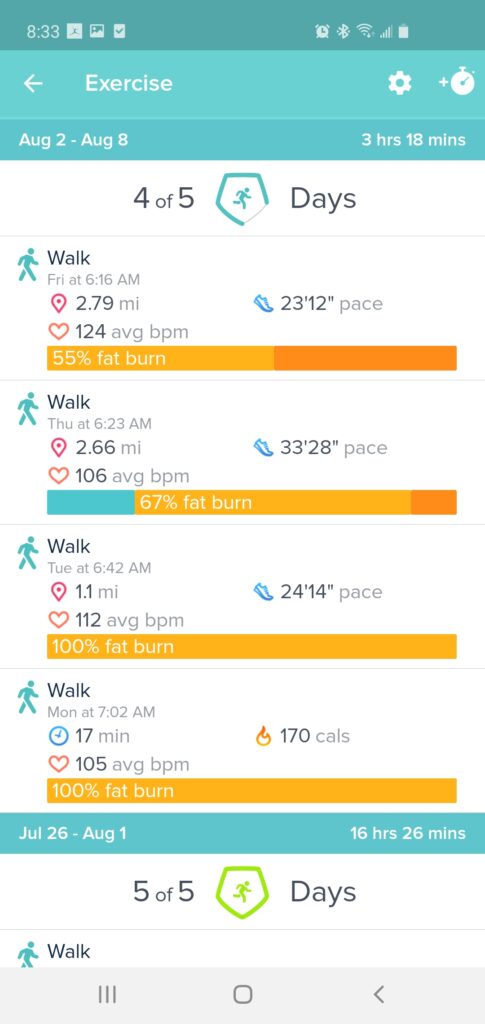 The first part of the week I was still letting my ankle heal and Little Man really didn't feel up to band camp and swimming each day so we didn't swim. The second part of the week I was struggling. Each day I started with my walks and then had training and by the time I was done training for the day I had a migraine or period pain, or inflammation.
Keto Day 77- Week 11 Food Data
Last week's food data:
I was very slack only tracking fully on Monday. I will plan out my menu again this week using My Fitness Pal and hopefully I can stay on task with that this week.
This week:
Yep, nope that didn't happen. I ran out of time for food prep on Sunday and the rest of the week was too chaotic to get it all in. Planning a menu is tricky when you don't really know what you're schedule will look like. Unfortunately, the next two months is going to be like this and in some ways worse because now the training is done I will be out in the field 6-8 hours a day.
Keto Day 77- Next Steps for Week 12
The next week is going to be tricky because I don't entirely know what my schedule will look like. (I was expecting to have to work today, but that didn't happen.)
This whole getting your schedule the day of is going to be very strange. I know that I will be working on average 6-8 hours a day sometimes that will be working through lunch and others it will be working through dinner. Which leaves me with two options: figure out how to get all/ most of my calories in outside of work and plan a meal that can travel with me for work. Or plan on eating out at least one meal every day.
Both because of budget and for the sake of my diet option, two doesn't really appeal. However, I really struggle getting my calories in before noon. So this week is going to be a big test.
As for the workout front, that will also be up in the air because I'm not sure how much walking will actually happen during my shifts, but it sounds like a lot. Given the fluidity of my schedule, I won't be able to schedule swim time either. My hope is that I will get a sense of the schedule this week and have a better feel for scheduling my availability following weeks to be able to schedule in swimming. But Little Man and I are hoping to get some swimming in early in the AM if there are slots available. Not scheduling in advance though because…yeah.
Fortunately, the last two weeks have shown me that I should be ok doing low carb instead of strict keto so that makes me feel a bit better about the crazy schedule I will have. As I get a better sense of it I will adapt as needed.
Follow my Keto Journey
If you would like to see my Keto Journey, you can check that out here:
Otherwise you can use my recipes to to build your own meal planning!
Until next time,
Stay inspired!