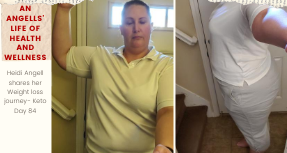 Hello Lovelies,
I am feeling very broken this week. I didn't track food. I couldn't workout. I started a 2 month contract that has me working outdoors in the heat up to eight hours a day. The first few days I was telling myself that I was proud of how I was able to handle the work. I never would've been able to do this a year ago. But about Thursday I ended up with pretty bad heat exhaustion that I am still trying to fight through. Then I looked at my data for this week and I am trying not to cry before I go on shift again in the heat. Keto Day 84 is filled with a lot of conflicting emotions.
Keto Day 84- Week 12 Measurements
Last Week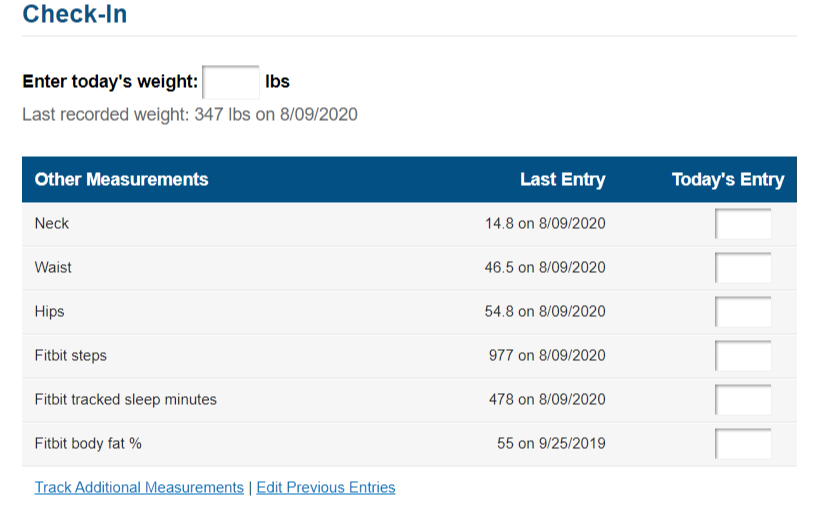 This week: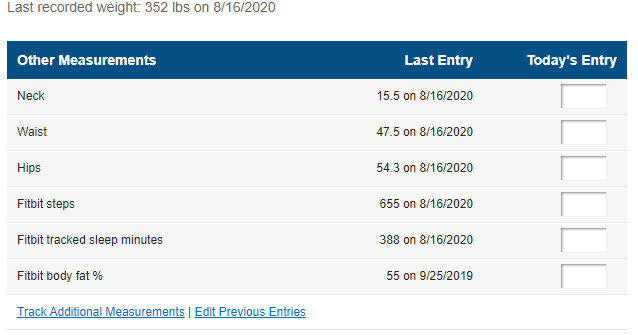 I gained 5 lbs and gained inches everywhere except my hips, which was kind of a surprise, TBH.
I am fairly certain that most of that is water retention because of the heat exhaustion and my whole body doing all it can to retain all the water I'm trying to give it.
I still have the heat exhaustion head ache. I hope this passes because I can't go through another two weeks of this.
Keto Day 84- Week 12 Fitness data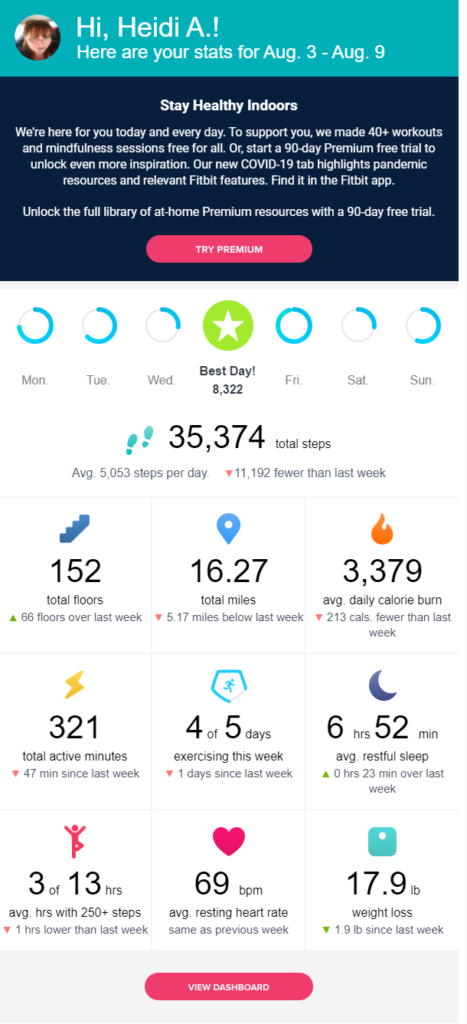 Unfortunately, I don't have time to go step by step through my stats last week. Monday I managed about 8,000 steps on the job. I was feeling good so we went for our morning walk on Tuesday and I managed about 10,000 steps. After that, the heat was getting to me and all other workouts were cancelled. Interestingly, I only manage about 5,000 steps a day with this gig so I'm not getting my workout in either.
Keto Day 84- Week 12 Food Data
Last week's food data:
Yep, nope that didn't happen. I ran out of time for food prep on Sunday and the rest of the week was too chaotic to get it all in. Planning a menu is tricky when you don't really know what you're schedule will look like. Unfortunately, the next two months is going to be like this and in some ways worse because now the training is done I will be out in the field 6-8 hours a day.
This week:
I am really struggling with being able to eat because I'm so hot. I didn't plan or track anything last week, but I can tell you that a typical day I had my morning shake, 2 sausage patties, 2 hardboiled eggs, 4 babybell, 3 pickled asperagus, 140 oz of mio-sport flavored water, and pudding or jello for dinner if I was lucky enough to keep it down despite the heat. So I've been averaging 1500 calories a day, which is bad. But I don't know how to increase it because when I'm overheated I can barely keep water down.
Keto Day 84- Next Steps for Week 13
I'm not sure. I am feeling so daunted. I know that I need to make some changes but I don't even know how I can. I hate feeling like I have to choose between a paycheck and my health.
I do know that I have to get myself up to 2300 calories somehow and that I need to find more cool light foods that are keto friendly and not killing my carbs because my macros have been more 11% carbs, 64% fat and 25% protein.
I also need to figure out how to deal with this heat exhaustion because this week is going to be over 100 several days and I need this work.
As much as I hate it, my workouts will need to take a back seat until I figure out these other issues.
I am also going to try really hard to focus on the positives because I think the last two days I have really been wallowing in my pain and misery.
So, one positive is that yesterday I had to buy "cooler" professional clothes and based on how my size 26 were fitting, I decided to go with 24s. We got a great sale at Lane Bryants and I ended up getting 6 pairs of pants for the price of 2 pair. It was a bit overwhelming and I didn't realize until we got home that half of them were actually 22/24.
And they fit. The 24s are actually a bit big, but with the heat I don't mind them being looser.
So despite the apparent gains, I am making progress. Once I work through this work schedule and struggles, I will keep making gains. I just need to be patient and focus on the most important things right now: Getting enough water and electrolytes, controlling my body heat, and getting my daily calories back up.
I can do this.
Follow my Keto Journey
If you would like to see my Keto Journey, you can check that out here:
Otherwise you can use my recipes to to build your own meal planning!
Until next time,
Stay inspired!