Hello Lovelies,
I know, it has been a hot minute since I did a check-in. I did an update a couple of weeks ago and asked for feedback on who wants me to keep providing the keto updates. Considering these tend to be my more popular posts, I was surprised to see very few people ask me to continue doing it. But, to be fair, I was doing this more for my own tracking and accountability than anything so that's not a huge deal. I don't know if I will continue doing them weekly, but I did want to check in for Keto day 105 because I have really fallen off the tracking bandwagon what with working the census, hosting another 30 days of marketing challenge, being sick, and Little man doing two sports. So this morning I took a few minutes to at least get my measurements.
Keto Day 105 Week 15 Measurements
Here are myfitnesspal measurements from August 16th: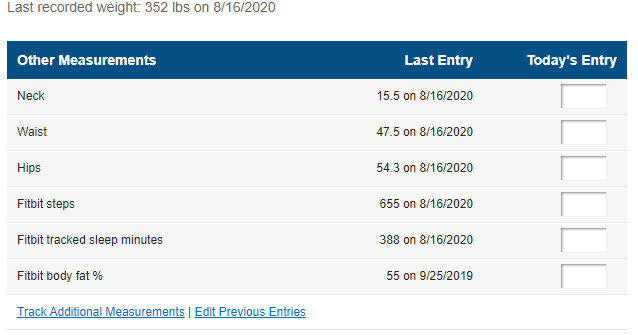 And here are my measurements for today: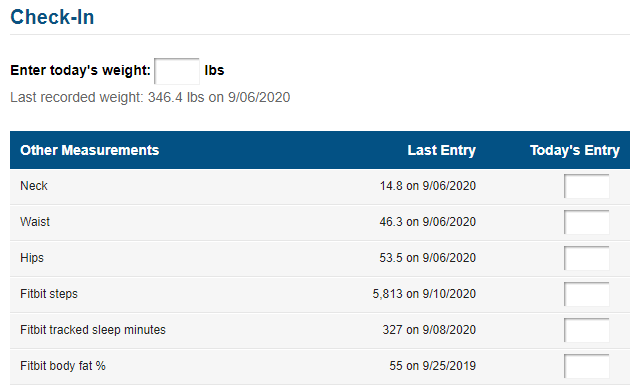 So, gonna be real here. I actually got on the scale every week and the Sunday after I got sick (8/30) I was down to 343.9 but I know that was because of being sick. (It was so bad, y'all!)
So I gained a couple lbs after being sick, but am still down 5.6 lbs from last official weigh-in.
My neck is down .7 in
My waist is down 1.2 inches
My hips are down .8 in
Here are my extended measurements from Day 35 (6/28/2020)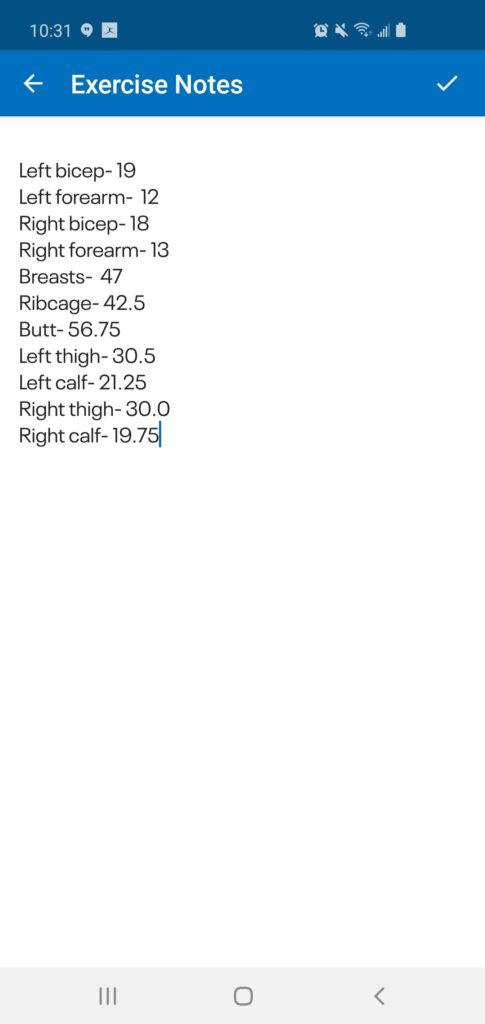 Here are my extended measurements from today: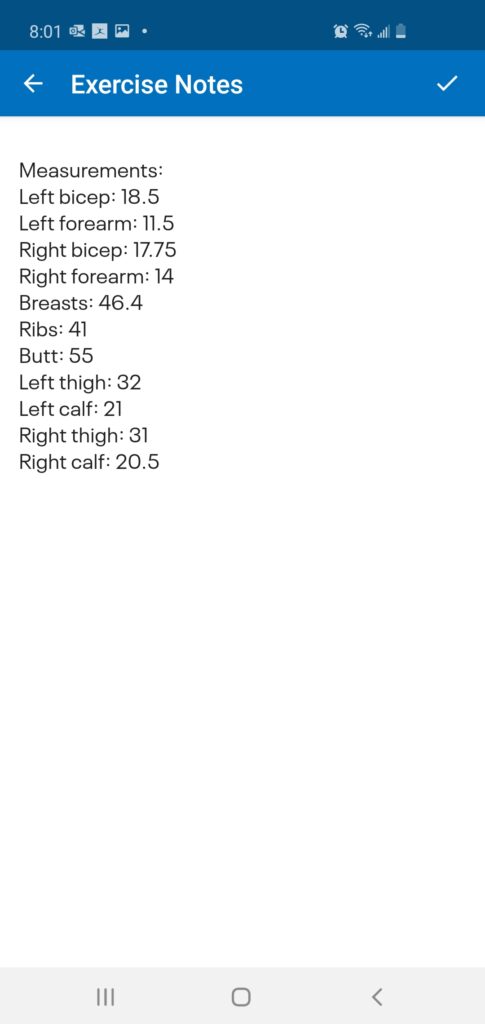 Left bicep is down .5 in
Left forearm is down .5 in
Right bicep is down .25 in
Right forearm is up one inch
breasts are down .6 in
Ribs 2.5 inches
Butt is down 1.75 inches
Left thigh is up 1.5 in
Left calf down .25 in
Right thigh up 1 in
right calf up .75
So over all, down. My thighs are larger and my right leg is larger. My guess is that this might be related to the census work because I've been doing a lot of stairs, also getting in and out of my car uses different muscles in my right leg.
But honestly, that would just be wild conjecture.
Keto Day 105- Week 15 Fitness Data
And because life got in the way writing this post and I didn't get back to it until Thursday, I have the Fitbit stats from last week too.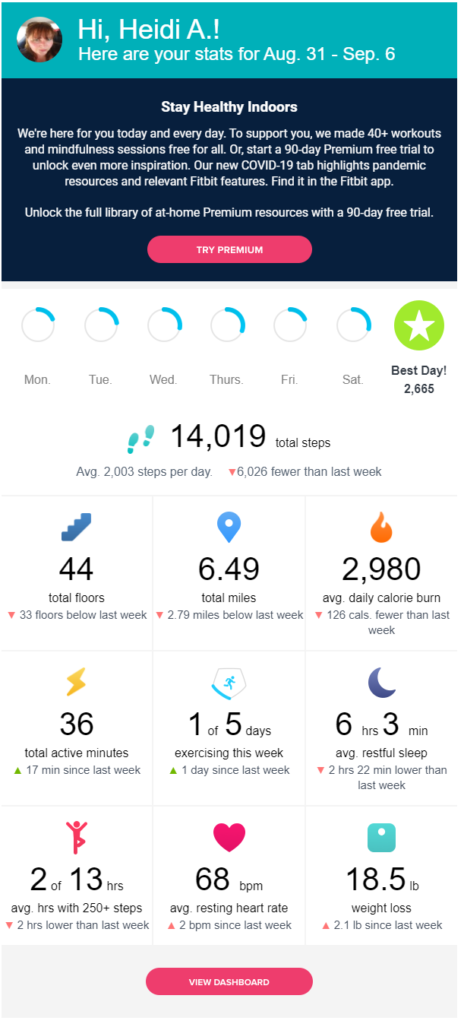 As you can see, the last two weeks have been brutal. My step count is less than half what it was a month ago. my active hours are a joke. But I am slowly getting better from that nasty bug.
Keto Day 105- Week 15 Food Data
And one thing I was pretty proud of is that during this whole illness, I stuck to keto-approved foods. I wasn't measuring or counting portions so not sure exactly where my carb count was every day but I know I wasn't eating nearly as much as I should have so I suspect my carb count was pretty low.
Next Steps for Week 16
This week will be focused on getting back to census work, getting back to online work, and getting back into my walking routine. I don't want to push too hard. I have to say that I have been pleased with how easy it has been to maintain the foods on the diet during the chaos of working two jobs, transpo for two sports, searching for a job, and trying to find quality time with my loved ones.
I want to make an effort to track a couple of days a week just to make sure I'm not slipping below the required caloric intake, but I suspect I'm doing pretty well with that because I get hungry and I make sure I have something to eat when that happens, whether in the car or at home.
So yeah, that's where I am. I think, unless I hear otherwise from you guys, I will just do monthly check-ins here. Life is just so crazy busy. It literally took me most of the week to write this post.
Plus that will be a good transition time to set new goals because the census work and the 30 Days Marketing Challenge will be wrapping up.
Follow my Keto Journey
If you would like to see my Keto Journey, you can check that out here:
Otherwise you can use my recipes to to build your own meal planning!
Want to learn more about Keto? Here are the resources I've used:
Carl Frank's Intellectual Hedonism– This is just a giant list of resources, which gets my little geek brain so happy!
Here are a host of Youtube Channels I was advised to check out.
Dr. Jeff Volek– This is just one of a ton of videos he's done, but he doesn't seem to have his own channel so I will have to look up more as I do the research.
Dr. Stephen Phinney– He seems to be the same as Volek.
Dr. Eric Westman And he seems to be the same.
Until next time,
Stay Inspired!