Hello Lovelies,
I know, it has been a hot minute since I did a keto weightloss journey check-in back on September 6th. Yes, it's been nearly 10 weeks!
Crazy, right?
So what happened?
Life. A lot of life. I finished up the crazy overtime with my temp gig, fought through website transfer issues, found another job that while not my dream job, is paying me more than not working. Got approved to buy a home, put in lots of bids and still no home, got back on track working out, state of emergency reinstated and changed my work out plans, then my shoes wrecked my ankle and I had to replace them, got the wrong replacement shoes, family came to visit.
Yeah, it has been a hectic 10 weeks. But through all of that, I have managed to stick to the keto diet. And I have been measuring almost every week, even though I haven't been sharing with you.
And I spent a lot of time feeling really frustrated and stuck. Not just because I have watched the scale go from 349-343 and back again. (Yay, plateau). Not just because of an injury that left me limited in how I was able to work out. Not just because Covid keeps disrupting goals and dreams.
I spent this last week reflecting on my feelings as I took a much needed break and hung out with my amazing mother who braved traveling in Covid to see her family for the holidays.
This woman is where I get my positive can-do attitude that lets me fight through setback after setback.
My sister came down this Monday to pick my mom up and take her to Idaho. These amazing ladies are the reason I'm on the keto journey.
But back to my main point starting this out. Feeling stuck and frustrated.
Despite my best efforts (which were not ideal by any means, but the best I can do.) I have not been having the success they had on the diet. Analyzing my stuck feelings across so many problems in my life, I recognized that those feelings are often driven by losing control over what is happening.
I've actually made some amazing gains this year. I hit a goal five years in the making (being able to buy our own home). Now I'm at the stage where I've done all the work I can and just have to rely on circumstances to play out as they should(IE: someone will accept our bid on their home). We keep saving to make our offers more appealing, we keep going to open houses, every day I look to see if any new houses hit the market.
I've lost 30 lbs and gotten healthier mentally and physically than I have been in years. Yes, I once again seem stuck at that 30 lb plateau. I can get frustrated, throw up my hands and quit, or I keep doing what I'm supposed to (with some minor tweaks and adjustments.)
So that's where I am right now. Going to do a reboot on my measurements
Keto Day 182 Week 25 Measurements
Here are myfitnesspal measurements for today: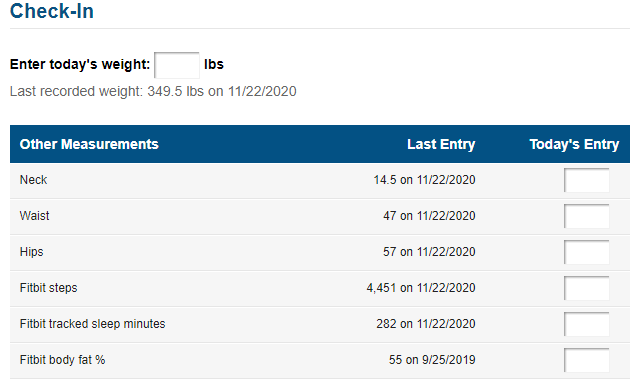 I just finished my period yesterday.
Keto Day 182- Week 25 Fitness Data
And because life got in the way writing this post and I didn't get back to it until Thursday, I have the Fitbit stats from last week too.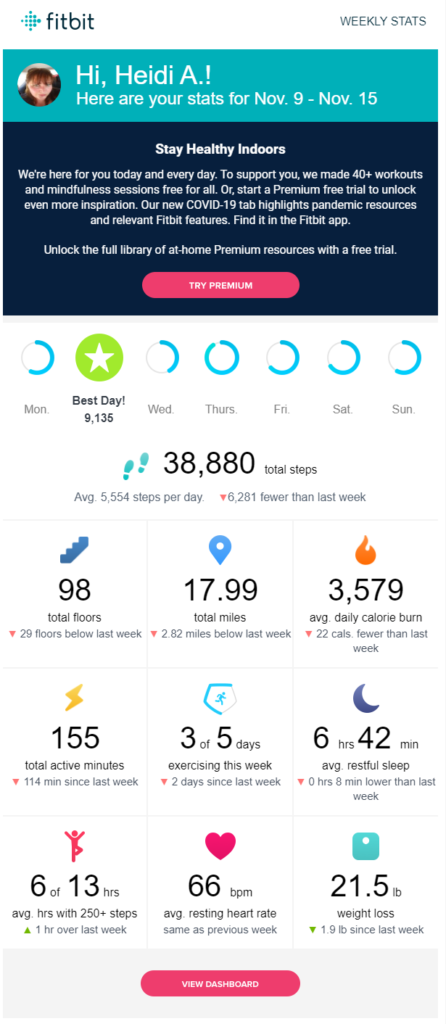 155 active minutes is the minimum reccommended for health so at least there's that. Looking forward to getting back to my higher routine. Have been feeling the aches and pains building up.
Keto Day 182- Week 25 Food Data
I have not tracked my food at all really. I've just been sticking to the food that is keto approved. I suspect I'm not getting enough fat and looking at yesterday, I suspect I've not been getting enough calories many days either. But I'm still getting hungry throughout the day so I don't think I've done damage to my goal of restarting my metabolism. Yay, wins.
Next Steps for Week 26
I've actually been doing a lot of research into calorie/ carb cycling and I think I will be planning a menu around that idea. Basically, I want to be flipping my diet up to keep my body from getting complacent and plateauing. This means that for a couple of days I will be eating at the low end of my cal/ carb intake (2100 cal, 0 carb) then for a couple days I will go high (2800 calories, 50 carbs) then a couple days average (2300 cal, 20 carbs) rinse and repeat. I should aim to have my high carb days on my high workout days and they should never be back to back.
I think this change up will A) get me back into tracking and B) break the plateau… hopefully.
My goal is to go swimming 3 days this week and walking 5 days this week. I also start my first full 40 hour workweek at my new job so scheduling that will be easier, but sticking to it might be harder. Wish me luck.
I will have a lot more recipes coming your way (including an amazing pumpkin muffin recipe that is so delish and PERFECT for high carb days!)
Also, I am working on a cool week-long challenge for goal setters. Want to join us? It starts December 6th. I will be focusing on all my goals- including weight loss, personal goals, and career goals. But the point of the challenge is to learn how to make SMARTER goals and stay on those goals, even when life throws us curveballs. Or Covid!
Follow my Keto Journey
If you would like to see my Keto Journey, you can check that out here:
Otherwise you can use my recipes to to build your own meal planning!
Want to learn more about Keto? Here are the resources I've used:
Carl Frank's Intellectual Hedonism– This is just a giant list of resources, which gets my little geek brain so happy!
Here are a host of Youtube Channels I was advised to check out.
Dr. Jeff Volek– This is just one of a ton of videos he's done, but he doesn't seem to have his own channel so I will have to look up more as I do the research.
Dr. Stephen Phinney– He seems to be the same as Volek.
Dr. Eric Westman And he seems to be the same.
Here is more information on Carb/ Cal cycling
Calorie Cycling 101: A Beginner's Guide
How to Use Calorie Cycling to Build Muscle and Lose Fat
how to calorie cycle for weight loss
Until next time,
Stay Inspired!